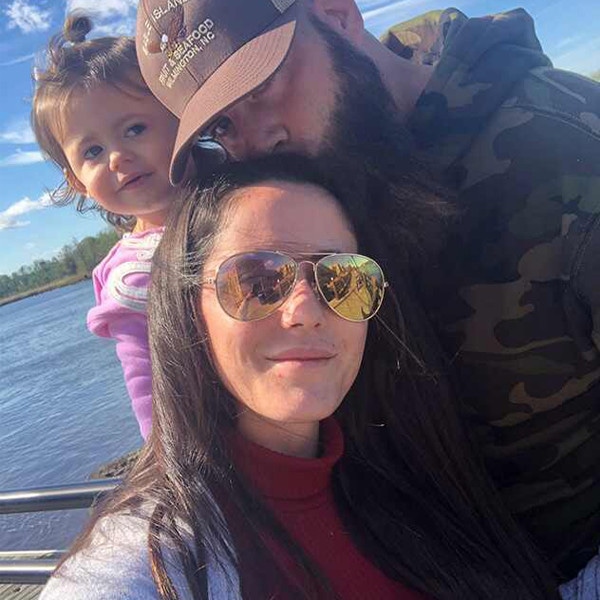 E! News
Jenelle Evans and David Eason won't let their recent drama stop them from expanding.
The reality TV duo recently adopted two Anatolian Shepherd puppies named Buddy and Junior, David announced on his YouTube page on Sunday.
"Recently we had to find a better way of protecting our chickens and livestock," he explained in the video's description. "We have hawks and crows always eating the heads off our chickens and plastic owls are not doing the trick. Our pit bull Jax killed and maimed on of our pigs that was around 80lbs. With that in mind plus the many chickens Jax killed and ate we decided to give him to a friend."
"After lots of research we came across this breed of dog called the Anatolian Shepherd," he continued. "They are one of the most unique types of dog I have ever seen and have the best temperament and disposition of any dog I have ever owned. They are a livestock guardian  breed and do not mind eating and sleeping with all our animals on The Land!"
In the 10-minute clip, after feeding his livestock by hand, David gushed over his four-legged family members.
"Hi sweet boy," he said to Buddy. "You're so sweet. Sweetest boy ever and he has a big brother." Cue Junior, who ran to make his video debut. "Say, 'We don't even jump on people and we're very calm,'" he raved to the adorable pup. "Say, 'We love all the animals.' So sweet. You guys are so sweet. Love you. I just want to cuddle you 'cause you're so sweet."
Turns out, they're equally smitten with their new owners. "They'll follow me everywhere I go," David revealed. "And Jenelle, when she's out here, they'll follow her everywhere she goes, especially that one. Junior, he follows Jenelle everywhere."
"I did not make up any story," Jenelle said during an Instagram Live. "The first time I was contacted by police was the chief. When the chief of Columbus County contacted me, he left me a voicemail. I had two voicemails, one of them from Detective Jacobs, the second one from Detective Green...and he literally told me to call him back, so I called him back, and he said, 'Look, Ms. Evans, we have rape cases that we have to deal with and we have way other serious crimes that we have to deal with. I need to know if this is a publicity stunt. If this is a publicity stunt, I'll close the case. I'll let you go about your business, and I understand why you're doing it. Let me know so that I can close this investigation or keep it going.'"
She said she explained to the police what happened: She was inside the house with her kids and was not sure if she heard a gunshot or not. "They asked me at the beginning if I did this for publicity," she continued. "I said no, and they said, 'OK, we're going to continue our investigation.' So they continued. They came to my house. They did a whole house search. The kids weren't there."
"I think the cop has grudges against us," she added. "We had to send a letter from our lawyer telling them to leave us alone and stop calling us, stop harassing us...I told the truth. I told them what happened from what I saw. I mean, I don't know what to tell you. I wasn't outside when anything happened. I don't know. You have to ask David."
Despite the recent turmoil, their marriage is better than ever.
While answering questions on Instagram, she admitted she did indeed think about leaving David. "We were on bad terms for almost a week. Didn't talk much," Jenelle wrote. "He knows how upset it made me. Now that we are getting over this incident our relationship has got a lot stronger. David has completed anger management as well."