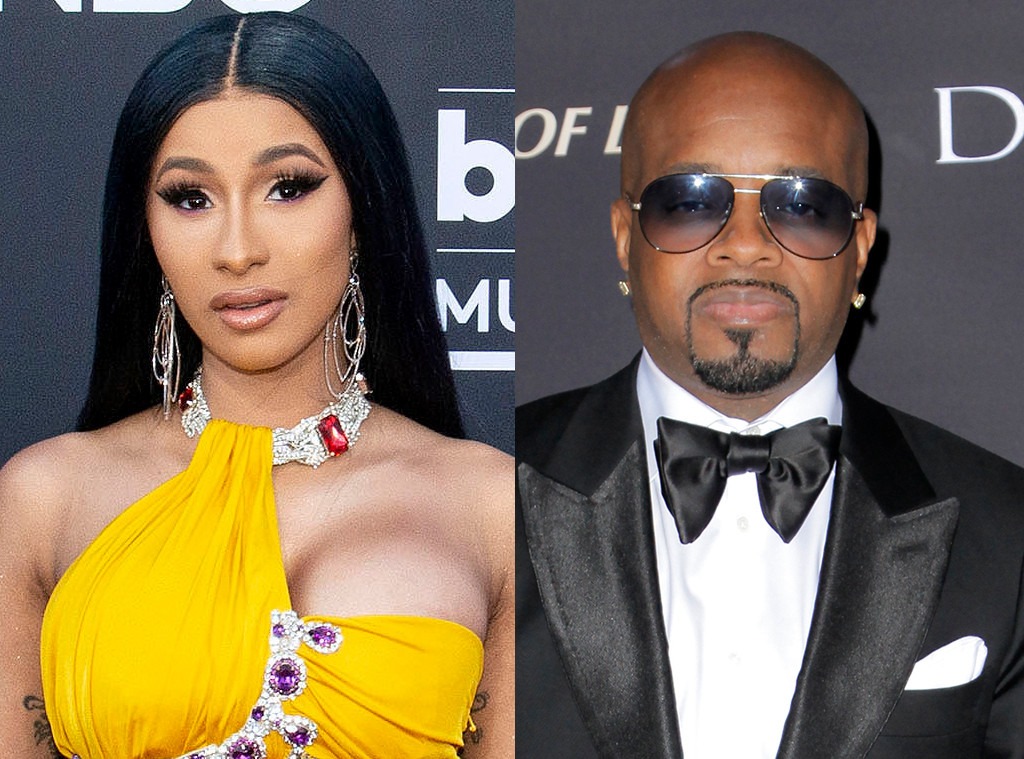 Daniel Torok/Patrick McMullan via Getty Images, Tibrina Hobson/WireImage
Cardi B has a few words for Jermaine Dupri.
After the 46-year-old artist likened today's female rappers to "strippers rapping," the "Bodak Yellow" star took to social media to respond to his comment.
"OK, guys. So, I have seen a lot of people write that, nowadays, female rappers only talk about their p---y and s--t. And now that Jermaine Dupri brung it up, now I'm going to say something about it, right?" she said in a video posted to Instagram on Thursday. "First of all, I rap about my p---y because she's my best friend. You know what I'm saying? And second of all, it's because it seems like that's what people want to hear."
In fact, Cardi said people talked "mad s--t" when she tried to be "careful" with her music. She also defended female artists who haven't gotten the attention they deserve.
"There's a lot of female rappers that be rappin' their ass off and don't be talkin' about their p---y and don't be talkin' about, you know, getting down and dirty, and y'all don't be supporting them," she continued. "Y'all don't be supporting them, and they be mad dope." 
As a result, she said listeners shouldn't "blame that s--t on us when y'all are the ones not supporting them."
She also listed the names of a few rappers who she felt deserved more recognition.
Cardi also clapped back at a Twitter user who weighed in on the topic. 
"Yeah, Jermaine Dupri's a dickhead. I get it," the follower tweeted. "But Cardi B is the LAST person that's allowed to respond because it literally is her."
"It's literally not me," she fired back. "'Get Up 10,' 'I Like It,' 'Thru Your Phone,' 'Be Careful' and my mixtapes was not about my p---y. Soooo...stop it! And if bitches wanna rap about [their] p---y so what? [It's] the most powerful feature on a woman's body! It gives birth and s--t. It pays bills."
In addition, she responded to a follower who commented on a snapshot of the tweet shared by Baller Alert.
"I see once a prostitute always a prostitute," the social media user wrote. "This bird always responding to everything and Cardi B, p---y pays bills, if you are a lazy bitch who don't want to work."
"Honey, you don't gotta prostitute to manipulate men," Cardi replied. "Men want what they can't have and they'll do and give anything for it. Let that sink...Learn how to mindf--k."
Jermaine made the comment after he was asked if he had a favorite female rapper in an interview with People Now.
"I can't really say," he said about picking a top artist from today. "You know the reason I can't say? [It's] because I feel like they all rapping about the same thing, and I don't think they're showing us who's the best rapper. For me, it's like strippers rapping. As far as rap goes, I'm not getting who is the best rapper. I'm getting, like, 'Oh OK. You got a story about you dancing in the club. You got a story about you dancing in the club. You got a story about you dancing in the club.' OK, who's going to be the rapper?"
He then said, "At some point, somebody's going to have to break out of that mold and just…talk about other things [and] just rap about other things besides that."
Watch Cardi's videos to see her response.