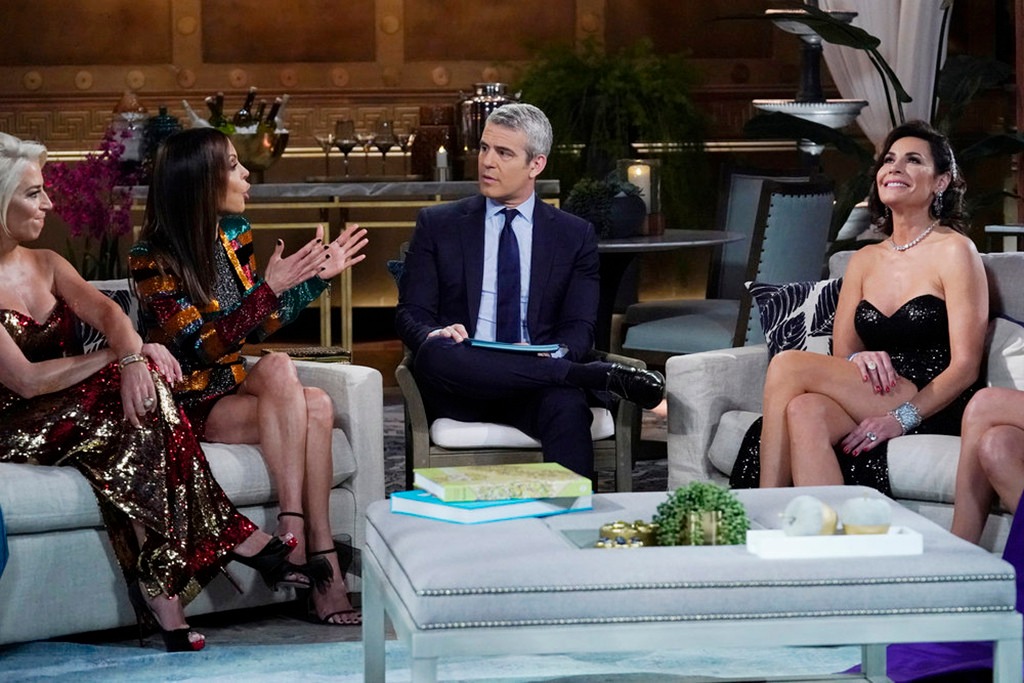 Bravo
The time has come to hash a few things out. 
The Real Housewives of York began the season 11 reunion tonight, and in just this part one, they already touched on some of the bigger issues of the season. Luann's crises, Bethenny's loss, everybody's new apartments, Dorinda yelling "Jovani" and how no one has forgotten about that since last season. Will anyone ever forget Dorinda drunkenly yelling "Jovani!" during Luann's show last year? We sure hope not. 
In terms of serious discussions, Bethenny's grief over the death of late ex Dennis Shields got the most attention as Bethenny clarified their relationship at the time of his death—together but not, engaged-ish—and opened up about all the things that make her miss him. 
She also spoke about her new and completely off-camera boyfriend Paul, which led to one of many small arguments that peppered this part one of the reunion, which we will get to. 
The reunion also couldn't go far without bringing up this season of Luann, who once bailed on her friends to go see her own poster on the side of a building. Tonight, she admitted she had been a tad self-absorbed. 
"My head is humble, "she said after watching the last few episodes of the season. "I was totally self-absorbed and I totally own that...I was self-absorbed because I was really trying to take care of myself the best way I could, and I don't think you girls realize that. To be around you all the time and not drink is really difficult for me. And I went into self-protection mode..." 
Bethenny had some things to say about that, but Andy tabled that discussion for another part of the reunion. So for now, we can all just focus on the fact that Luann owned up to a bit of her behavior this season, and that's nice. And can we also admit that if there was a poster of us on the side of a building, we would also want to go take a picture in front of it? Because it's true. 
Now, let's discuss some of the bigger kerfluffles of the night. 
TV Boyfriends: Paul vs. Scott
We of the RHONY fandom have never met Bethenny's boyfriend Paul other than through the occasional picture, because Paul is apparently a more reserved, calm, and balanced guy who doesn't want to be on TV, which is fine.
Then, some viewer asked if Tinsley was annoyed that Bethenny keeps her own boyfriends separate from the show but gets mad when Tinsley won't call Scott on camera, and everybody brought up some good points: Tinsley met Scott on camera, Scott has been on camera many times, and Scott has definitely done things to get attention on camera, like how he sent Tinsley 365 roses that time. Paul, on the other hand, has not done any of those things. 
The argument just kinda ended, but Tinsley was clearly not thrilled.  
Back at the Clambake 
Ah, the Tyler Perry quote. Let us never forget, just like Jovani. 
Dorinda and Luann's troubled friendship got some of the spotlight tonight as Dorinda really just tried to point out that she wants Luann to be grateful, that's all. That's what all the Jovani yelling was about, and now that's become "half" of Lu's show. Did Dorinda take the Jovani too far? Yes. Did Luann then take it waaaay too far? Yes. Was Dorinda's little comment about supporting Luann when she went to jail "the first time" kinda rude? Yes. But was it also totally mean of Lu to keep Dorinda away from that clambake? Yeah, it was. 
There were a lot of questions to explore on this topic that created new arguments. Is Tyler Perry capable of being deep? Is a Tyler Perry quote not a reasonable method of communication in a broken friendship? Did Lu really not invite John but did invite Scott to that one event? Did Lu overreact to the fish room? 
Luann did acknowledge that her behavior wasn't so great, and she didn't want to say the year was rougher on her than anyone else, but it was a rough year. The whole thing ended in a big hug with Dorinda where they both cried, and we will not lie, we also cried a little. 
And then Andy had the DJ hit play on Lu's new song, "Feelin' Jovani," and no smiles have ever been more strained. 
This all continues next Thursday at 9 p.m. on Bravo.