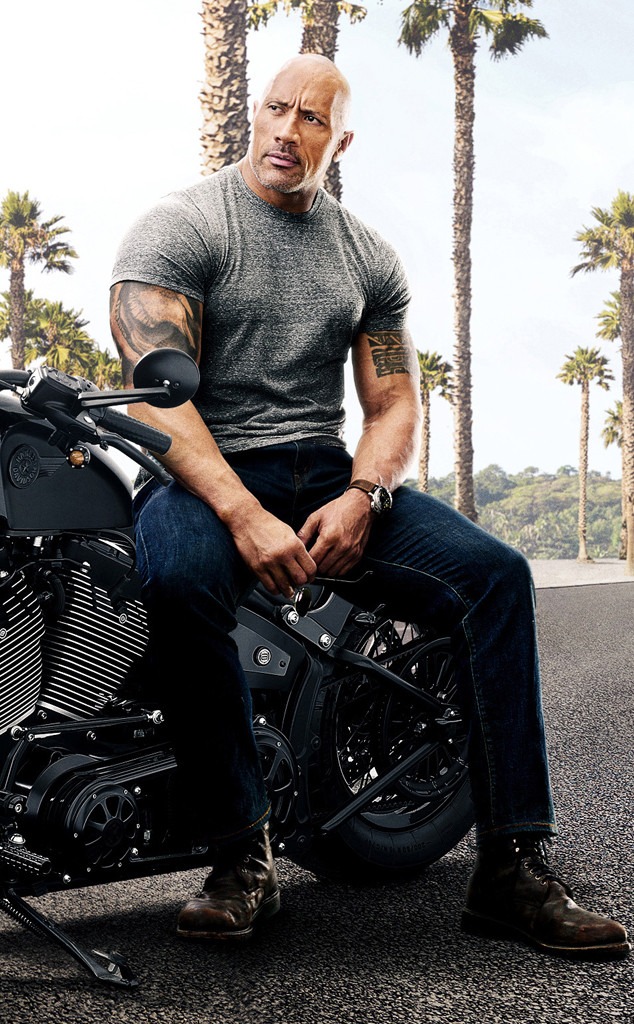 Universal Pictures
Whether you are a cinephile maxing out your Moviepass or someone just looking for an air-conditioned room on scorching days, the summer box office is the peak time to head to the movies.
By now, you've probably seen July's biggest blockbusters, such as The Lion King and Once Upon a Time...in Hollywood, and thankfully there is no slowing down at the cinemas this month either.
The highly-anticipated Fast & Furious Presents: Hobbs & Shaw kicks off the month, giving fans of the franchise a new movie after two years since Fate of the Furious (and amid inter-cast drama). The high-octane flick however is just the beginning.
August has something for everyone from summertime shark thrillers like 47 Meters Down: Uncaged to a hilariously R-rated coming of age story with Good Boys.
We're excited for some book-to-movie adaptations too, like the seriously spooky Scary Stories to Tell in the Dark and a quirky adventure in Where'd You Go, Bernadette?
Plus, there are films that will tap into your nostalgia as well this month that you must see. Did you grow up repeating "Swiper, no swiping?" If so, the live-action Dora and the Lost City of Gold is where you want your map to take you come early-August.
Many of the films are also stacked with your favorite celebrities, including Tiffany Haddish who is taking on a serious role in The Kitchen and Gerard Butler who is trying to save the president (for the third time) in Angel Has Fallen.
We've highlighted the movies we can't wait to watch below, so grab your popcorn and then vote for the movie you're most excited to see!
Fast & Furious Presents: Hobbs & Shaw: Aug. 2
The Fast & Furious spin-off features rivals Luke Hobbs (Dwayne Johnson) and Deckard Shaw (Jason Statham) as they are forced to work together to take down a cyber-genetically enhanced terrorist played by none other than Idris Elba. This mega-budget flick is directed by David Leitch, the creative force behind other stunt-driven action movies like John Wick and Atomic Blonde, and will also feature both Vanessa Kirby and Helen Mirren. This film is sure to be just the right amount of NOS to recharge the franchise for another lap.
Dora and the Lost City of Gold: Aug. 9
A grown up Dora the Explorer takes on her biggest adventure yet...high school. This live-action version of the popular kids series follows Dora (Isabel Moner) as she tries to fit in among her peers, which proves to be a little difficult when you've got a pet monkey in your backpack. Dora and her classmates end up back in the jungle to try to help save her parents and solve the mystery of the lost city of gold.
The Kitchen: Aug. 9
After their mobster husbands are arrested by the FBI, three women decide to take over their rackets themselves. Starring Haddish, Melissa McCarthy, and Elisabeth Moss, the film follows the trio as they take over their 1970s Hell's Kitchen neighborhood and take down whoever stands in their way.
Scary Stories to Tell in the Dark: Aug. 9
A group of kids stumble across a haunted book that, upon reading the stories out loud, brings the monsters described within it to life. Produced by Guillermo del Toro, the terrifying looking monstrosities come for the children and prove that there is no reason summertime cinema can't still be witchy.
Blinded by the Light: Aug. 14
This feel-good movie focuses on a British-Pakistani teen (played by Viveik Karla) whose dreams of writing poetry are shot down by his traditional family. When a friend introduces him to the music of Bruce Springsteen, he feels like someone out there finally gets him and it encourages him to be bolder in his own writing. In a year full of musical biopics and adaptations like Rocketman and Yesterday, this is another film to add to the playlist.
47 Meters Down: Uncaged: Aug. 16
Is it even summer if you don't go to a shark movie? In the sequel to 2017's 47 Meters Down, a group of friends dive into the ruins of a submerged Mayan city, only to find they aren't the only ones down there. 
Good Boys: Aug. 16
This coming-of-age film may feature kids, but it's definitely rated for adults only. A trio of 6th graders, including Jacob Trembly, are invited to a party but panic when they learn people kiss at it. Having no experience themselves, they spy on their teen neighbors to learn and end up on a wild adventure involving stolen drugs, a fraternity party fight and the cops. 
Where'd You Go, Bernadette?: Aug. 16
Based on the popular novel, this film centers around Bernadette (Cate Blanchette), an agoraphobic architect that feels she put her creative passions on hold to become a mother. Deciding to take a leap of faith on a new project, Bernadette disappears. Her family and friends set out to find her in what is sure to be a heart-warming story.
Ready or Not: Aug. 21
A newlywed ends up regretting her vows when her husband's family (which includes Adam Brody) invites her to their tradition of playing a game at midnight whenever someone gets married. It turns out she must play a life-or-death game of hide and seek and if she wants to live, she'll have to survive until dawn. As if meeting your in-laws isn't already scary enough.
Angel Has Fallen: Aug. 23
The third movie in the Olympus Has Fallen franchise brings Butler back as Secret Service agent Mike Banning. While on a fishing trip, someone tries to assassinate the president and Banning is framed as the perpetrator. Needing to clear his name and save POTUS, he teams up with his father to find out who is truly behind the attacks.
Summer is still going strong, so grab your favorite box office snack and vote on which movie you can't wait to see this month!
August 2019 Blockbusters Poll