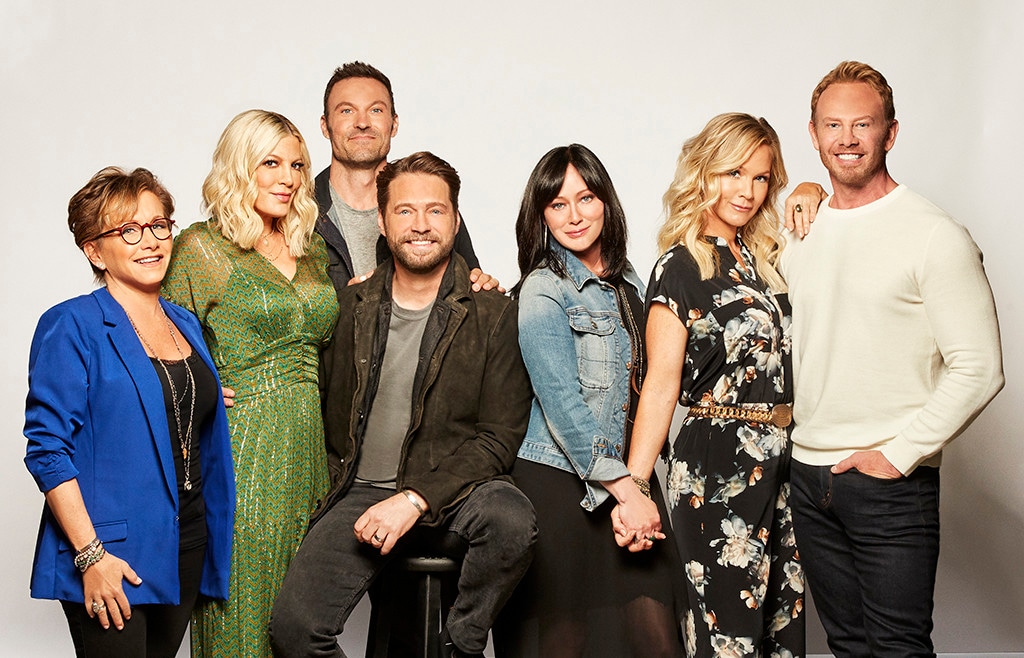 Fox
Finally, we've got a glimpse of what BH90210 might actually look like. 
A new promo appears to feature some actual footage, and there are a whole bunch of new pics of the actors in character (as themselves), making this odd reunion series just a little bit less of a mystery. 
The promo shows everyone back in the Peach Pit, reminiscing about the good old days. 
"Remember when we used to make out to this song?" Tori Spelling says. 
Tori and Jennie Garth take a plane ride together. Shannen Doherty puts on her sunglasses. Gabrielle Carteris grins will holding up an egg. Just like old times! 
Watch the new promo below!
In the new photos, which you can see below, the cast reunites at a fan convention celebrating the 30 year reunion of Beverly Hills, 90210 and appear on a panel, during which Ian Ziering promotes his book, "The Holly-Wed Workout: Sweat Together To Get Together."  
Ziering, Spelling, Garth, Carteris, and Doherty star along with Jason Priestley and Brian Austin Green, all as themselves. 
La La Anthony plays Shay, Green's fake wife, while Vanessa Lachey plays Camille, the fake wife of Jason Priestley. Ivan Sergei will play Nate, Tori Spelling's fake husband. 
The series will find the former stars of the teen soap playing heightened versions of themselves as they try to get a reboot off the ground. 
"Having gone their separate ways since the original series ended 19 years ago, Shannen, Jason, Jennie, Ian, Gabrielle, Brian and Tori reunite when one of them suggests it's time to get a Beverly Hills, 90210 reboot up and running," the official Fox description reads. "But getting it going may make for an even more delicious soap than the reboot itself. What will happen when first loves, old romances, friends and frenemies come back together, as this iconic cast—whom the whole world watched grow up together—attempts to continue from where they left off?" 
The series premieres Wednesday, August 7 at 9 p.m. on Fox.