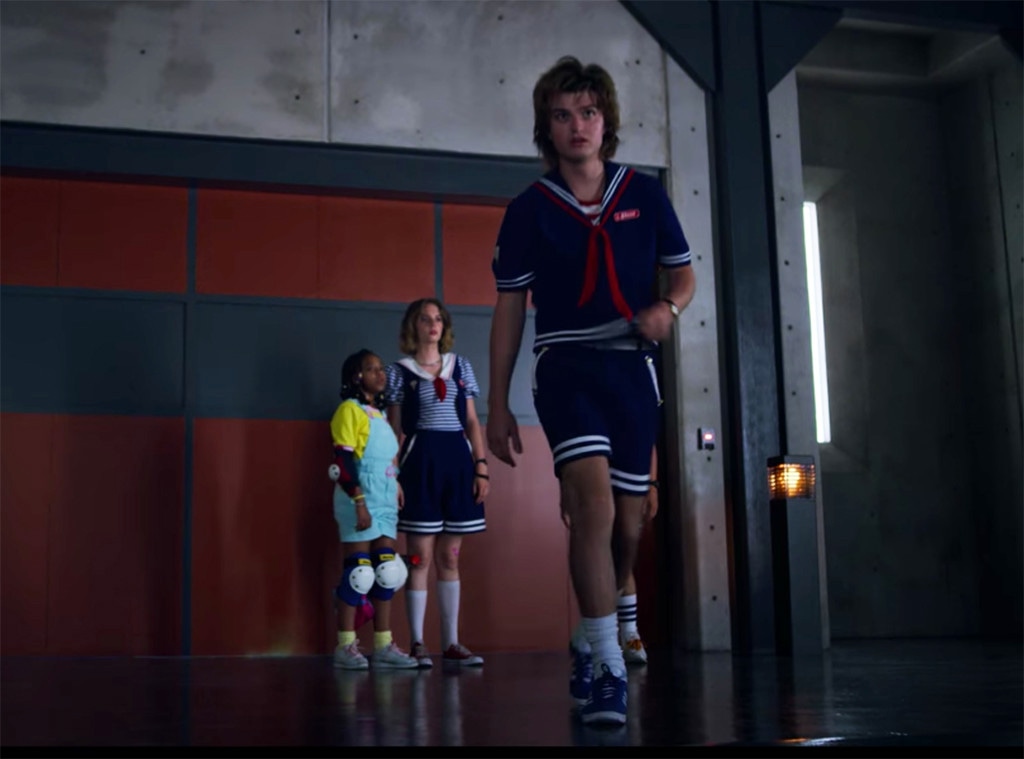 Netflix
Raise your hand if you're now working on adding some new '80s prints into your daily life. 
Stranger Things 3 had a lot going on at almost all times, but at moments, we could focus on nothing but the outfits. Those bright colors and bold prints and short shorts and even those sailor hats both perfectly fit in with the scenery and stood out in kind of a perfect way, like this was the ultimate nostalgic summer wardrobe. 
We were so obsessed with the costumes that we have, no joke, bought the Hot Topic version of Hopper's shirt for our very own selves. We also got the costume designer, Amy Parris, on the phone, mostly so we could find out how we could get our hands on things like Hopper's shirt, but also so we could find out exactly what went into crafting this bright, beautiful rainbow of summery fits. 
Parris says that one of the major directions she got this season, from executive producer Shawn Levy, was no more fall. 
"One of the things he told me was no more brown, no more plaid, because so much of the first few seasons are in the fall, and it was more early '80s, so there's still a lot of late '70s influence," she says. "So we made sure to take away a lot of the brown and a lot of the dusty, rusty colors, and take away the plaid and add brighter tones." 
Color was a huge part of the season in terms of all of the visuals, but it was particularly important in the costumes due to the fact that the season takes place over just a few days, and most of the characters are wearing the same outfits for a long time. 
"When you look at the whole season and know that it's for a few days in the summer...you really want to pack a punch and see as much as you can in those few days," she explains. 
Parris says she would plan out each outfit for each character together as a whole, and make sure that there weren't too many people in the same color or tone, so all of the season's costumes were looked at "as a big picture." 
The costumes are a mix of vintage finds, new clothes with alterations, and clothes made from scratch, so Parris says she process takes a lot longer than you might expect to get everything together. 
"When it's period, you want it to be so authentic, and so there's always the opportunity to find something that is vintage vs. something that's new, so you always kind of strive to find the right thing as opposed to just going to the mall and finding something that could pass, so the process is time consuming, and it's a lot of hours, but it's so rewarding and I wouldn't change the process for anything," she says. "It's worth it. It's so worth it." 
We went through a few of our favorite pieces from the season with Parris, so see below for the scoop on all the best looks! 
Stranger Things 3 is now streaming on Netflix.