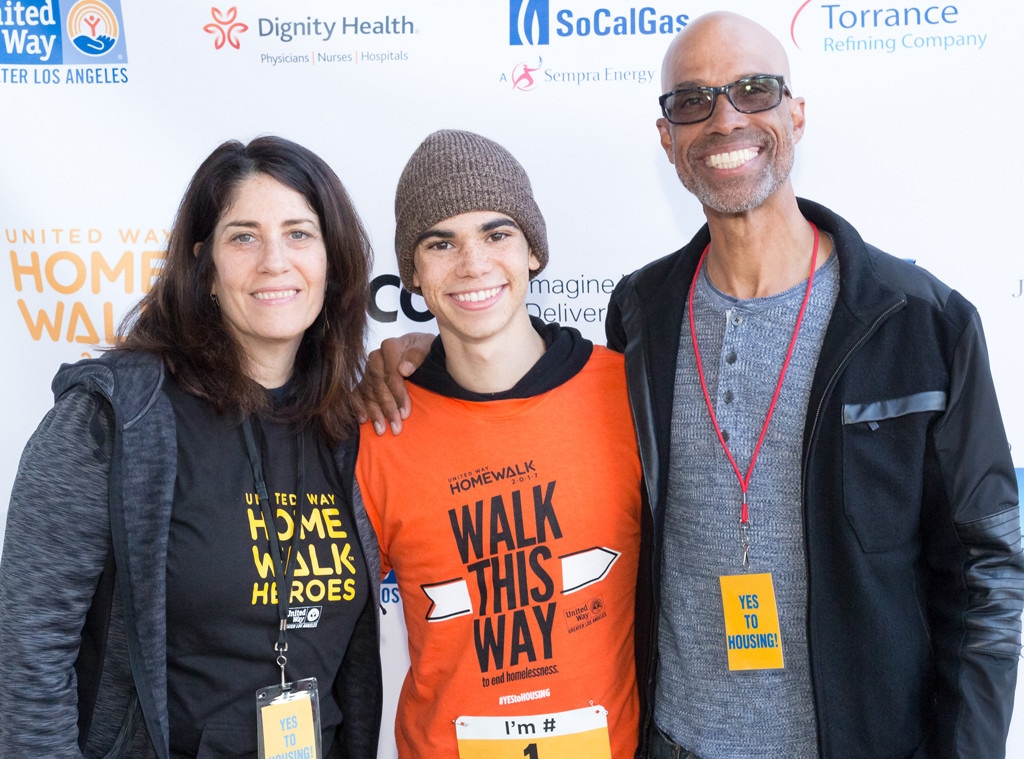 Greg Doherty/Getty Images
Libby and Victor Boyce are mourning a loss no parent ever wants to image: the passing of their son Cameron Boyce.
"There are no words to describe how moved we are by the tremendous outpouring of love and support from our family, friends, and the world," they shared in a statement to E! News. "Thank you, everyone, for encircling us with your love and respect of Cameron and concern for our family. He was the very definition of human kindness, and a light that will forever shine as his spirit lives on in all who knew and loved him. He was the rock of our family and he always had a positive, heartwarming, insightful and caring outlook on everything and everyone."
And they know his memory and impact will live on forever.
"The pain we have endured and are continuing to endure is indescribable, but we are making every effort to move forward and ensure that Cameron's legacy and all that he stood for is honored," they added. "He was and is, so cherished and we will hold him in our hearts forever. He is our shooting star."
The Disney Channel star, who passed away on July 6 at the age of 20, suffered from epilepsy, his family confirmed to E! News in a statement on Tuesday.
"Cameron's tragic passing was due to a seizure as a result of an ongoing medical condition, and that condition was epilepsy," a family spokesperson shared. "We are still trying to navigate our way through this extremely heart wrenching time, and continue to ask for privacy so that the family, and all who knew and loved him can grieve his loss and make arrangements for his funeral—which in and of itself, is agonizing."
According to a press release, Cameron was found unresponsive in his home in North Hollywood, Calif., in the early afternoon of July 6. Authorities were called and Cameron was pronounced dead at the scene at 2:35 p.m. An autopsy was performed on Monday and a cause of death was deferred pending "further investigation."
Instagram / Cameron Boyce
Following Cameron's sudden passing, his dad opened up about his appreciation for the floods of kindness.
"I'm overwhelmed with the love and support our family has received," he wrote. "It really does help to ease the pain of this nightmare I can't wake up from. I can't thank you guys enough."
Cameron's friends and castmates have also taken to social media to pay tribute to the rapidly rising star. 
Dove Cameron, who starred opposite Boyce in the Descendants franchise, posted a lengthy video on Instagram about "one of my favorite people alive in the world."
"I've been unsuccessful thinking about trying to summarize something where there are no adequate words in the English language," she shared. "Over the last six years, since he was only 14, Cameron talked me down from countless ledges, talked me through eating disorders, helped me out of a dark relationships and through endless break downs... I can't count the amount of times on my hands we ruined something because we couldn't stop making each other laugh."
"Too young. Too sweet. Too funny. Just the nicest, most talented, and most decent kid around," his Grown Ups co-star Adam Sandler tweeted. "Loved that kid. Cared so much about his family. Cared so much about the world. Thank you, Cameron, for all you gave to us. So much more was on the way. All our hearts are broken. Thinking of your amazing family and sending our deepest condolences." 
Our thoughts are with Boyce's family and friends during this difficult time.