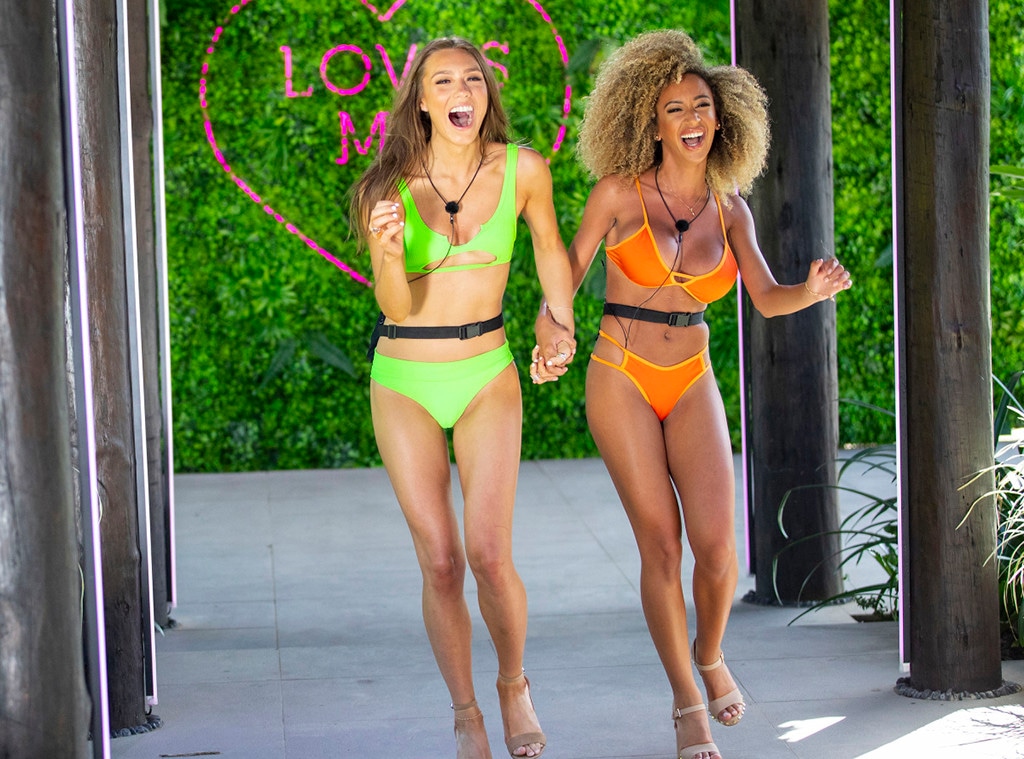 CBS
Well so far, our fears were unfounded. 
CBS just debuted its version of the popular UK dating reality show Love Island, and we almost didn't even miss the British accents, but we definitely yelped a little there when the premiere ended on a cliffhanger. Whose boyfriend will Kyra steal?! We already cannot wait to find out. 
Kyra was the big surprise of the night for the Islanders, as she arrived after all of the men had already come in and chosen who to couple up with. Kyra is now forced to break up one of the current couples and leave one other girl single until the next official recoupling, and it was easy to get invested in that drama right off the bat. 
Will Kyra pick Westin, the cowboy to whom nobody was attracted and whose relationship with Mallory seems to not be that far along, or will she pick Yamen, with whom Alana is smitten, or will she break up Caro and Cashel, who seemed like they were going to be the least legit couple but actually might be the strongest in the house? 
Caro and Cashel were actually the most exciting story of the night, since Cashel picked Caro to be his partner even though she did not step forward to indicate that she liked him. In fact, no one stepped forward for him, which was probably mostly because he was the first guy to arrive on the island. Caro seemed really unhappy with her partner until they got to know each other a little, and soon she seemed sort of smitten. They cuddled in their bed, and she sort of inadvertently kissed him the next day as she worried that Kyra might choose him. 
Cashel seemed to be interested in Kyra too, but we all have to remind ourselves that these relationships have existed for literally two days, and these people have barely had time to get to know each other. Yesterday, Caro didn't find Cashel attractive at all, and now she's in a panic! But of course this is Love Island just how we like it. 
The best part so far is that everyone truly is here to make friends, and the friendships have already begun. Michael thinks Zac would be a really good model, and Kyra and Elizabeth are BFFs based on Elizabeth simply telling Kyra she's gotta do what she's gotta do. 
So far, we're only really missing that iconic British/Love Island slang. By this time in the UK, at least four people would have "got the chat" or had "a bit of banter." 
But this is only episode one, and these people have plenty of time to give us some good made up phrases to incorporate into our daily lives. 
See below to keep up with the whole cast and the current couples! 
Love Island airs weeknights at 8 p.m. on CBS.