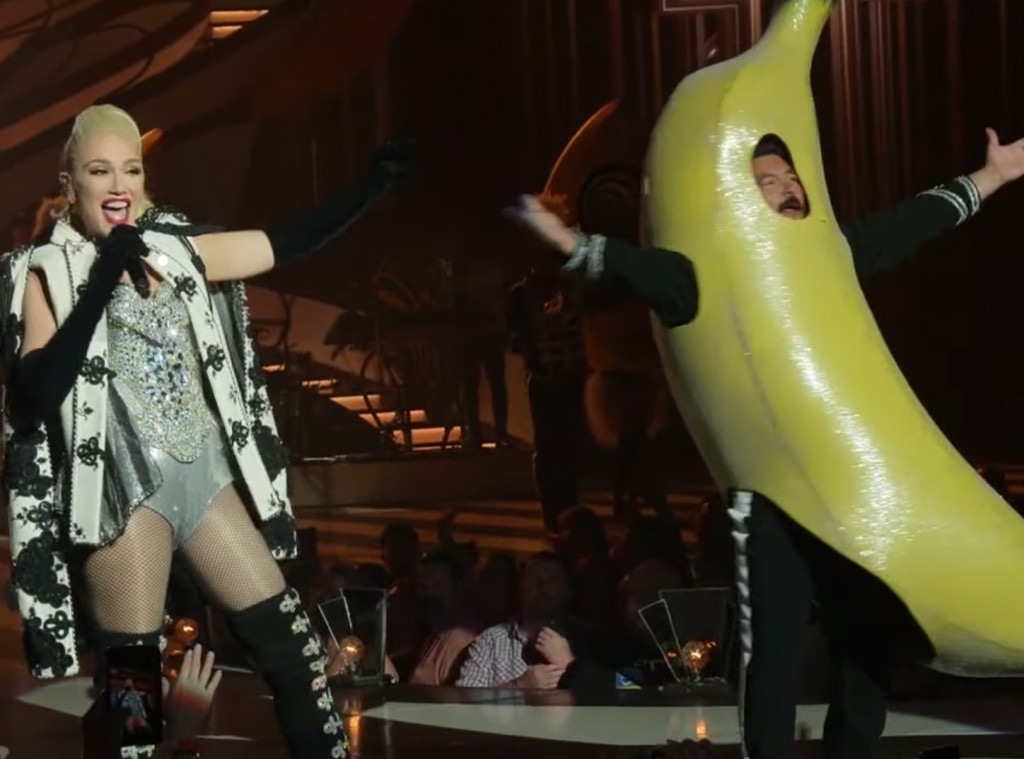 Youtube/Jimmy Kimmel Live
She may be just a girl, but Gwen Stefani's Las Vegas residency is no solo act. 
So when word got out that she was in need of backup dancers, inspiration struck Jimmy Kimmel. "It's a big production and it requires big talent," he explained on last night's Jimmy Kimmel Live. "When the notice went out, we sent in the biggest little ball of talent we know to try out to be part of the Just A Girl tour." And that lucky person just happened to be his trusted sidekick, Guillermo Rodriguez. 
Over at the dance studio, Guillermo walked in confident as ever. When Gwen asked if he's there for the audition, he quickly shut her down. "Honey, I don't audition," he quipped. "I'm a legend. Here's my resume and I hear you like bananas, organic." He handed her a piece of fruit then, with a sweet escape out of his sweatsuit, revealed a gold, sparkly "Rich Girl" tank top.
"He definitely has a different look from anyone in our show," the understandably confused Voice coach said to the camera. "That's a good thing." 
Alas, he stumbled through the rehearsal—"I'm dancing like no one is watching," he said. To which Gwen instructed, "You should start dancing like everyone is watching!"—and didn't make the cut.
But Guillermo had no doubt. He knows he's talented!
"That was bulls--t," he said, walking up to Gwen. "Before I leave, I want to tell you something. I might not be a great dancer, but I have a big heart, a big belly, a big butt. And I think you guys are making a big mistake."
His speech did the trick and he inevitably scored a spot in her dance crew. "I cannot believe they fell for that speech," he laughed in a confessional. "Dumbasses!"
Which then brought us to the Zappos Theater in Las Vegas! "God help me," he prayed backstage before walking out in a banana costume for for "Hollaback Girl."
His performance was, well...allow Guillermo to explain. "That went really bad," he confessed afterwards. "I think Gwen Stefani is mad at me. But I tried by best!"
And, really, that's all we could ask for. See for yourself in the video above!