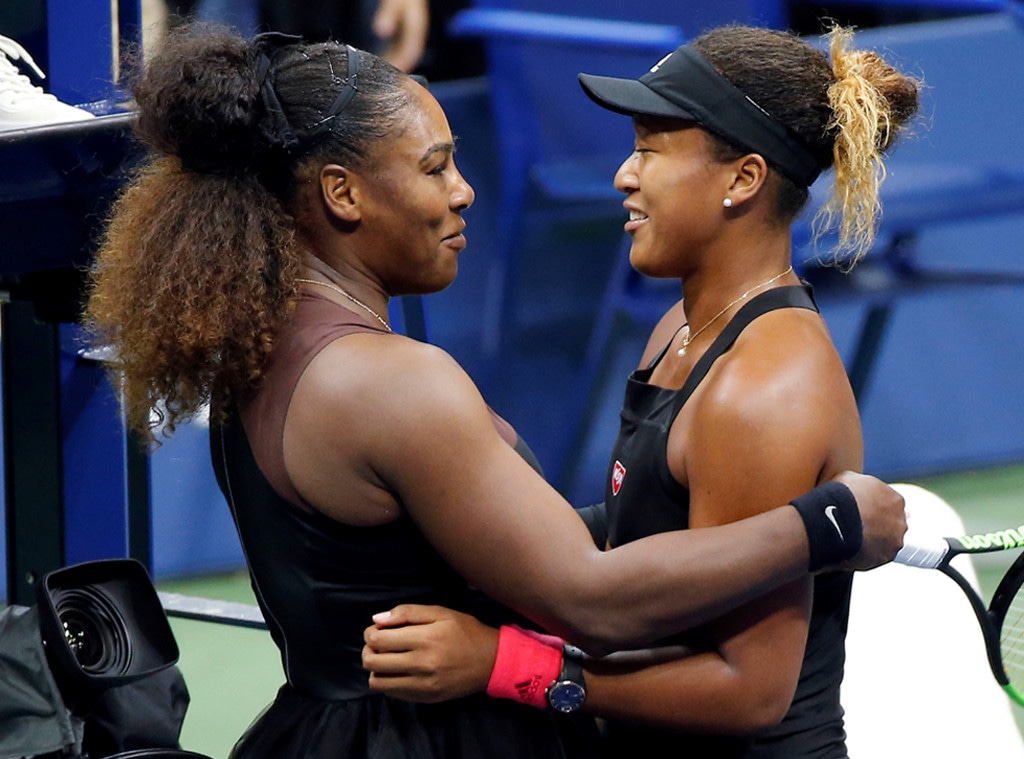 Mohammed Elshamy/Anadolu Agency/Getty Images
It's been almost one year since Serena Williams lost to Naomi Osaka in the 2018 U.S. Open finals, but the 23-time Grand Slam champion still remembers the defeat like it was yesterday.
Williams opened up about the memorable match in a powerful essay for Harper's Bazaar released Tuesday. 
Many sports fans remember that day for the series of confrontations between Williams and the chair umpire Carlos Ramos. The first heated exchange took place after Ramos accused Williams of receiving instructions from her coach Patrick Mouratoglou, who was up in the stands. Knowing such behavior is against the rules, Williams insisted she didn't cheat and demanded an apology.
While Mouratoglou later admitted to ESPN he was coaching the tennis star from his seat, he also said "100 percent of the coaches in 100 percent of the matches" do the same and that the umpire's call was hypocritical. In addition, he said Williams didn't even see his coaching gesture.
The second exchange between Williams and Ramos came after the tennis pro smashed her racket on the court—resulting in a second violation and a lost point. After Williams called him a "thief" for taking away the point, Ramos cited Williams a third time for "verbal abuse."
Williams later called out sexism in the sport, claiming male athletes do things that are "much worse" on the court and get away with it. She also pledged to continue to fight for women.
"This incident—though excruciating for us to endure—exemplified how thousands of women in every area of the workforce are treated every day," she wrote for the August issue. "We are not allowed to have emotions, we are not allowed to be passionate. We are told to sit down and be quiet, which frankly, is just not something I'm OK with. It's shameful that our society penalized women just for being themselves."
Alexi Lubomirski for <i>Harper's Bazaar</i>
Osaka ended up winning the tournament. Tears were shed on the court, and Osaka even apologized for the victory. At one point, Williams asked the fans in the crowd to stop booing so Osaka could have her moment.
While Williams admitted her "opponent simply played better" that day and that she was happy for her, she still felt like she had been "cut deeply."
"I tried to compare it to other setbacks I'd had in my life and career, and for some reason I couldn't shake the feeling that this was about so much more than just me," she wrote. "I thought back to my first Grand Slam. It's the one you remember best; it's supposed to be the most special. This debacle ruined something that should have been amazing and historic. Not only was a game taken from me but a defining, triumphant moment was taken from another player, something she should remember as one of the happiest memories in her long and successful career. My heart broke."
Even after the U.S. Open, Williams continued to reflect on what took place. After she struggled to "find peace," she started seeing a therapist and searching for answers. In the end, she decided to reach out to Osaka and "apologize to the person who deserved it the most."
In her note to Osaka, Williams reiterated how proud she was of the champion and how she was "truly sorry."
"I thought I was doing the right thing in sticking up for myself. But I had no idea the media would pit us against each other," she wrote in the note. "I would love the chance to live that moment over again. I am, was, and will always be happy for you and supportive of you. I would never, ever want the light to shine away from another female, specifically another black female athlete. I can't wait for your future, and believe me I will always be watching as a big fan!" 
Once Williams received Osaka's response, "tears rolled down" her face.
"People can misunderstand anger for strength because they can't differentiate between the two," Osaka had written, per Williams. "No one has stood up for themselves the way you have and you need to continue trailblazing." 
In fact, that's just what Williams will continue to do.
"Ultimately, my daughter is the reason I use my voice, the reason I picked up a racket again," she wrote. "Love breathes life and newfound perspective into people. It's not about quitting when someone presents a challenge; it's about getting up when you are down, dusting yourself off and asking, 'Is that the best you got?' Because I have God with me, and I can take whatever comes my way." 
To read Williams' full essay, check out the August issue of Harper's Bazaar.