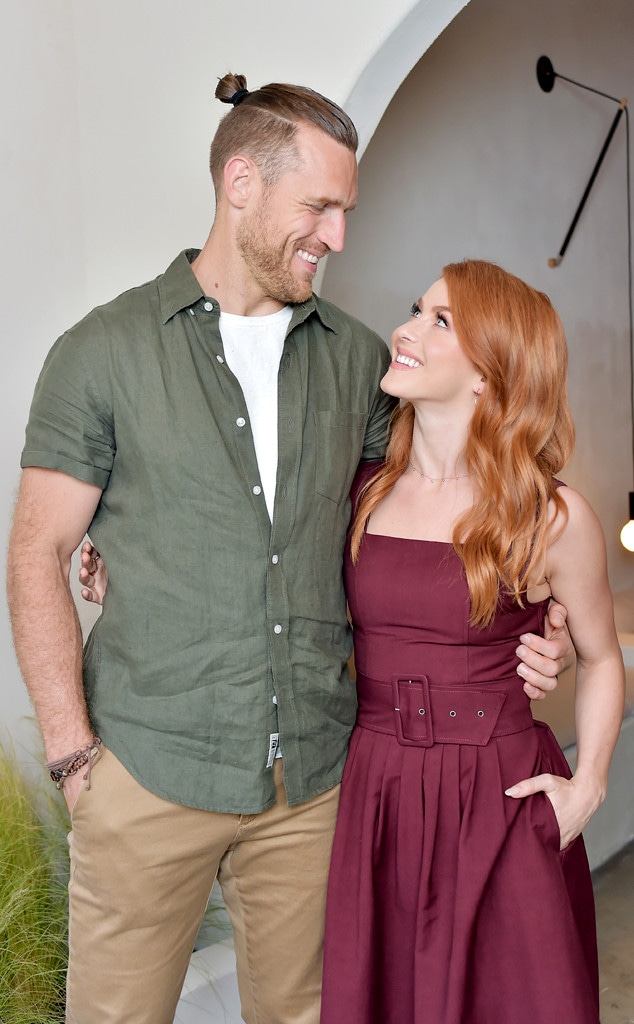 Stefanie Keenan/Getty Images for Amanu
Two years of marriage in, Julianne Hough and Brooks Laich are continuing to learn how to make their relationship the best it can be. 
As the ballroom pro and her ice hockey husband discussed in a new episode of Laich's How Men Think podcast, they have been figuring out how to feed each other's intimacy needs.
"I think it's one of the most sacred things that you can have between a partnership," Hough said of intimacy. "I think it's what separates friendship and lovers."
"You are exceptional at coming in the house and coming and giving me a great big kiss and we connect right away," Laich complimented his wife, noting she's good at ensuring intimacy "stays present."
However, as the America's Got Talent judge noted, "My curiosity has saved my life and honestly saved our relationship many times because we've been curious about like, 'Hey, something doesn't feel right. Instead of just accepting it for how it is, let's look into something.'"
So, she did. The star came upon a website for sexologist Jaiya, where they could take a quiz to find out their "erotic blueprint." Ultimately, they learned there were different things that gave them each intimacy and connection. 
"By almost learning each other's language...it was almost like a menu of how we could please each other sexually, but also intimately," she explained. 
Laich noted, "It allows me to understand my wife more and what's important to her. Otherwise, I'm going to try and keep giving the way I think that I'm supposed to." The two further acknowledged the test can be a helpful tool for couples to start this kind of conversation. 
For Hough, intimacy can be as simple as eye contact. "As a woman, we just want to be seen,. We go to dinner a lot of the time and dinner for Brooks is great because he's getting fed, he's got me there, whatever it might be...Dinner to me means I want eye contact and I would really appreciate you maybe touching my hand at some point."
And, as important as establishing intimacy, the two also addressed ways in which they've "stifled" their intimacy. "We've said that the bedroom is a no cell phone zone, and sometimes if you come to bed and then I'm waiting in bed and you're like 'Ok, one second' and you're like sending an email or you're checking an Instagram or something and then sometimes you've said, 'Ok, I'm done,' and you plug in your phone and then you roll over to me. I'm like, 'Ok, well I just waited for my wife. I'm second in line to her phone or what she's sending?"
He continued, "I really take that deeply like that's deep cut for me."
However, Laich added, "We've worked on that and I've voiced that. Nobody's perfect."
Instead, for the way to his heart, the athlete said it means the world to him when his famous wife feeds him, whether via a home-cooked meal or sending him lunch through Postmates. 
He also noted, "When you put lingerie on, I am f--king fired up. I love it."
As the thoughtful and intimate conversation concluded, Hough enthusiastically told her husband, "I can't wait to have sex with you!"