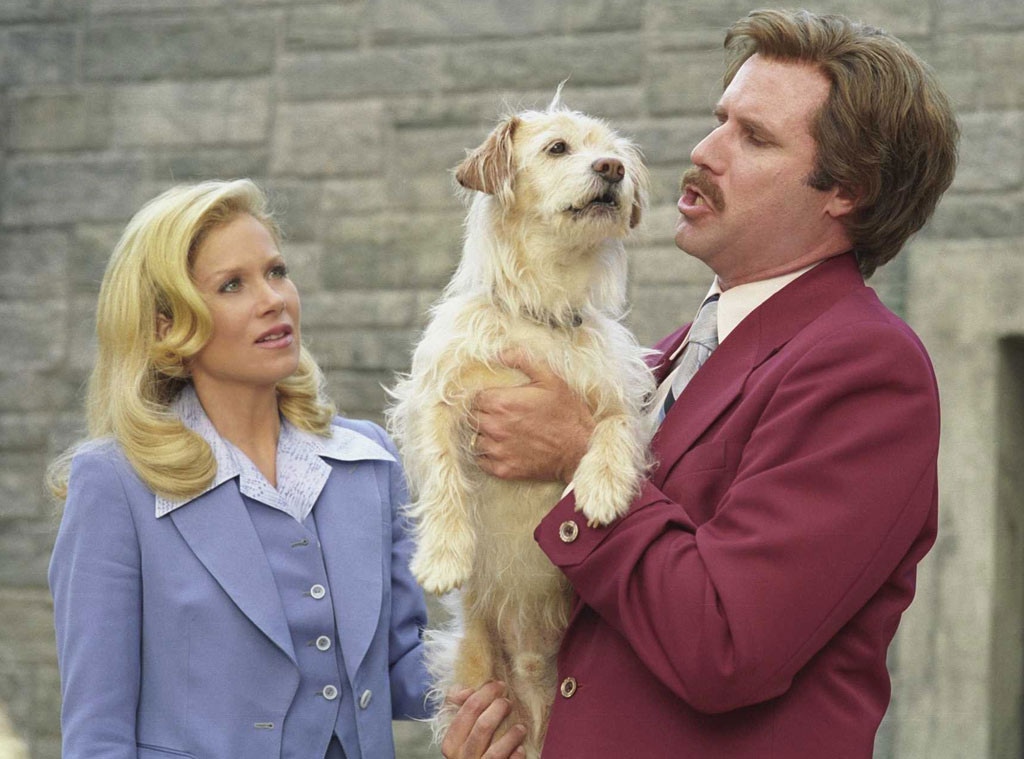 Dreamworks
News team, assemble!
Anchorman: The Legend of Ron Burgundy is officially 15 years old and while we are trying to stay classy here, we're sort of in a glass case of emotion about this major movie milestone.
On July 9, 2004, fans were first introduced to the Channel 4 News Team (from the 1970s)—made up of Ron Burgundy (Will Ferrell), Brian Fantana (Paul Rudd), Brick Tamland (Steve Carell) and Champ Kind (David Koechner)—and boy was this squad hilarious.
After Veronica Corningstone (Christina Applegate) was brought into the San Diego news station to switch things up and show an Anchorlady on screen, the testosterone-filled office did not take it well. In fact, after falling for Veronica and then messing up on camera and having San Diego hate him all of a sudden, Ron spirals out of control in the now-iconic comedy.
The good news is that his fellow reporters continue to have his back, especially when they tussle with rival news teams in a literal brawl, but we do have to ask, are four male reporters actually better than one?
15 years later fans are still rooting for the Channel 4 News Team, and not's not just because Brick killed a guy! The real reason we love this movie so much is the cast, humor and hilarious one-liners.
To celebrate this film's big birthday, we've rounded up our favorite and most quote-worthy lines for you to laugh out loud at. Plus, we want to hear which line you think is the best of them all.
Great Odin's raven, what are you waiting for? It's time to relive Ferrell's best Ron Burgundy moments via his quotes (as well as the rest of the cast's lines) below and get your laugh on!
"You stay classy, San Diego. I'm Ron Burgundy?" In addition to now thinking that San Diego might be one of the classiest cities around, Ron's funny way of questioning his own name due to a teleprompter mistake will forever be in our minds.
"Where did you get those clothes, at the toilet store?" Ooh, burn Brick!
"Great Knights of Columbus, that hurt!" Seriously, if you aren't saying this when something surprising hurts you, you're doing it wrong.
"They've done studies, you know. 60 percent of the time, it works every time." Sex Panther might sound absurd, but according to Brian it totally works...kind of.
"I'm in a glass case of emotion." We've all been there, Ron. It gets better!
"It's so damn hot…milk was a bad choice!" If there is one thing you take away from this movie it is that milk on a hot day is never a good call.
"Son of a bee-sting." This is basically the retro version of Buddy the Elf (Ferrell's character in Elf) saying, "son of a nutcracker!"
"I love, lamp." OK, we know Brick was just saying items he saw, but let's be real here, we love lamp too.
"By the beard of Zeus!" How can you not laugh when you think of the character yelling this?
"It is anchorman, not anchorlady! And that is a scientific fact!" Champ isn't the brightest of the bunch but he isn't exactly wrong here.
"I'm gonna punch you in the ovary, that's what I'm gonna do. A straight shot. Right to the baby maker." When Ron and Veronica fight it is both funny and sad, which is why we find ourselves laughing at this banter but also cringing just a little.
"Great Odin's raven!" File this under the new way to say, "OMG."
"I love scotch. Scotchy scotch scotch. Here it goes down, down into my belly." Ron is all of us on a Friday night at the start of a three-day weekend.
"I'm very important. I have many leather-bound books and my apartment smells of rich mahogany." Clearly having leather-bound books makes you smarter, duh.
"Don't act like you're not impressed." You caught us, Ron. We are totally impressed!
Anchorman lovers, it's your turn. Sound off on which of these funny quotes from the memorable movie is your all-time favorite below and then grab Baxter and a glass of scotch (or milk) and get ready to read the news!
Anchorman Best Quotes Poll