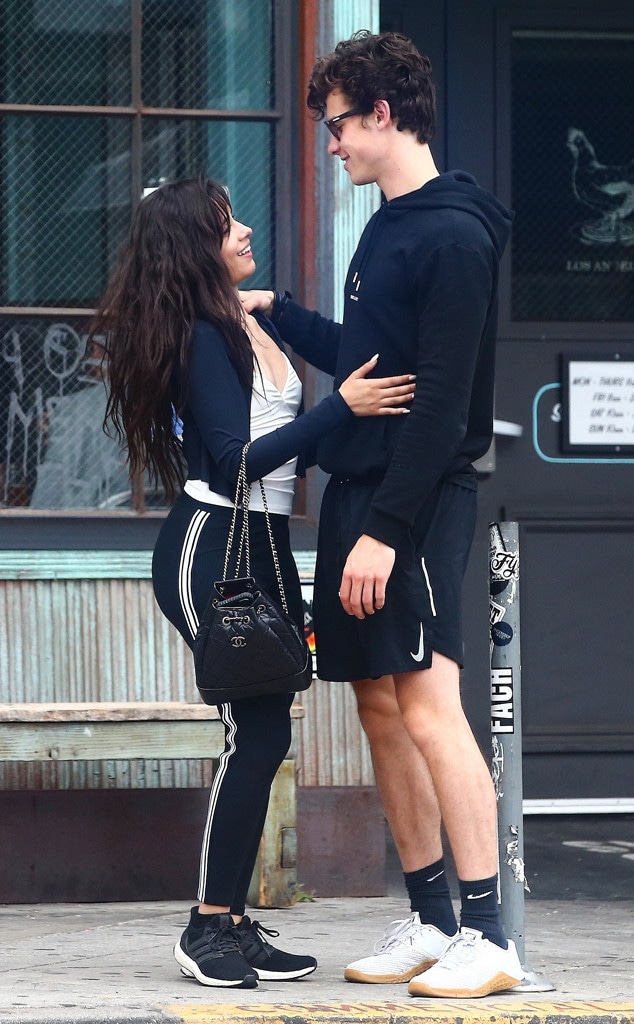 CPR/D.Sanchez / BACKGRID
It looks like things will never be the same for Camila Cabello and Shawn Mendes. 
The two singers continued to spark romance rumors this weekend after they were spotted stepping out for brunch in West Hollywood, Calif. Photographers caught the dynamic duo holding hands and wrapping their arms around each other for a sweet hug on Sunday.
The two-time Grammy nominees kept their looks cute and casual for the outing. The 22-year-old "Havana" star wore a pair of sporty sweatpants, as well as a white top and a navy cardigan. She accessorized her ensemble with some black and white sneakers and a matching purse. Meanwhile, the 20-year-old "In My Blood" crooner donned a dark hoodie and T-shirt, which he paired with some Nike shorts and socks. He also wore some white sneakers and shielded his eyes from the sun with a pair of sunglasses.
"They couldn't keep their hands off each other," an eyewitness tells E! News. "They went to brunch for about an hour and a half then went to a spa in West Hollywood. They both kept playing around, dancing and joking with each other."
This wasn't the first time the artists were spotted together this weekend.
Cabello also attended the "Stitches" singer's concert at the Los Angeles Staples Center on Friday.
"@Shawnmendes you couldn't be more amazing. Wow," she wrote on Instagram along with a red heart emoji, later adding: "You're unreal. @shawnmendes."
In fact, fans have been questioning their relationship status ever since the two released their steamy music video for their new hit "Señorita" in June. Less than a week later, reports spread that Cabello had ended her relationship with Matthew Hussey. (She seemed to address the split on her Instagram Story with a plea to her fans: "If you really love me, please do not send people I love and care about hateful things.")
Despite the rumors, the celebrities have continued to play it coy. When asked if he was dating Cabello at a Q&A session in Los Angeles this weekend, Mendes simply shook his head. 
Then again, Mendes and Cabello have known each other for years. 
As fans will recall, the two released the chart-topper "I Know What You Did Last Summer" back in 2015. They also toured together along with Austin Mahone back in 2014 when Cabello was part of Fifth Harmony.
Even back then, fans wondered if the two had a connection. However, Cabello, who had briefly dated Mahone in 2014, denied these rumors.
So while a romance between Mendes and Cabello hasn't been confirmed, there's nothing holding fans back from speculating on their current relationship status.