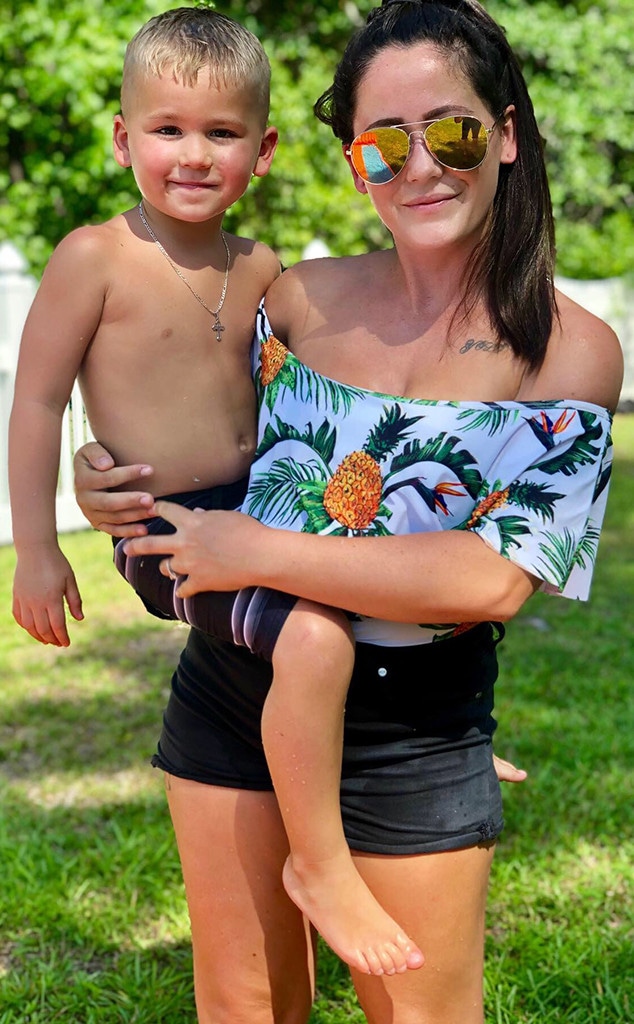 Jenelle Evans
Nathan Griffith has spoken. 
Days after Jenelle Evans confirmed to E! News she had regained custody of two of her three children following their custody battle, the Teen Mom 2 star's ex has publicly addressed the personal update. 
"I've calm down a bit and just relying on my faith at this moment," he tweeted on Sunday along with a link to an online complaint form. "I'm not going to put my two cents in but if anyone wants to put their input, you can visit: https://survey.nccourts.org/1480690875 to complete a survey. Any input will help. The judge's name is Pauline Hankins. TY #TeamGriffith."
Evans' former fiancé and father of their 5-year-old son, Kaiser Griffith, kept his public comments about the decision to a minimum. However, his mom, Doris Davidson, previously told E! News, "Nathan is an absolute wreck over this. He called me saying, 'Mom, I can not believe this.' Kaiser is so loved, sheltered and protected here, I felt like I was lying to him, when I told him I was going to protect him. I couldn't protect him. My heart is broken, its just broken...We are in shock, absolute shock, at the judge's decision."
Meanwhile, Evans appeared to spend Fourth of July with her children, according to Instagram photos she shared of the youngsters in the pool. "#HappyFourth," the reality star captioned the post. "#LatePost."
"I am ecstatic to regain custody of my kids back!" the famous mom told E! News last week, confirming the news. "Throughout this long process and final decision, I am excited to be moving forward and continuing to show America I'm a good parent."
While Jenelle has custody of Kaiser and 2-year-old daughter Ensley Eason with husband David Eason, her firstborn, 9-year-old son Jace, remains with her mother Barbara Evans. 
"The Columbus County judge did a great injustice to these children," Barbara previously told E! News. "Jace was very upset and didn't want to go, so I didn't send him back."
A source also maintained Jace was not ordered by the court to return to Jenelle's home.