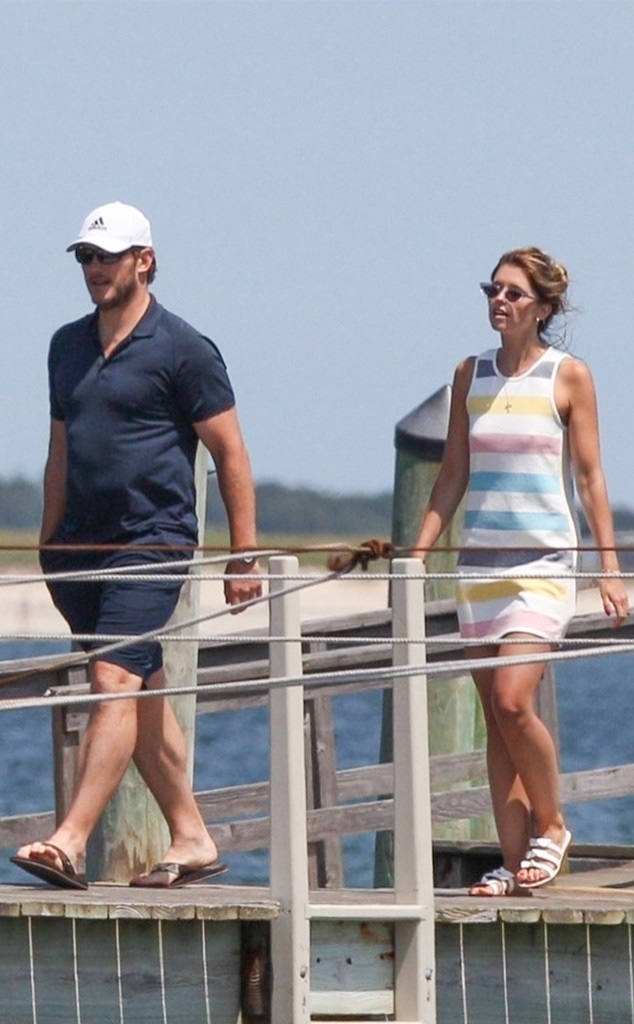 Patriot Pics / BACKGRID
Newlywed bliss!
Chris Pratt and Katherine Schwarzenegger seem to be having a good ole time. On Sunday, the two lovebirds were spotted out and about on their mini getaway in Hyannis Port, Mass. The pair seemed to enjoy a boat ride with the 29-year-old author's family.
Katherine's mom Maria Shriver, brother Patrick Schwarzenegger and his girlfriend Abby Champion all joined in on the fun and spent quality time with the newlyweds.
While on the pier, the Guardians of the Galaxy star reportedly greeted fans and waved to them. After the boat ride, the family was seen hugging and saying their goodbyes.
The couple has been on vacation in Massachusetts for a few days now. They celebrated Fourth of July with Katherine's family at the famous Kennedy compound and took several family photos. In fact, the author joked on social media that she basically had an Instagram husband.
"My ladies," she shared, alongside a photo of her with her closest gals. "(incredible photography by my love @prattprattpratt)."
Naturally, the 40-year-old actor turned on his charm and wits. "Look guys. It's no big deal. I'm just a very good photographer," he commented. "I capture real moments, that's all. The composition? Is it breath taking? Of course. But I can hardly take credit. First I wanna thank God. Next, I must credit the makers of the iPhone. Portrait mode. Am I right? A lot of other people tried to take pictures of this stunning group at the same time as me.They didn't succeed. I did."
He continued, "Does that make me some kind of a hero? Yes. Of course. But am I gonna sit here and brag about my photo? Nope. Not me. The photo speaks for itself. Any picture is worth a thousand words. The same is true for this picture. It speaks words like, genius, artist, photographer, wow!, etc. you get it. #behumble."
As of late, the two lovebirds have been enjoying newlywed life.
They recently got back from their romantic honeymoon in Hawaii. If anything, they had a little too much fun on their trip, as Pratt got a major sunburn. "I might have got a toouuuch crispy on the honeymoon #Aloe," he shared on Instagram.
However, it seems their latest Massachusetts getaway has gone off without a hitch, as there is no sunburn in sight.