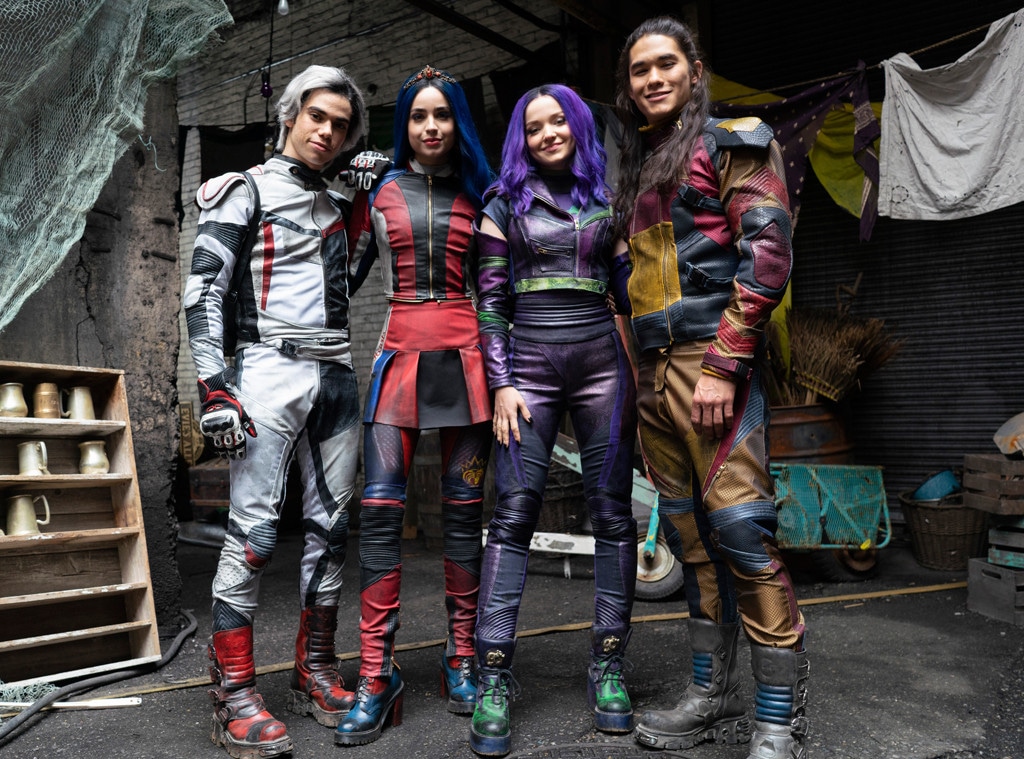 Disney Channel/David Bukach
Dove Cameron took to social media to talk about the devastating loss of Cameron Boyce, her co-star in the Disney Channel's The Descendants movies.
"The only way to get through it right now is to... be expressive and connective, so I wrote something that I'm gonna try to read," the blonde beauty said, holding back the tears, in a series of videos she uploaded to Instagram. "The last 72 hours have felt like two weeks and I have spent them trying to make my thoughts and feeling into words."
She continued, "I've been unsuccessful thinking about trying to summarize something where there are no adequate words in the English language... My system is still in shock, my brain is still foggy and full of holes."
The Disney Channel actress also sent her condolences to her co-star's family. "My heart aches for you. I'm broken for you," she shared. "I have close to nothing left, which tells me some small percentage of how you must feel."
"Cameron was one of my favorite people alive in the world, though I know that's not unique to me. Cameron was magic, an earth angel," she continued. "Over the last six years, since he was only 14, Cameron talked me down from countless ledges, talked me through eating disorders, helped me out of a dark relationships and through endless break downs... I can't count the amount of times on my hands we ruined something because we couldn't stop making each other laugh."
Before signing off, the 23-year-old star shared the many ways her co-star left an impact.
"Goodbye my dear, dear friend and brother. You leave behind a colossal wake, a profound chasm that can never be filled but you also leave millions and millions of deeply impacted, hope-filled and love-filled human beings who are who they are because of you and how you spent your brief 20 years on this earth," she stated. "I will spend the rest of my life missing and loving you and all the better for knowing you."
The 20-year-old, whose death is still under "further investigation," passed away in his sleep on Saturday after suffering a seizure, his family shared with E! News.
Instagram / Cameron Boyce
Of the California native's untimely death, a source previously told E! News his Descendants co-stars were "in complete shock" over the news.
"The cast is in complete shock," a source said. "They were getting ready for Descendants 3 press and had really been looking forward to being together again."
Additionally, the insider shared the group is really good friends, so Boyce's death is hitting them hard. "The cast is incredibly close and this is such a devastating loss. They've all been texting since they got the news. It's going to take a long process to heal."
The insider continued, "For now, they're all leaning on each other to get through it and sending their love to his family."
Following his shocking death, Boyce also received online tributes from Descendants director Kenny Ortega, Walt Disney CEO Bob Iger and other co-stars, including actors from the Disney Channel series Jessie and Adam Sandler, who played his father in the Grown Ups comedy films.
"Too young. Too sweet. Too funny. Just the nicest, most talented, and most decent kid around," Sandler tweeted. "Loved that kid. Cared so much about his family. Cared so much about the world. Thank you, Cameron, for all you gave to us. So much more was on the way. All our hearts are broken. Thinking of your amazing family and sending our deepest condolences."
Our thoughts are with Cameron's family and friends at this time.