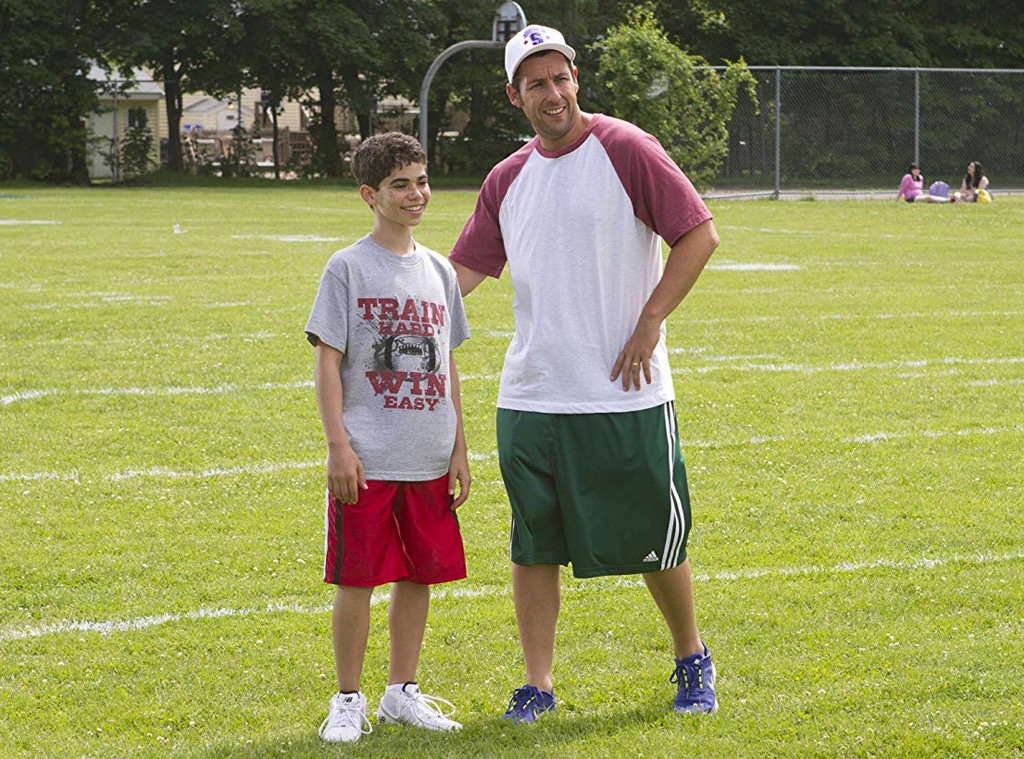 Disney
Adam Sandler shared a sweet online tribute to Cameron Boyce, who played his son in the 2010 comedy film Grown Ups, after learning the actor had died at age 20.
Boyce, who is also known for his roles in the Disney Channel series Jessie and The Descendants movies, passed away in his sleep on Saturday after suffering a seizure "which was a result of an ongoing medical condition," his family had said in a statement.
"Too young. Too sweet. Too funny. Just the nicest, most talented, and most decent kid around," Sandler tweeted on Sunday morning. "Loved that kid. Cared so much about his family. Cared so much about the world. Thank you, Cameron, for all you gave to us. So much more was on the way. All our hearts are broken. Thinking of your amazing family and sending our deepest condolences."
Additionally, Salma Hayek, who also starred in Grown Ups, shared a special tribute to the rising star. "I had the privilege to play Cameron's mother in #grownups 1 and 2 and we stayed in touch through the years He was spirited, talented, kind, generous, funny and a shining light. His joy will live in our hearts forever as he goes on dancing and shining elsewhere. My heart goes to his lovely family."
Disney Channel/Bob D'Amico
Boyce and Sandler had also reprised their roles in the 2013 sequel Grown Ups 2. Before his death, Boyce was working on the comedy pilot Mrs. Fletcher with Kathryn Hahn and Hamilton's Jasmine Cephas Jones. He was also set to appear in the new series Paradise City and reprise his role of Carlos De Vil, son of Disney villain Cruella De Vil, in the upcoming Descendants 3 movie sequel, which is set to premiere on the Disney Channel on August 2.
"The Walt Disney Company mourns the loss of #CameronBoyce, who was a friend to so many of us, and filled with so much talent, heart and life, and far too young to die," tweeted Walt Disney Company CEO Bob Iger. "Our prayers go out to his family and his friends."
Boyce's Jessie co-stars Skai Jackson and Charles Esten, who played his sister and father on the show, and Debby Ryan also posted their condolences.
"I don't even know where to start... I am at a loss for words," Jackson wrote on Instagram. "I never thought in a million years I would be writing this. Cam, you were one of a kind. My heart will be forever broken. I am so happy that I got to spend almost everyday with you on set, you gave the best hugs. I wish I would have hugged you tighter when I saw you a couple of months ago. Thank you so much for being the big brother I never had... I am so distraught and I cannot stop crying! I love you so much... fly high...Gods best Angel. #CameronBoyce"
"My family and I are devastated today, by the loss of our young and amazing friend, Cameron Boyce," Esten tweeted. Years before I was blessed to play his father on JESSIE, we were blessed to know him and his wonderful family at the elementary school our kids all attended together."
"It was there we were introduced to his endless talent, kindness, and joy for living," he continued. "At his very 1st talent show, little Cameron's dancing lit up the stage, and left everyone on their feet, cheering . It was clear to all that he was destined to be the star he would soon become. And yet, Cameron never carried himself with anything but kindness, humility, effortless grace, and great humor. Even as his star ascended with JESSIE, and he began to receive the type of fame that can change people, I never saw that change. Not even a little."
Esten added, "It was a joy to work with him on JESSIE, as it was with all the wonderful young stars of that beloved show. They were as close as actual brothers and sisters to one another, and still are, and my heart breaks for them today."
Ryan shared a clip of Boyce accepting his Pioneering Spirit Award at the 2018 Thirst Gala. "It's crazy, we can tweet whenever we want and we can use social media and Instagram and make the world a better place instead of a worse one, which so many people use it for," Boyce said in video posted on Ryan's Instagram Story. "We need to use what we have and make the world a better place for other people, other people, people who need us."
His roommate and Jessie co-star Karan Brar called Boyce "the greatest thing to have ever happened to me" in a tweet: "I love you so much cam. wish i had more to say right now but i don't think words will come for a while."
Sophie Reynolds had also recently moved in with Brar and Boyce. "my family. my person. my heart. maybe someday I'll be able to put everything cam was into words," she wrote on Instagram, "but right now it just hurts a little too much. Please, hug everyone you love. I wish I could."
Kenny Ortega, director of the Descendants movies, also paid tribute to Boyce.
"My Love, Light and Prayers go out to Cameron and his Family," he wrote on Instagram. "Cameron brought Love, Laughter and Compassion with him everyday I was in his presence. His talent, immeasurable. His kindness and generosity, overflowing. It has been an indescribable honor and pleasure to know and work with him. I will see you again in all things loving and beautiful my friend. I will search the stars for your light. Rest In Peace Cam. You will always be My Forever Boy!"
Fellow Jessie alum Peyton List, who now stars on YouTube's Cobra Kai, posted a latter to Boyce on her Instagram page.
"Cameron. The boy whose contagious laugh I can still hear," she wrote. "The boy who left everyone feeling hopeful and full of love. He was younger than me but taught me how to spread love and kindness more than anyone that has ever been around in my life. He lifted everyone around him, and inspired/pushed me to be a better person than I ever would've been without his guidance, patience and love. I can barely see my eyes anymore from crying so hard."
"Cameron I love you with every ounce of me, and I thank you for the time I had with you, being in my life, and being my brother forever and always," she continued. "There is a hole in my heart that will never heal left for you. I will never stop talking about you. My kids will hear about you with every lesson and your legacy will live on. Too much talent and love to go so soon. You are the most special person I've ever had the honor of encountering Cameron Boyce. You left everyone including me better than when you found them."
List added, "Heaven has gained a beautiful soul. Wish I could hug you one last time Cam. My heart is broken...I've never hurt this bad. Your sister forever and always, Peyton."
"I just learned of Cameron Boyce's passing and I am completely, utterly devastated," tweeted Disney Channel star Joshua Rush. "Cameron has a sweet soul, always was learning, and always tried to pass that knowledge along to others. When I joined the Disney Channel, he became someone I looked up to. Every time I'd see him, hearing something new about the channel, what it meant to be a part of it, and how to navigate the weird world of the job we shared, Cameron always had love to share, but also understanding."
"He had been through it," Rush continued. "All the good, all the bad. All the frustrating parts of it, and all the amazing parts of it. Life is too short, but Cameron's light shines on. I still pass along the things that he told me to kids joining the channel, and hopefully they will do the same. He lives on there. He lives on in the things he created and worked for. And he lives on in the hearts and minds of his fans, and the people who he touched. I would not be the same person without the head start and knowledge that Cameron gave me. I was honored to know him."
Zendaya, star of HBO's Euphoria, also expressed her condolences. She had risen to fame with the Disney Channel series Shake It Up, which featured Boyce on a 2011 episode.
"Absolutely heartbreaking," she tweeted. "My heart goes out to his friends and family."
Michelle Monaghan, who starred alongside Boyce in Eagle Eye, posted a picture of her holding him in from the 2008 film.
"I'm so saddened to hear of the passing of one of the sweetest souls I have ever met," the actress wrote on Instagram. "@thecameronboyce was a rare young man. He had the most beautiful smile, a constant twinkle in his eyes and a true zest for life, committed to making an impact on his community and beyond. A true testament to the extraordinary family who raised him. Sending my love to each and everyone of them."
In a length post on her Instagram, Disney alum Sabrina Carpenter described Boyce as an "extraordinarily special" person. "I cannot grasp what a world without you looks like yet, nor do i want to," the Girl Meets World star wrote. "Nothing i can write will feel right, or pay enough tribute to how incredible you actually are, but all i know is i am so beyond lucky to have known you and eternally grateful for the times you and i shared together. I feel very sick to my stomach writing this, and i wish i could hug you. you had the most incredible mind, spirit, sense of humor, heart, and too much talent for your own good. you were an angel on earth and i can only imagine all the sensational things you would have done had this world given you more time."
"You will be so f--king missed," Carpenter continued, "but absolutely never forgotten. to your family, i am sending all the love in the world as i can't imagine how you are feeling in this time. see you again one day cam."