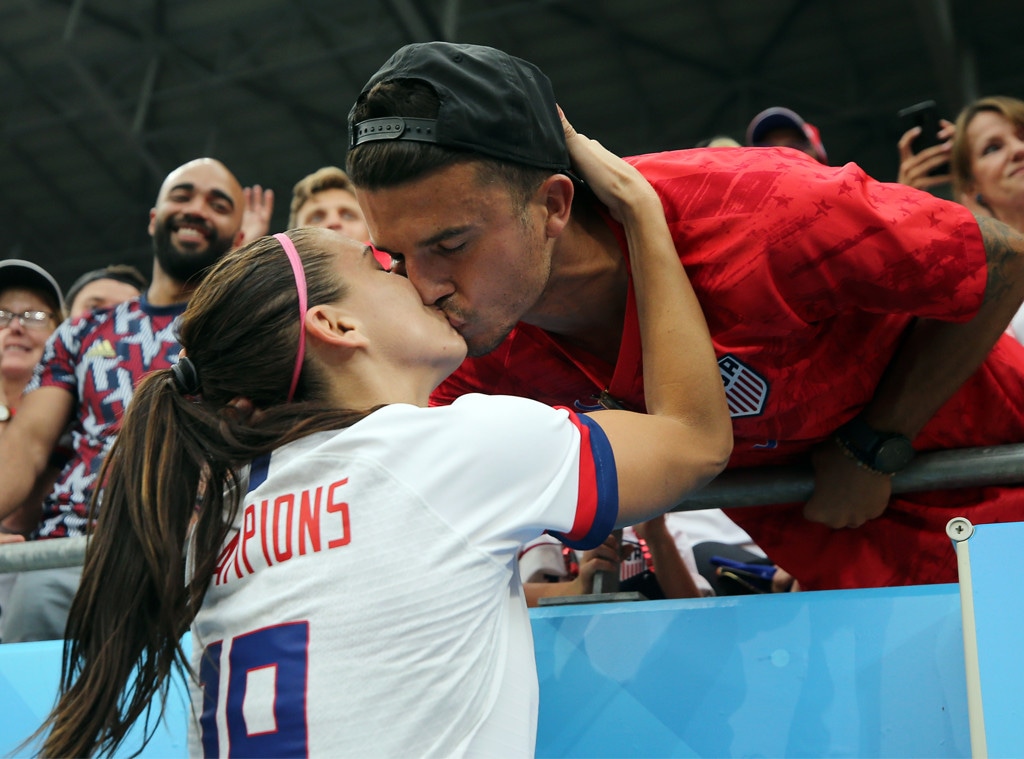 Maddie Meyer - FIFA/FIFA via Getty Images
After winning big on the soccer field, it's now time to conquer the world of motherhood.
More than three months after the U.S. women's soccer team won the 2019 FIFA Women's World Cup Final, one star athlete had a major announcement to share. 
On Wednesday afternoon, co-captain Alex Morgan revealed that she is expecting her first child with fellow soccer stud Servando Carrasco.
"We are already in love and we haven't even met her yet. Newest member of the Carrasco family, coming soon," Alex shared on Instagram while revealing their due date in April 2020. Servando added, "Can't wait to meet my baby girl." 
It's exciting news for a duo that has captured the hearts of pop culture and sports fans alike for their unbreakable bond on and off the field. 
While the couple tries to keep their relationship away from social media and the public eye, both athletes have built a strong relationship worth celebrating.
It all began at U.C. Berkeley where Servando was made senior co-captain of the soccer team. As for Alex, she was impressing soccer scouts with her skills on the women's team while sharing a room with Real Housewives of Orange County star Kara Keough.
When not studying up and practicing, the duo developed a romantic relationship that took them to Orlando where they continued playing soccer at a professional level.
Fast-forward to 2013 when Servando decided to propose at a fireworks show in Manhattan Beach, Calif.
"He was planning the proposal for that night and asked me to stand up, and then asked me to marry him," Alex recalled to The Knot. "We rode our beach cruisers to my dad's house to celebrate and have champagne with our family and friends."
A New Year's Eve wedding soon followed in 2014 and life was kicking—no pun intended—until 2017 when Servando said goodbye to the Orlando City soccer club and hello to the Los Angeles Galaxy.
"It's far from ideal to be that far from your wife," Servando recently shared with Pro Soccer USA. "We know that this is temporary. We're only going to be able to play professional soccer for five to six more years. We've got to take advantage of this, and know that when we're done playing, we're going to be together."
Alex added to the Orlando Sentinel, "I don't want to sugarcoat it, it's not easy…Obviously, with the national team, I'm away for a couple weeks at a time, all the time. So we've gotten used to that. Just moving forward, I feel like as much as we can see each other on off weeks or whatever it is, will definitely help."
When schedules allow the pair to be together, don't expect them to be talking all about soccer. Instead, they like to unplug from the sport they love so much.
"We definitely talk about [the sport] a lot, and we like to watch soccer together. It's also nice just to be normal, spend time with our family, nieces, spend time with our parents," Servando shared with Pro Soccer USA. "Whenever she comes back to California, we spend a lot of time with them. We go to the beach, we're both normal people. We just try and be as normal as possible."
And no, it's not Sports Center or ESPN on 24 hours a day. Instead, the couple likes a familiar NBC show with Mandy Moore, Sterling K. Brown and other familiar faces.
"The last show that we've been watching is This Is Us, but she flew through both seasons pretty fast," he admitted to the outlet. "I couldn't really handle it because it was a lot of emotions."
Instead of flaunting their relationship on social media, the duo likes to post only on special occasions like Valentine's Day and major holidays.
Red carpet appearances are rare but Alex has been spotted at Nickelodeon's family-friendly Kids' Choice Sports awards. In fact, fans may see the couple tomorrow night at the 2019 ESPYs where Alex is nominated for Best Female Athlete.
While Servando is more than impressed with his wife's skills on the field, perhaps it's what happens away from the grass that leaves him more than proud.
In addition to writing a book called Breakaway: Beyond the Goal and starring in a movie called Alex and Me, the athlete recently earned a spot on TIME's 100 Most Influential List where fellow soccer legend Mia Hamm praised the 30 year old.
"From a young age, she's someone who embraced her ability to connect with her fans and generate more excitement for her team and the sport," Mia wrote for the publication. "Off the field, she and her teammates are also leading the charge for more equitable pay and support from U.S. Soccer, in order to provide continued opportunities for young girls who love the sport."
As for her close friend Kara, she's seen it too.
"Alex, you've made me proud for a long time... and you're just getting better at it every year! So far, you taking a shot to move our society forward with #equalpay for women is my favorite of all your goals!" the Bravo star recently wrote on Instagram. "Can't wait to see what you do next... 'I s[aw] London, I see France, I see Alex doing a goal-scoring dance!' Keep making all of (the) US proud."
"She worked incredibly hard to be where she is, so clearly I'm going to celebrate her," Servando told MLS Soccer when looking back on his wife's accomplishments. "Yeah, she's a badass woman."
As she prepares to welcome her first child, Alex knows she has a family that supports her. And while scoring a goal is cool, perhaps it's her actions off the field that leave her husband most impressed.
"I love her for the person she is, and what she accomplishes is almost secondary to that. Of course, I'm proud of her, there's no doubt about it. When my nieces talk to her and they look up to her, that's as good as it gets," Servando told MLS Soccer. "I mean, the soccer stuff, yeah, for sure, cool. But to see her on the '100 Most Influential in the World' in Time magazine? I'm like, damn. She's making a difference."