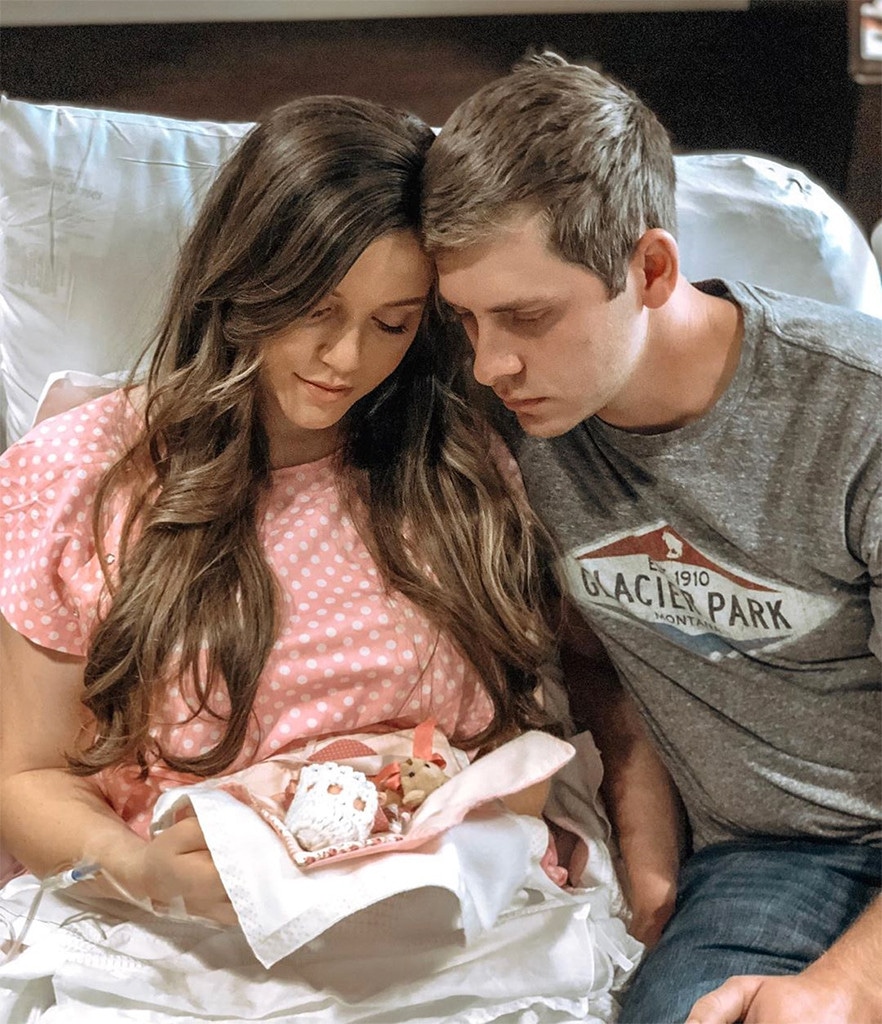 Instagram / Joy-Anna Duggar Forsyth and Austin Forsyth
Counting On star Joy-Anna Duggar Forsyth recently suffered a pregnancy loss with the daughter she was expecting with her husband Austin Forsyth. Now the couple is introducing their child to the world before they say goodbye.
Because her pregnancy ended when she was 20 weeks along, in the middle of the second trimester, Joy-Anna had to deliver the stillborn baby, who they had named Annabell Elise. She and Austin posted on their Instagram page on Friday a photo of them cradling their daughter.
They also shared a pic of her footprints, which are the length of a quarter, and an image of the three with Joy-Anna's mom Michelle Duggar and sister Jill Duggar Dillard.
"We only had her for 20 weeks, Life is fragile and precious," wrote Joy-Anna, 21, and Austin, 25. "So thankful the Lord gave her to us for that short time! She will be in our hearts forever! Thank you all for your love and support! We can feel the prayers! Thank you, @carlinbates98 for coming to town to be here for me and for doing my hair and makeup for pictures with our little girl!"
It is not uncommon for people who have delivered stillborn babies to dress them and have photos taken with them to preserve their memory as part of the grieving process.
Joy-Anna and Austin, parents to 1 and 1/-2-year-old son Gideon, had announced on Wednesday night that she had miscarried their second child. They had revealed her latest pregnancy in May.
"I wish there were words to express how broken hearted I am for my best friend," wrote Bringing Up Bates star Carlin Bates. "Seeing her give birth to her little girl, Annabell Elise, and knowing that she would never be able to hold her again while on earth just brings tears to my eyes. Yet, through it all, she has been so strong and held on to Jesus, knowing that we will see her little baby in heaven one day. I know that Jesus doesn't promise that we will not face difficulties in this life, but He does promise to be by our side every step of the way."
"I'm so grateful to have a friend as precious as Joy, and I know that she would covet prayers at this hard time," she added.