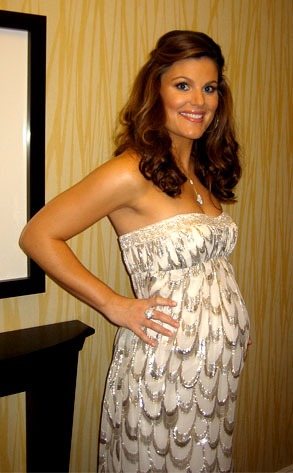 E! Networks
It's time, tubers.
According to my very kind doctor, this baby could come "at any time now." So I'm starting my maternity leave.
I will miss you dearly, but please know I am leaving you in very good and capable hands: Jennifer Godwin, Carrie Borzillo-Vrenna and Natalie Abrams will be covering this column in my absence, and I have no doubt they will kick some serious gluteus maximus and keep you all happy while I'm out.
We will keep this Watch With Kristin section filled with the scoop, interviews and shirtless Josh Holloway pics you have grown to...well, if not love, at least tolerate. (BTW, I believe Josh's wife is due right around the same day as I am, as is Alyson Hannigan. It's baby time, people!)
So...hmmm. While we wait, how about a fun little Baby Dos Santos pool? You can play along by guessing my bambino's birth date and sex below.
Also, no joke, we still have not decided on a name for this child. (Decisions, decisions!) So any and all suggestions for our little Dos Santos are much welcome in the comments below.
Take care of yourselves and happy tubing!
Much love,
Kristin