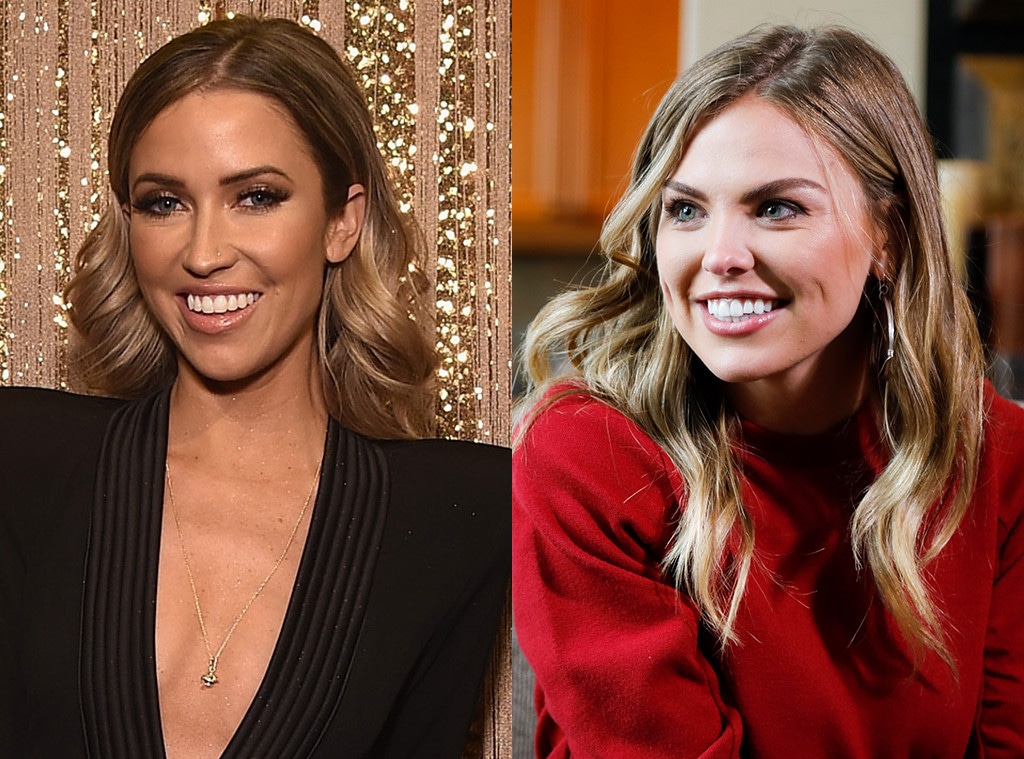 Bryan Bedder/Getty Images for Pandora Jewelry, Josh Vertucci via Getty Images
Kaitlyn Bristowe is sticking up for her fellow Bachelorette Hannah Brown.
The season 11 star came to the Alabama native's defense on Tuesday after a Twitter user noted "women are coming after" Brown and "slut-shaming her like they did to you." 
"Women can have sex if they choose, and women can wait till marriage if they choose," Bristowe replied. "Point is, ITS THEIR CHOICE. When you're making a life-altering decision to find a life partner, intimacy can be important. Why is that so hard to understand?#TheBachelorette."
She also encouraged Bachelor Nation to stand behind Brown. When one follower asked if fans should support the reality star even though they "know she's making a regretful decision," Bristowe didn't think twice.
"Of course, we should," she tweeted. "Have you ever done something you regret, and needed support? Or would you be fine with everyone coming after you, when you're probably already being hard on yourself. Sometimes regrets are life lessons, which result in self compassion and growth."
Bristowe pointed out that many people have probably had experiences similar to Brown's. When a follower noted that many people "have dated someone not worthy of our time at some point," the TV star agreed, "We have all done it."
She also pointed out that religion, political beliefs, money and intimacy are all important conversations to have regardless of whether they're brought up on TV. She also acknowledged TV "has to have a certain level of entertainment" and be "edited for dramatic effect."
"There's a reason this show is the best," she tweeted. "There's a reason it has lasted 35 seasons."
Bristowe can certainly relate to what Brown is going through. As fans will recall, the Dew founder received a lot of hate after it was revealed she had sex with Nick Viall during her season.
"When it's thousands and thousands of comments after comments just pouring in of people hating—like I get death threats," she said during the "Men Tell All" special.
However, many applauded the franchise's 2015 star for her response to the hate.
"I think it's just a big deal because it's The Bachelorette, and they haven't really gone there," she previously told E! News. "It's just kind of been this secret world in the fantasy suite and nobody's actually just said it out loud and done that."
Watch:
Kaitlyn Bristowe Responds to Social Media "Slut-Shaming"
Bristowe isn't the only one to support Brown. Contestant Tyler Cameron also came to her defense after she was shamed for "dry humping" on TV. Brown has also spoken out.
"It's upsetting to get messages from Christians telling me I give Christians a bad name," she wrote on Instagram last week. "I've lived my life for the world to see and judge and absolutely, I'm hot mess on a stick, I blew it a few times...but I refuse to believe I give Christians a bad name. "
To see how Brown's journey plays out, watch The Bachelorette on Mondays at 8:00 p.m. EST.