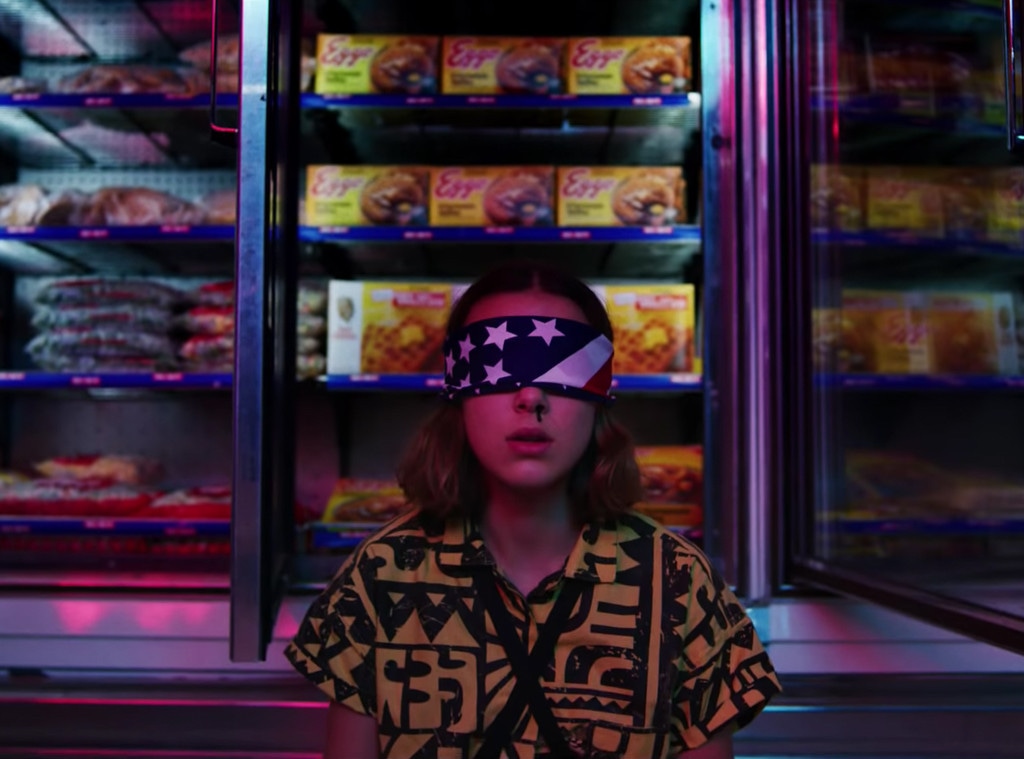 Netflix
It's finally, finally here. 
Stranger Things season three has arrived with a dream summer vibe, complete with an epic fireworks display to cap off one hell of a season-long battle that found Hawkins residents possessed, relationships tested, and us freaking out the entire time. 
There's obviously a lot to talk about now that the season is out, and we'll be getting more detailed in the days to come, but first let's just shout about all the things we can't get over, shall we? 
Spoilers to follow, obviously, so if you haven't yet finished the season, turn away now! 
Billy
Dacre Montgomery was, in a way, the star of the season. He was the perfect villain—a terrible, broken boy with a devastating past who made an easy transition into being totally embodied by evil, but who wasn't totally without a heart. Tell us you didn't cry when Eleven discovered his history with his dad, and then when she used it to bring him back for a moment there at the end, just in time for the real Billy to save everyone by sacrificing himself. 
Who knew we'd end up getting so emotionally invested and emotionally destroyed by season two's most evil teen? RIP, Billy! You sucked, but you didn't deserve that. 
Eleven's Makeover 
Eleven didn't just get new clothes, but she's slowly becoming a real person with likes and dislikes and friends, and not just a former lab experiment who only talks to her boyfriend and loves Miami Vice. Turns out she loves to rock a bold pattern and will even take the time to put an outfit together when the fate of the world is at stake, and we truly love that about her. (Plus that mall shopping montage was GOALS.) 
Sometimes, her relationship with Mike is a little bit weird, simply because she's barely had time to decide if she even really likes Mike, so it was nice to see them take a little time apart this season. And as kind of questionable Joyce's decision to move was, we are excited for Eleven to get to start over somewhere new! 
Speaking of which...
The Byers Moving!
Joyce made the plan to move long before Hopper's death, but why did she follow through with it? Why would she take herself and her children away from their friends, and the only people in the world who would ever understand what they've been through? And where are they moving to? 
It's understandable that Joyce would want to leave Hawkins after everything that happened, but that scene of them leaving was just SO sad...
Hopper's Fate 
Is Hopper alive? It seemed like there was no way he could have avoided disintegrating, but it also seemed like there was no way that entire underground base full of Russians could have emptied out as quickly as it did, so maybe he really is trapped in that Russian prison, being referred to as "The American" and at risk of being fed to a demodog. 
It's almost unthinkable that this show would kill off Hopper, but that's also why we were sort of impressed that they had done it. We've got some very conflicted feelings about this possible twist! 
Hopper's Shirt! 
We're not sure we can explain why we're so obsessed with this shirt but we are, and in fact we are obsessed with Hopper's entire look. Sure, we had some issues with how dang angry Hopper was all season, but we had no issues with his aesthetics. 
Mayor Larry Kline
Will we ever be able to watch The Princess Bride the same way again? Nope! What a gross man. 
All That Gore
Speaking of gross, season three was the gooiest, grossest season of the show yet, thanks to the exploding rats and the way the people of Hawkins turned to goo when they formed into that hideous monster. It was horrendous, and it was perfect. 
Team Scoops Ahoy
Watching Steve (Joe Keery) and Dustin (Gaten Matarazzo) interact is always a joy, but the addition of Robin (Maya Hawke) was exactly what was needed, from beginning to end. The reveal that she's gay, and Steve's excellent reaction to the news (that the girl she had chosen to crush on was a terrible, muppety choice) was a delightful surprise, and Robin had better stick around for however much longer this show lasts. 
The Product Placement
Listen, we had a few gripes. Why on earth did it seem like the right idea to stop the finale action and have Lucas (Caleb McLaughlin) advocate for New Coke like that? No one cared in that moment! No one was going to care in any moment! Show us a million Coke cans if you have to but that dialogue was insane. 
Starcourt Mall
We're a little sad the mall didn't survive the battle, because it was just so good, so nostalgic. We wanted to go to Starcourt Mall. We wanted to do some jazzercise with that not-a-Russian! We wanted to go to the Gap! We want Scoops Ahoy, dang it. What a perfect setting for this season. 
Mrs. Wheeler
We just really wish her the best and we hope she finds some happiness in her marriage. 
THAT. NEVERENDING STORY. PERFORMANCE.
Actually, both of them. Dustin and Suzie's duet was beautiful (obviously, because they're both Broadway stars) but Caleb and Max also killed it as they made fun of Dustin and Suzie. It was also just thrilling to learn that Dustin's genius girlfriend was real all along! 
Hopefully there's a season three soundtrack, and hopefully this song is on it! 
Stranger Things 3 is now streaming on Netfilx.