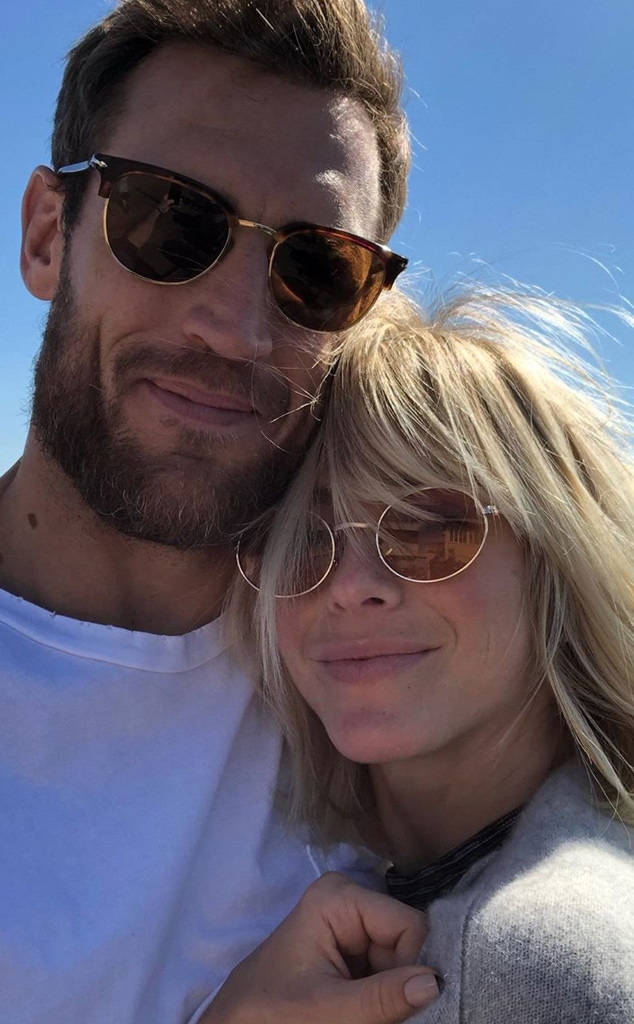 Instagram
When Julianne Hough and Brooks Laich first laid eyes on each other, there was something special brewing amongst the pair.
Call it love at first sight or a spark in the air. Whatever the case may be, the America's Got Talent judge and NHL athlete knew this wasn't an ordinary relationship.
"We talked on the phone and FaceTime for two months before we physically met each other," Brooks recalled to E! News exclusively. "The first time we physically met was at the airport and so we had built a strong connection and friendship before even meeting and then when we physically met, it just exploded from there."
Fast-forward to today and this Hollywood couple is celebrating two years of marriage stronger than ever.
"I thought I had my life figured out and then Julianne walked into my life and completely changed it and I'm so grateful for that," Brooks shared with us while supporting his new iHeartRadio podcast How Men Think. "We say this: We want to have the best f--king relationship ever. That's what we say."
He added, "That being said, we need to work at that and by work, I mean commit.... We feel very fortunate with the strength of our relationship and the present love we have in our life and we want that for everybody. We're starting to open up about it more."
In the first few weeks of his new podcast with co-host Gavin DeGraw, Brooks has talked candidly about his personal life including recalling the days he had a long-distance relationship with Julianne.
For three and a half years, Brooks traveled the country as a professional hockey player while his leading lady focused on Dancing With the Stars. But despite their demanding careers, they remained each other's biggest fans.
"Our relationship was long distance, but we always wanted to celebrate and support that the other person was living their dream, so I never told my wife, 'You have to move here and support me while I play hockey' and she said, 'You never have to give up hockey to come here,'" Brooks explained.
When he finally had the chance to play for the Los Angeles Kings, Brooks was more than grateful to be in the same city as Julianne. But when the organization released him before the 2017-2018 season, Brooks decided he didn't want to be away from his wife.
"I had a decision to make: Do I want to go somewhere else again and be away from home and continue to play hockey or do I want to stay at home," he shared in the second episode of his iHeartRadio podcast. "I made the decision that I do not want to be away from my wife. As much as I wanted to play hockey, which was at an all-time high, my desire to be with my wife was—on a daily basis—greater than my desire to play hockey."
He added, "Missing somebody in a relationship is a powerful thing. If I'm gone for a couple of days, my wife misses me and I miss my wife and that's an attraction to come back home."
Home is now in Los Angeles where Brooks films his new podcast and works on his Open Gym fitness app while Julianne continues her first season as an America's Got Talent judge.
Despite busy schedules, the pair makes time for unforgettable adventures and vacations that are often documented on Instagram. According to Brooks, their favorite spot remains the unforgettable honeymoon destination at Angama Mara in Kenya.
They've also continued to grow their faith that plays a role in their lives each and every day.
Stefanie Keenan/Getty Images for Amanu
"It's been an immense source of joy for us," Brooks shared when discussing the church he frequents with his wife. "It's a place of worship that we both spiritually and soulfully align with. We definitely want to have a faith present in our lives moving forward and certainly when we have kids and build a family. We want that to be part of their lives as well.
Speaking of kids, Brooks revealed in the first episode of How Men Think that his wife went through IVF last year. And when chatting with E! News, the athlete explained that they are preparing just in case they can't have a family naturally.
"We're in no rush. We are not actively trying to have kids," Brooks shared. "My wife's also very active with her career so it might be two, three or four years until we have kids. We don't know. We just want to ensure that we have the best possibility to build and start a family when we want to have kids and hopefully that's conceiving naturally but if not, at least we have a backup plan."
Rachel Murray/Getty Images for City Year Los Angeles
Julianne has also been open about her Endometriosis. In fact, the dancer previously shared with E! News that she's had conversations with her doctor and knows "there are options" in regards to having children.
For now, Brooks is more than confident that Julianne will make a fantastic mother.
"She leads with her heart everywhere she goes. She supports everybody and for them to become the best versions of themselves," he shared. "But she leads with her heart—cares and loves more than anyone I know in this world and she's just going to be an absolutely incredible mother."
And wherever life takes these two, Brooks is grateful to have a special lady by his side.
"I could never in my life experience true love prior to meeting my wife but now knowing what love feels like, being in love and having a partner that loves and fully accepts you as you do for them is an absolute gift every single day," he shared. "I have learned more than I could ever imagine."
To hear more from Brooks, listen to his iHeartRadio podcast How Men Think online now.