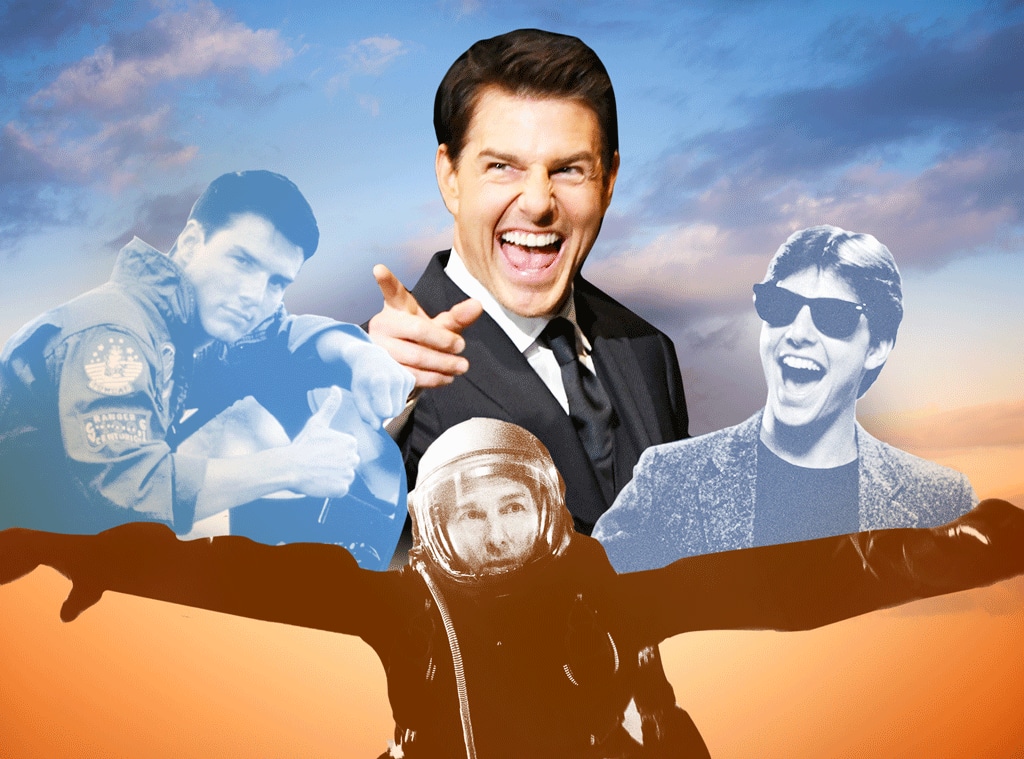 Warner Bros; Paramount Pictures; Getty Images; Melissa Herwitt/E! Illustration
Tom Cruise, he of the ageless face, body and energy level, is celebrating a birthday July 3.
Contrary to what's visible to the naked eye, the actor is turning 58. 
He has the appropriate amount of work under what must be a utility belt to back that up, but Cruise's sheer zest for life—much of which is still dedicated to making movies—continues to awe and entertain.
And, sometimes, terrify a bit, his viral rant when COVID-19 pandemic protocol wasn't taken as seriously as he demanded of one and all on the set of Mission: Impossible 7 proving that the hardest-working movie star in show business has a temper and isn't afraid to use it. (Alas, production was suspended anyway last month after a positive COVID test, so we're just glad we were nowhere near Tom when that news was delivered...)
"I said what I said," he told Empire in an interview published in May. "There was a lot at stake at that point."
When Brad Pitt, who's only 57, told GQ Australia a couple years ago that he thinks making movies (or at least being in them) is "a younger man's game," you could practically hear Cruise's inimitable laugh.
Arriving in theaters Nov. 19, finally, is Top Gun: Maverick, which he shot in 2018 for what was supposed to be a summer 2020 release, and he's also on board for Mission: Impossible 8, which should keep his adrenaline pumping up through his 60th birthday.
While we wait for the fulfillment of Maverick's 35-year wait for the speed he needs, here's a guide to the method to his madness, the drive behind the gleam in his eye, the drive that courses through his veins. Here are 59 things to know about Tom Cruise:
"I have an aggressive side, absolutely. I need a creative outlet. Now I work out every day. I get up and work out 45 to 60 minutes. And that's how I start my day. Discipline is very important to me."
So Cruise told Cameron Crowe 35 years ago. 
Watch:
See Tom Cruise Back in 1992: E! News Rewind
Asked about the criticism that he hadn't really played any grown-ups yet, Cruise replied, "God forbid if I do everything I want to do before I'm 26. When I get to [Paul] Newman's age, I'm looking to still be playing the great characters he plays. I hope the public and everyone realize that I'm still growing. I'm still feeling my oats here. I'm working toward the long range of what I can be as an artist. And I work my ass off trying. Because I know what I want to be."
We're sensing a theme.
(Originally published July 3, 2019, at 3 a.m. PT)