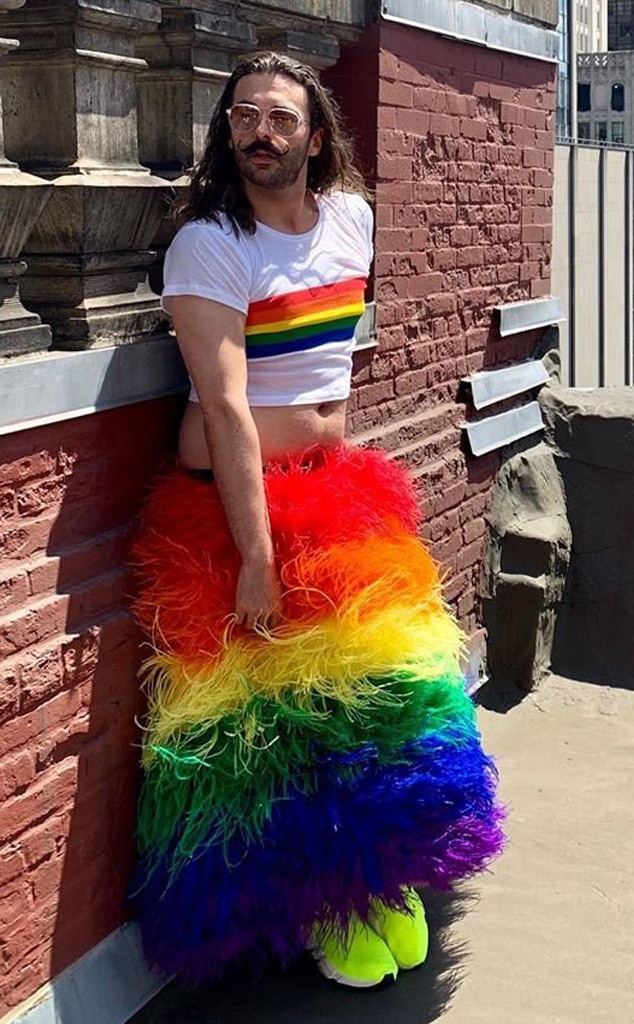 Instagram
If you see—or don't see—something, say something!
After celebrating World Pride in New York City over the weekend, Jonathan Van Ness took to Instagram where he shared his thoughts on LGBTQ body positivity.
According to the Queer Eye star, there needs to be more racial and size diversity highlighted in the community.
"Why is it that many top LGBTQ advocacy groups only use the buff Adonis like gay men in their campaigns? I'm sick and tired of seeing groups claim to be for equality and inclusivity using the same 8 gay men who have insane bodies as their spokes people," Jonathan wrote on Instagram. "Gay men are constantly being held to these narrow tired insecurity based expectations of beauty and it needs to stop."
He continued, "You don't have to have abs to be healthy and sought after. Racial and size diversity is so lacking in our community and we need to do better. I'm about to start tagging the ones I'm talking about. Young gay kids need to know that you don't have to be an underwear model to be seen and loved."
The Fab Five member also warned fans and followers that some of the gay men with six-pack abs may not have obtained them with just the gym.
"We could all look like that if we did steroids and performance enhancing drugs. Do you know how many men you follow use them and never admit to it??" he asked. "It's a huge problem and guaranteed you double tap pics every day that are filled with men that use drugs to achieve these bodies but tell you it's from the gym. Guess what!? It's not. It's the gym and roids & doctors & anger issues & skin issues & physiological issues. It's not as hot as it looks."
As the expert of all things hair and skin, the Queer Eye star knows that your figure is only part of the whole package.
At the same time, Jonathan has been open about his weight-loss journey. Last summer, the Over the Top author looked back on his transformation and shared part of his fitness routine.
"It took me practicing yoga every day for 5 years to get this. If it looks easy, someone probably worked very hard for it, so whatever it is you're learning be gentle and compassionate w yourself & watch till the end," he shared. "#instaomcrew #inversions #compassion." Well said, JVN.