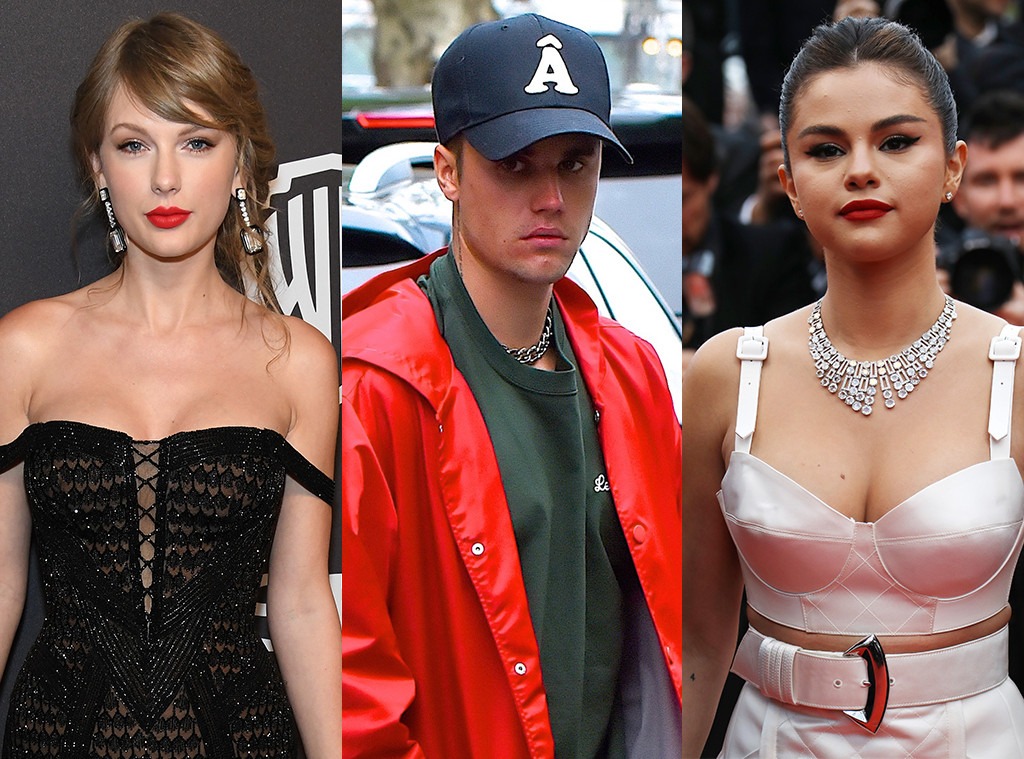 Kevin Mazur/Getty Images for InStyle, Robert Kamau/GC Images, Tony Barson/FilmMagic
There's some bad blood between Taylor Swift and Scooter Braun.
Over the weekend, the 10-time Grammy winner took to Tumblr to weigh in on Braun's company Ithaca Holdings LLC acquiring her former record label Big Machine Label Group. The 29-year-old singer wrote she was "sad and grossed out" over the sale of her music catalog and accused Braun of "incessant, manipulative bullying." She also claimed she found out about the sale as "it was announced to world"—which Big Machine Label Group's Scott Borchetta has claimed "I truly doubt."
After her post went viral, Justin Bieber, who is represented by Braun, took to Instagram to defend the talent manager. In his post, Bieber claimed "Scooter has had your back since the days you graciously let me open up for you." He also claimed it "isn't fair" for Swift to share her post on social media and "get people to hate on Scooter."
"What were you trying to accomplish by posting that blog? Seems to me like it was to get sympathy u also knew that in posting that your fans would go and bully scooter. Anyway, one thing I know is both scooter and I love you," the "Sorry" singer wrote, adding that they'd "love to talk to you and resolve any conflict, pain or…any feelings that need to be addressed."
Soon, several of Swift's fans started calling out Bieber on social media, and one post, in particular, drew a lot of attention. 
"'We haven't gotten to communicate our differences.' You cheated on her best friend and then publicly sided with the man who made revenge porn against her was she supposed to invite you over for tea??? F--k outta here," one Tumblr user posted, citing a line from Bieber's post and referring to Kanye West's "Famous" video.
Later, the Tumblr user posted a screen shot of Swift liking the post.
"Oh she's MAD mad," the social media user captioned the post.
As Elle first noted, many assumed the "best friend" cited in the post was Selena Gomez, whom Bieber dated on and off again for years before marrying Hailey Bieber. Several fans also interpreted Swift's like to be cheating rumor confirmation.
This wasn't the first time these types of accusations have come forth.
"We were working out how to be in a relationship, how to be ourselves, who we were, in the middle of having people judge our relationship through the media. I think that really messed my head up too," Bieber told i-D about the relationship in a previous interview, later adding. "Because then, it's like trust and all this other stuff that starts messing with your mind. You're on the road. And there are beautiful women on the road. And you're just getting yourself into trouble."
Accusations were also made during a heated social media exchange between the two exes back in 2016.
Bieber wasn't the only celebrity to weigh in. Halsey, Cara Delevingne, Demi Lovato and Todrick Hall all shared their opinions about the sale on social media.