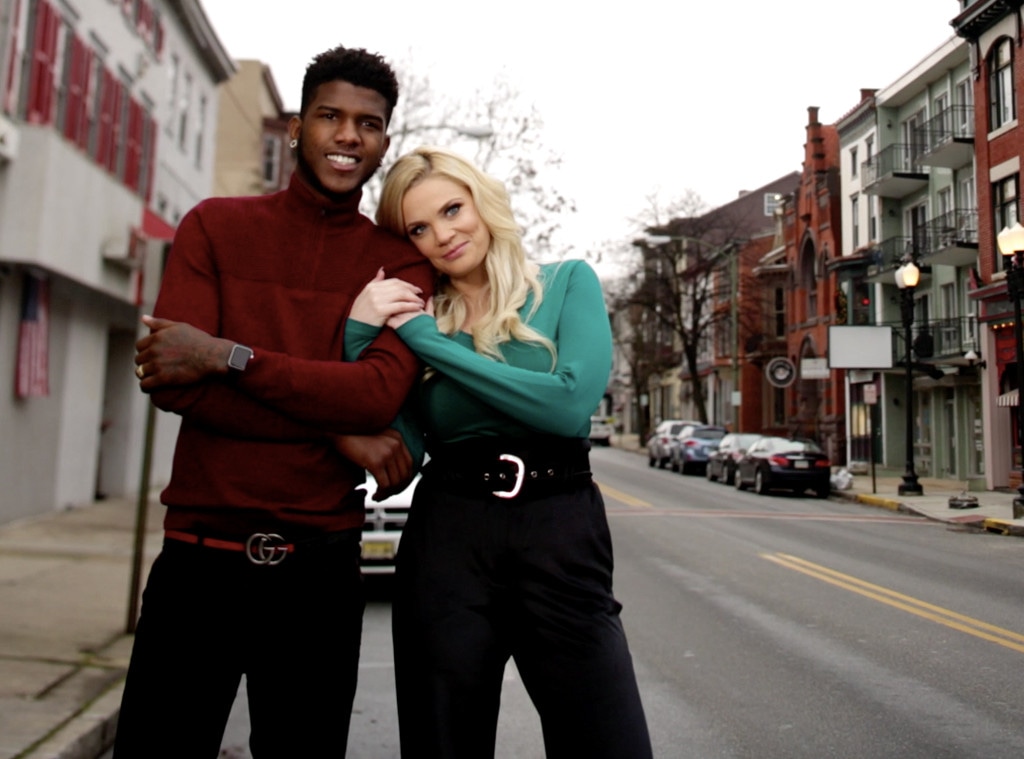 TLC
Cops, secret videos and dramatic FaceTime calls filled the Sunday, June 30 episode of 90 Day Fiancé: Happily Ever After? on TLC.
After last week's cliffhanger ending, cameras picked back up with Jay returning to Ashley's house after he admitted to sleeping with another woman.
"You're a f—king piece of s—t. I hope you know that," Ashley yelled. But she wasn't done there. "I hope your d—k shrivels off and you f—king rot in hell and you die," she told him. "Way to use someone for a green card."
Jay continued to fess up about the affair, but asked Ashley, "Whose fault is that?" And that really set her off. Ashley began to push Jay out of her house. He left, but she called the police and told them there was an altercation and he was an illegal immigrant. She never adjusted his status after marriage, and the fiancé visa expired.
"Our marriage is over," she told cameras.
But Jay kept insisting that she shouldn't have gone so extreme in calling the police and trying to have him deported. He said nobody knows what his life is like. And that's when he made a telling admission: He said she doesn't get to play God, he can go find somebody else and stay in the United States.
Colt and Larissa
Larissa went to meet with her lawyer and told him she thinks Colt lied about the events that took place between them that resulted in her second arrest. She had her arraignment hearing but wouldn't tell Colt or Debbie how it went. Colt said he feels like it's all falling apart and he's losing his mind.
"Colt, you gotta end this," Debbie told her son. "It's not good."
"It's not an easy decision. Once I push that button, there's no undoing it." Colt said, noting he doesn't want her to go to jail or be deported. "I love her, but I can't spend a lifetime unhappy. I'd rather be alone."
Elizabeth and Andrei
The families finally met now that Andrei's dad is in the United States. With Elizabeth's family, Andrei's father had some wise words about Andrei's temper and inability to let things go. Meanwhile, Andrei told Elizabeth he doesn't want her mom in the delivery room.
Chantel and Pedro
Still in the Dominican Republic, Chantel met with Pedro, his sister and friends, but a night out quickly devolved. Nicole showed Chantel video of Pedro dancing with the woman who has a thing for him and she went running from the table. After a long back and forth in the streets, Chantel went back to her hotel with Pedro, but told him she didn't want to talk about it that night. The next day they did, where it seemed Pedro starts to grasp what made her so upset.
"I feel betrayed by Pedro and I feel like he doesn't value our relationship and he doesn't respect me," she said.
Nicole and Azan
Still in the United States with her purple hair, Nicole called Azan who said things are starting to get better after is mysterious family emergency. They talked marriage—Azan thinks he's ready now—and her return to Morocco…which isn't set.
Russ and Paola
The new parents chatted with Paola's friend Juan over video call and bickered about whether or not Juan could be the godfather to baby Axel. That's it.
90 Day Fiancé: Happily Ever After? airs Sundays, 8 p.m. on TLC.