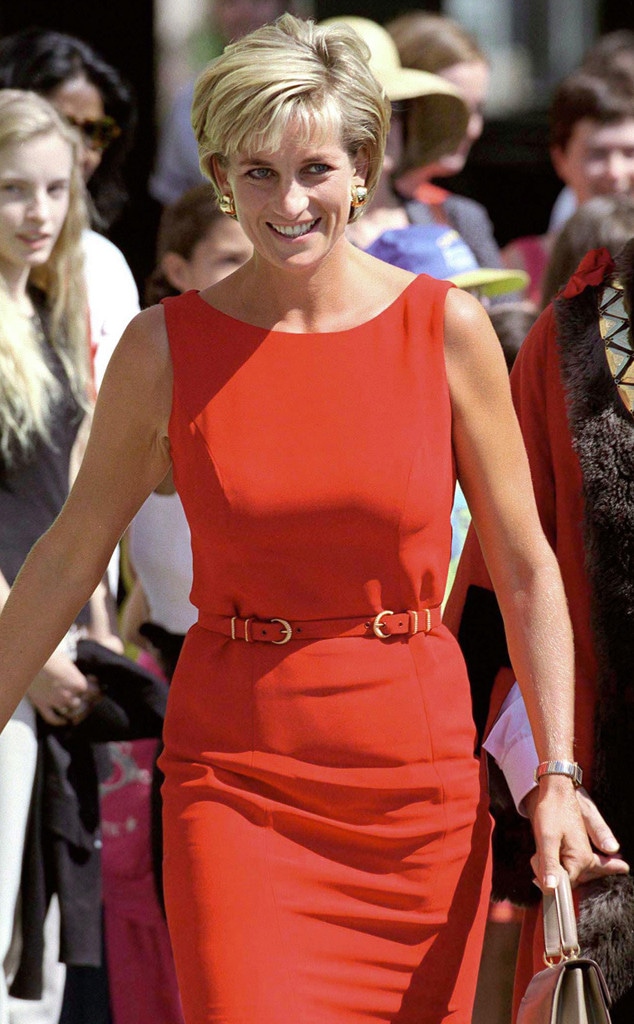 Tim Graham/Getty Images
Princess Diana would have turned 58 today.
Still only 58, a reminder of just how early her public life began and how devastatingly young she was when she died in 1997.
She would have been a grandmother of four already. Perhaps she would have remarried, to someone who made sense for her. It's hard to know when you're 19, poised to marry the future king of England and suddenly the world needs to know everything about you and reporters will go to extraordinary lengths—such as leasing the apartment across the street from yours or climbing through the classroom window where you're a kindergarten aide—to dig up dirt.
And everything qualified as dirt.
Diana never got a chance to sort out her personal life or reestablish her grip on a narrative that had spun wildly out of her control in the years before and after her split from Prince Charles, the Princess of Wales always a plaything for a public that simultaneously adored her and dissected her for parts.
And so she didn't live to see the men her sons Prince William and Prince Harry would become or the families they had. But, she remains ubiquitous in their lives and her influence on how the royal family pressed forward into the 21st century can still be felt in so many ways.
"She was really courageous," Nick Kent, producer of the HBO documentary Diana, Our Mother: Her Life and Legacy, told E! News in 2017. "She embraced causes before they were fashionable. So HIV/AIDS, for example, when she famously shook hands with a young man who was suffering from HIV/AIDS in London, that photograph went viral because the idea of actually having physical contact with an AIDS sufferer was considered taboo at the time."
Jayne Fincher/Getty Images
It may seem like a common thing to do now, but Diana's humanitarian outreach was considered exceptional at the time, the princess funneling every bit of compassion and acceptance she rarely directed inward toward the mission of comforting others.
"It's been good for her to champion a really difficult cause," her brother Charles, Earl Spencer, told biographer Andrew Morton back in the early 1990s, when Diana's interaction with HIV/AIDS patients was making headlines around the globe. "Anybody can do your run-of-the-mill charity work but you have to be genuinely caring and able to give a lot of yourself to take on something that other people wouldn't dream of touching."
In 2006 Harry co-founded Sentebale, a charity that provides aid to people affected by HIV/AIDS in the African nations of Botswana and Lesotho—the latter a country that he admittedly had never heard of until he traveled there during his gap year, its lack of visibility one of the reasons why he wanted to work there.
The prince told E! News in 2007 that his own humanitarian efforts so far were "just a chance to carry on what she left behind, really."
Elise Amendola/AP/Shutterstock
At a memorial service held that Aug. 31 to commemorate the 10-year anniversary of Diana's death, a 22-year-old Harry said, "William and I can separate life into two parts. There were those years when we were blessed with the physical presence beside us of both our mother and father. And then there are the 10 years since our mother's death. When she was alive we completely took for granted her unrivaled love of life, laughter, fun and folly."
The brothers also organized the Concert for Diana at Wembley Stadium held on her birthday that year, featuring Elton John, Pharrell Williams, Joss Stone, the England National Ballet, an Andrew Lloyd Webber medley and two dozen more acts representative of their mom's varied tastes.
"Obviously she loves her dancing and her musicals," William told E! beforehand about the event. "It's going to be different... If it works, it'll be different, if it doesn't..."
"You won't see us for a very long time," Harry quipped. Asked if we could expect to see them dancing, William insisted, "I really, really hope not."
And yet William, like his mum, loves to dance.
"Life, laughter, fun and folly," Harry did say.
"She was naughty and she loved practical jokes," Diana, Our Mother director Ashley Gething told E! News, sharing what he had discovered while making the film. "I think it was just sort of that fun side of her, and that's not just something that her sons talk about. Lots of the other people that we spoke to in the film, her closest friends. It was her sense of humor, it was her laugh, her spontaneity. People used the word 'touched' a lot, that emotionally she touched them...but I think it's sort of a mixture of the laughs and the personal warmth that I think I didn't really understand about her before, but I do now."
Julian Parker/UK Press via Getty Images
Count Sarah Ferguson, the Duchess of York, who knew that shenanigans were wont to ensue when she and Diana got together, whether they were dressing up as coppers to crash Prince Andrew's stag party or taking the queen's Daimler for a joyride around the grounds of Balmoral.
"She would have just been the naughtiest, funniest and the best ever," the duchess sometimes known as Fergie said on The Meredith Vieira Show in 2015, guessing what kind of grandmother Diana would have been, "just because she loved her boys so much and she would be so proud of all of them and what they've achieved."
Sarah and Diana's relationship famously ran hot and cold, and an embarrassing misstep got Fergie crossed off of William and Kate Middleton's guest list when they married in 2011, but Fergie generally insists upon emphasizing the good times.
"They really are extraordinary boys and Catherine is incredible," she also told Vieira. "I just think it is all goodness and we need to hear more about goodness and Diana would have loved that." (Harry, meanwhile, insisted that she be invited to his wedding last year.)
Though her marriage to Charles quickly unraveled for various reasons not long after Harry was born in 1984, Diana's relationship with the public was just getting started. 
She envisioned the monarchy one day having "more contact with its people," and that was her raison d'être behind wanting to expose her sons to as many walks of life as possible at an early age.
Jayne Fincher/courtesy of HBO
"I take them round homelessness projects, I've taken William and Harry to people dying of AIDS—albeit I told them it was cancer," she told Martin Bashir on the BBC's Panorama in 1995. "I've taken the children to all sorts of areas where I'm not sure anyone of that age in this family has been before. And they have a knowledge—they may never use it, but the seed is there, and I hope it will grow because knowledge is power."
She wanted her boys "to have an understanding of people's emotions, people's insecurities, people's distress, and people's hopes and dreams."
As it turns out, one of the princes' biggest causes is mental health awareness—something Diana, in her day, may not have been able to imagine being such an important part of their public lives.
While it remains as consequential and helpful as ever for public figures to speak up about their own struggles, when the Princess of Wales opened up about bulimia, self-harm, attempting suicide and postpartum depression in the 1990s it was downright explosive—and, perhaps unwittingly, she opened the door for the next generation of royals to pick up the conversation.
Dominic Lipinski/Pool via AP
Harry, William and Kate launched their Heads Together campaign in 2016 and Harry's disclosures about therapy and his behavioral issues that he attributes to grief that went unprocessed for years after Diana died marked another monumental chapter in the House of Windsor's ongoing evolution.
Plagued by usually very well-disguised self-doubt her whole life, Diana also credited work with a "shrink," Maurice Lipsedge, for helping her recover from her eating disorder, and for helping her realize, as she said in Andrew Morton's Diana: Her True Story in Her Own Words, "This is me, this is me, I'm not the only person [with a problem]."
And though Diana lamented how entirely unsympathetic her husband, his family and the media were to her very real struggles, she had no plans to relinquish her platform after her marriage to Charles effectively ended with their announced separation in 1992 (they eventually divorced in 1996).
"During 1991 and 1992 her thinking about her royal position changed by the month but the general trend was towards staying within rather than leaving the organization," Andrew Morton wrote in his book. "She felt impatience with the creaking machinery of monarchy rather than despair, businesslike indifference towards Prince Charles as opposed to shrinking deference and cool disregard of Camilla Parker Bowles rather than jealous rage.
"It was by no means a consistent development but her growing interest in how to control and reform the system as well as her serious commitment to use her position to do good in the world pointed to staying rather than taking flight."
"The things I do for England!" Diana would joke to her friends.
But the royal bureaucracy was real, and by the '90s she was at least used to the family's—and the media's—idiosyncrasies. 
Pascal Le Segretain/Getty Images
In her tapes that fueled the Morton biography, she recalled wanting to attend Grace Kelly's funeral in September of 1982, having previously met the Princess of Monaco when she was first engaged and appreciating how sweet the American movie star, who packed it in at 26 to marry Prince Raniere, had been to her. She remembered telling Charles, "I think it's important because she was an outsider who married into a big family and I've done the same, so it would [feel] right." Ultimately she had to ask the queen for permission, after which she went and returned to rapturous praise of her funereal poise.
"I went there, did my bit, came back and everyone was all over me like a bad rash, [saying] 'Oh, you did so well!'" Diana recalled. "I thought, 'Well, interesting.'"
Kate Middleton and Meghan Markle can relate.
"It's so important to me to know that she's a part of this with us," Meghan, newly engaged to Harry and sporting a ring made with a center stone from Botswana and two diamonds from Diana's collection, told the BBC in November 2017. By meeting Harry's aunts and uncle on his mother's side, she added, "I'm able to, in some way, know a part of her through them and, of course, through him."
DAVID HARTLEY/Shutterstock
Since being outed as Harry's girlfriend now almost three years ago, Meghan has certainly been treated to a crash course in top-to-bottom tabloid scrutiny, very reminiscent of what Diana was put through minus the social media trolls—although Harry at least tried to prepare her for just how difficult it would be before they got engaged.
Not incidentally, of course, Meghan's commitment to humanitarian causes and the work she had already done independent of having the platform she has now was obviously part of the attraction for Prince Harry when the royal, unfamiliar with the legal drama Suits, met her on a blind date in London in 2016. (And it just so happened that Meghan, along with many another American girl in the late '90s, had become utterly fascinated with Diana after watching the global spectacle of her death unfold on TV, but she professed herself to not be any sort of royal expert more recently. "Is he nice?" she asked their mutual friend before agreeing to the date.)
As befitting their full-time-royal stature, Harry and William, along with their wives, are now patrons of organizations and a devotion to philanthropy being a sizable chunk of the royal family's usefulness in the modern U.K. Their commitment to public service was going to be fostered from birth no matter what, but it was their mother's way of connecting with people that would prove to be the takeaway when it came time to fashion their own approach to public life.
"I intuitively know what my mother would like me to do and want to progress with work she couldn't complete," Harry told Newsweek in 2017.
"My mother took a huge part in showing me an ordinary life, including taking me and my brother to see homeless people," he recalled. "Thank goodness I'm not completely cut off from reality. People would be amazed by the ordinary life William and I live. I do my own shopping. Sometimes, when I come away from the meat counter in my local supermarket, I worry someone will snap me with their phone. But I am determined to have a relatively normal life, and if I am lucky enough to have children, they can have one too."
Harry paused and added, "Even if I was king, I would do my own shopping."
Which, as he was raised to know, isn't going to be his concern.
Mike Forster / Daily Mail /REX/Shutterstock
For as long as she was around, Diana wanted them to be 1000 percent sure that they were loved, but also didn't want them to have any illusions about their lives—or about life, in general.
"When I grow up I want to be a policeman and look after you, Mummy," a young William is said to have told Diana, to which Harry quickly countered with, "Oh no, you can't. You've got to be king."
Diana explained that she had altered her approach to raising William, born second in line to the throne, "in a subtle way. People aren't aware of it, but I am. I would never rattle their cage, the monarchy, because when I think the mother-in-law has been doing it for 40 years who am I to come along and change it just like that? But through William learning what I do, and his father to a certain extent, he has got an insight into what's coming his way. He's not hidden upstairs with the governess."
In fact, Diana was subtly raising William to succeed his grandmother directly, saying, "If I was able to write my own script I'd say that I would hope that my husband would go off, go away with his lady and sort that out and leave me and the children to carry the Wales name through to the time William ascends the throne. And I'd be behind them all the way and I can do this job so much better on my own; I don't feel trapped."
Barring an unforeseen event, Charles has made it clear that that's not what is going to happen. Now married to Camilla, Duchess of Cornwall, since 2005, the 70-year-old Prince of Wales has every intention of being king one day—and though it was originally said that Camilla wouldn't assume the title of queen, there's speculation that she's so ingrained in the royal fabric by now that she still just might.
But, just as Diana did want, William and Harry are unprecedentedly out-there royals, in that they're traveling the world; devoting time and money to the sick, to children, to veterans, to the less fortunate, to protecting wildlife; speaking frankly about issues, such as depression, anxiety and grief, that can affect any family; and, not least, distinguishing themselves as doting husbands and fathers.
And they do so much of it with their mother in mind.
Tim Graham Photo Library via Getty Images
"I would like to have had her advice," William told British GQ in 2017. "I would love her to have met Catherine and to have seen the children grow up. It makes me sad that she won't, that they will never know her."
It wasn't really until 2017, when the 20th anniversary of her death prompted a slew of documentaries and retrospectives, that William and Harry started speaking more openly about that trauma.
"I am in a better place about it than I have been for a long time," William said, "where I can talk about her more openly, talk about her more honestly, and I can remember her better, and publicly talk about her better."
But at least he had someone who knew exactly what he had gone through.
"My brother and I's relationship is closer than it's been because of the situations we've been through," William said last year at an event for the Campaign Against Living Miserably charity. "Losing our mother at a young age has helped us to travel through that difficult patch together. You're like-minded. You go through similar things, it's a bond and it's something you know you've tackled together and come out better for it."
William and Harry actually spent much of their adolescence geographically apart, minus a couple years overlapping at Eton starting in 1998 and bunking together during helicopter pilot training in 2009, but once they formed the Royal Foundation together a decade ago to manage their own charity work, onlookers got used to the brothers working together. And for most of this decade they've been neighbors at Kensington Palace and, along with Kate, they made for a happy trio.
So, not surprisingly, the proverbial fire alarm was sounded when Harry and Meghan flew the coop to start their own household. It's been a months-long process, starting with the news last fall that the Duke and Duchess of Sussex planned to leave Kensington Palace, where William and Kate Middleton occupy the four-story "apartment" 1A, for Frogmore Cottage in Windsor. And now the separation seems complete, the final step being the recent announcement that Harry and Meghan will be forming their own foundation. 
Most royal experts are just chalking the change up to Harry now being a married man with the need for his own office.
And Diana would obviously just want her boys to be happy. But she would certainly understand it if Harry and Meghan wanted to distance themselves from The Firm, or at least from the spotlight that shines on The Firm 24/7.
Diana found that the scrutiny didn't abate once she and Charles broke up; in fact, it intensified, especially when it came to her romantic life—and she hardly would have been surprised that both of her sons were compelled to issue statements, a decade apart, requesting that the media do a better job respecting the women in their lives. What she might have been was wistful that no one did the same for her when she was 19 years old.
Tim Graham Picture Library/Getty Images
She was reportedly considering removing herself from public life, perhaps even relocating to South Africa where her brother Charles was living at the time, when, at only 36 years old, she died the most disturbingly public of deaths.
Which, naturally, was followed by one of the biggest outpourings of public grief ever to befall the historically stoic Brits, thousands of whom took to the streets to mourn and demand that the royal family do more for Diana, who had come to be known as the "people's princess."
And though they're perfectly charming in interviews these days and know that a phalanx of photographers snapping them from all angles at an appearance is part of their jobs, William and Harry will forever have a guarded relationship with the press—more so than your average celebrity whose long-term popularity may depend on the world not knowing too much about them.
Whether it was the Bashir interview that Diana later regretted or the fact that paparazzi were still taking pictures while she and Dodi Fayed lay inside the wreckage of their mangled Mercedes in Paris that night, neither prince will forget how their mother was media-handled. Like Diana, they plan to continue using their unique platform to advance their causes for as long as people will care (Harry is more self-deprecating in that regard, having quipped that his nephew Prince George, who's still shy of 6, will steal away with the limelight soon enough).
But they know that their lives are also only so much fodder to sell papers.
"'It's her fault,'" Diana said, per Morton, in assessing what she thought was the general opinion of all the attention she received. "I got that from everywhere, the system and the media started to say it was my fault, I was the Marilyn Monroe of the 1980s and that I was adoring it. I've never, ever sat down and said, 'Hooray, how wonderful.' Never. Because the day I do that, we're in trouble with this set-up.
"I am performing a duty as the Princess of Wales and my time is allocated," she concluded. "And if I go somewhere else, I go somewhere else. If life changes, it changes, but at least when I finish, as I see it, my 12 to 15 years as Princess of Wales... I don't see it [lasting] any longer, funnily enough."
Diana also said in the Morton tapes that she'd love to be able to go to the opera, or the movies or even just on a walk without causing a stir, but it wasn't to be. Not yet, anyway.
"But I know one day if I play the rules of life," she mused, "the game of life, I will be able to have those things I've always pined for and they will be that much more special because I will be that much older and I'll be able to appreciate them that much more.
"I don't want my friends to be hurt and think I've dropped them," Diana added, "but I haven't got time to sit and gossip. I've got things to do and time is precious."