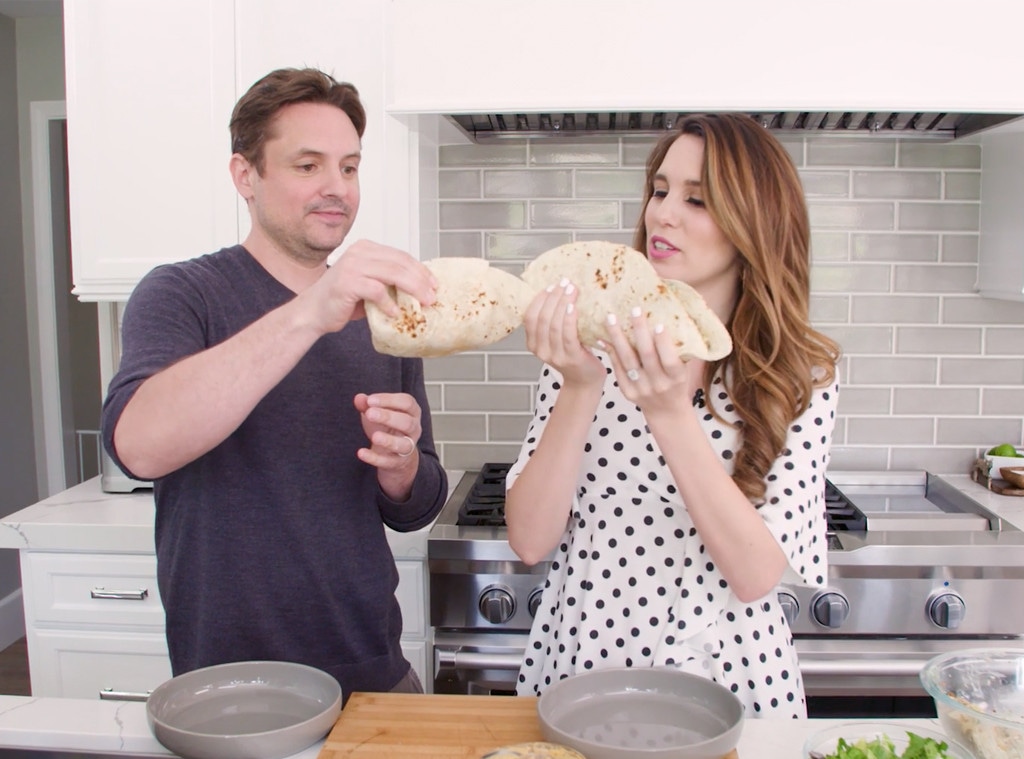 YouTube/Christy's Kitchen Throwback
Here's the sitch: Our mouths are watering.
For the debut episode of her YouTube series Christy's Kitchen Throwback, Christy Carlson Romano called (beeped and reached) her fellow Kim Possible alum Will Friedle—of Boy Meets World and My Date With the President's Daughter fame—to come in and whip up a very special, infamous, delicious dish...the Naco!
Now, if you're sitting there asking yourself, "E!, what the heck is a Naco?!" please go binge some Kim Possible. Or, allow Will to explain: "A taco that is filled with nachos or what I would call happiness rolled up in more happiness."
And though there are several recipes floating around the Internet, the duo—who voiced Kim Possible and Ron Stoppable on the 2000s Disney animated hit—are setting the record straight with the official Naco instructions. 
You'll need: 4 pounds of ground beef, 1 tub of sour cream, 12 avocados, 8 limes, 2 bunches cilantro, 1 bag of romaine lettuce, 10 tomatoes, 2 garlic bulbs, 4 yellow onions, 2 jars of salsa, 1 jar of jalapeños, 2 jars of queso, 1 bag of tortilla chips, 4 packs of taco seasoning and 1 bag of flour tortillas. (We're salivating already.)
Now, in the words of Christy herself, "Let's bring this bad boy to life!"
While the actors cook, they grant our wishes and answer our pressing KP questions. They reminisce over the "Naked Mole Rat" rap (a classic), their favorite villains (Drakken, Señor Senior Sr. and Señor Senior Jr.) and, of course, the most iconic moments.
For Will, it's an easy pick. "When Ron finally gets Kim," he recalls. "When they kiss because it made all of us guys who were total dorks in high school, who couldn't get the girls and couldn't have all that stuff, it made us feel like we had a chance with the popular girls."
And, since it's his lucky day, they're going to recreate the epic scene right here and now. OK, with their action figures but still.
YouTube/Christy's Kitchen Throwback
"Do you really wanna open these?" he asks about the toys, which are still in their original packaging. "These are probably worth money!" But who cares? They dive right in and, well, it's more awkward than you could ever imagine. (Watch in the video above!)
Uncomfortableness aside, Christy and Will return back to their Nacos, mixing together their meat, chips, queso, sour cream, jalapeños, salsa and...Christy-Mole, a.k.a guac.
After diving into the tortilla, Will Raves, "that's actually pretty f--king good!" Christy agrees: "Oh my God, it really is good!" Even her husband Brendan Rooney gives it a thumbs up. 
"You heard it here first," she says. "The Naco is Ron Stoppable approved!"
In other words, that's 10 out of 10 booyahs.