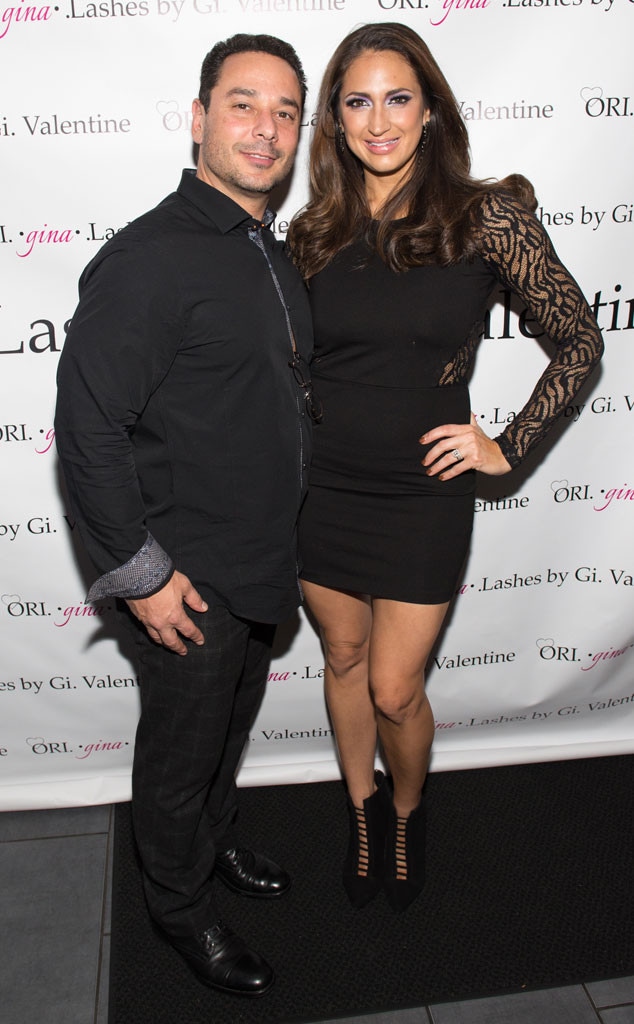 Mike Pont/Getty Images
The Real Housewives franchise is no stranger to drama, but nothing can compare to the controversy surrounding the Marchese family.
Former Real Housewives of New Jersey star Amber Marchese's stepson, James Marchese, recently started a GoFundMe to help pay for the first your of his college tuition at Fairfield University. The 19-year-old, who goes by Michael, claims his father, Jim Marchese, refuses to help him financially.
"It all started because I came out as gay," Michael told E! News. "I was told that if I ever did anything he didn't approve of, I would be taken out of school, I'd never see my friends again, he was going to hurt my friends if he didn't tell them what he wanted, and then when I started living with my mom, it was he wasn't going to let me talk to my younger siblings on his side of him between him and Amber. I can't talk to them anymore. I don't talk to his side anymore… like everything has been cut off, socially, financially, there's nothing anymore."
"This has nothing to do with sexuality," Jim told E! News, later signaling he is not impressed by the college his son chose.
Michael told E! News that when he was younger, his parents told him "always said when I was younger that I should try and go to an Ivy league school and that'd they pay for it" and told him, 'You need to get the best grades to get into the best schools and don't worry about the cost because we'll pay for it.'"
He said his mother supports him "100%" but that his relationship with his father went south after he came out.
On his GoFundMe page, he wrote that, "At the beginning of 2018, my father 'found out' I was gay. This began two weeks of mental abuse that led to me being removed from his home when I told my Mom (her and my father are divorced) and went to court with her. Since this time, my father has been slowly cutting ties with me until I 'live according to his standards.' With this, my father has refused to help in paying for any schooling because he believes I have to live in his home and follow his preferred life-style to be good enough to receive any financial assistance with school."
"I'm not trying to force his hand or anything like that," he told E! News. "I just want to go to college. I just want to go and try to study psychology, I want to try and study English, to study anything I can do to help other people. Because it's not what he wants me to do, and not the lifestyle he wants, he won't have any relationship with me. I just wants to have a relationship with my dad again."
Jim said he wants to apologize to "everybody who sees the YouTube video and has been duped by my son."
"I'm embarrassed by it," he told E! News. "The idea that he's going out to people who do not have the same financial means as he does and asks them for money so he can go to a school that costs $275,000 is embarrassing and shameful."
Annual tuition, plus room and board at Fairfield University, a private Jesuit institution in Connecticut, cost $65,000. Michael says he has received scholarship money and needs $35,000 to make up the difference. As of Thursday morning, about $10,200 was raised.
"I just really wanted to make sure you all knew how much this all means to me," Michael said on YouTube on Wednesday. "Each of you didn't have to donate me anything and the fact that you are taking money out of your own pockets to donate is beautiful and I'm just insanely grateful for each of you; it's just so amazing and this is a college that I've been fighting to go to for a long time now," he emotionally shares.
His father told E! News he and his ex are currently in court "discussing who's to pay for what percentage" of Michael's college."
"His whole page is a fraud. He knows he's not cut off," Jim said. "He knows we're in mediation discussing what amount of his education each party is going to pay for. He's aware of this."
Michael told E! News he is "horrified" about what his dad has said about the fundraising efforts.
"I am grateful for literally any cent that someone sends, I'm not trying to lie here," he said. "I'm truly only asking for freshman year and I'm not at the point where I'm asking him anymore for money."
"In my opinion, it's a s--t school," Jim said about the college. "James wants to spend $275,000 when he doesn't even know what he wants to do for a living is selfish."
As for Michael's stepmother Amber, she is denying all of Michael's claims. 
"I have worked extremely hard to keep our personal affairs out of the spot life and protect my boys welfare, unfortunately, my hand is forced to speak out. I have received death threats, thousands of nasty, vial comments for a story that is not true. NOT ONE WORD. Our family has been destroyed and we are in pain, we have been for some time now," the 41-year-old stated on Instagram. "Never assume you know the story. Please keep this in mind before attacking."
Fans of the RHONJ franchise first got to know the Marchese family when they appeared on the sixth season of the show, alongside Dina Manzo and the rest of the ladies. However, Amber and her family left the show after just one season.