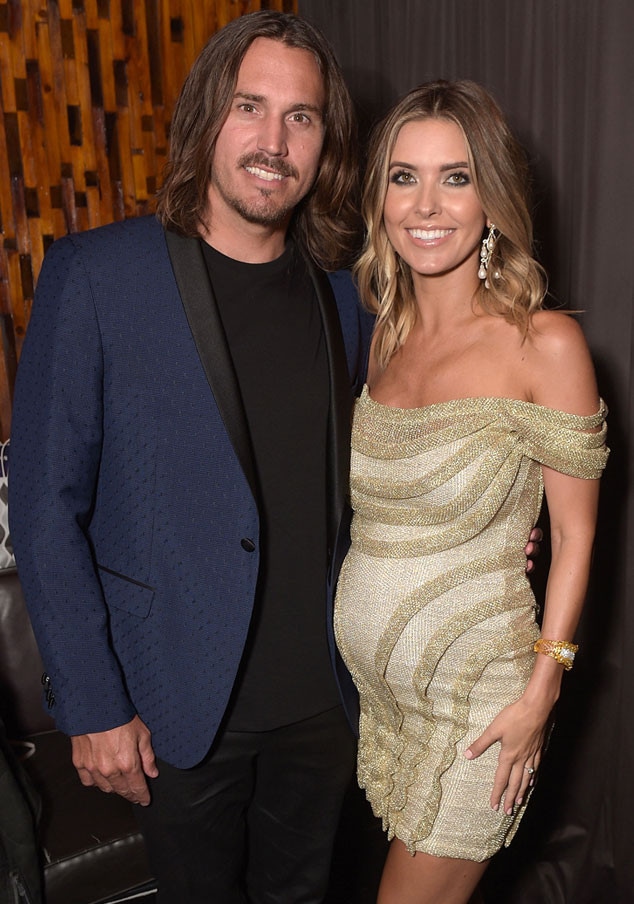 Jason Kempin/Getty Images
Spencer Pratt has said many controversial things, but this might be the most "vile" thus far—at least according to one person.
In a recent Q&A with Cosmopolitan magazine, The Hills star shared that he isn't convinced Corey Bohan is actually the father of Audrina Patridge's daughter, Kirra Max, especially after seeing the two interact on the show. He joked, "I wanna know who's baby that is. How do we know it's not Justin's Baby? Let's get a DNA testing kit for the reunion."
Now, it's very likely the comment was made in jest, but it's definitely ruffled Bohan's feathers. In a new Instagram post to his private account, Corey slams Pratt for making "vile and disgusting" statements about his family in order to keep his "name in the headlines."
"You can say whatever filth you want about YOUR family, cast-mates or even myself but I draw the line when it comes to MY daughter," he emotionally captions a photo of his middle finger. "Kirra is an innocent three year old child."
Bohan continues, "I would hope that since you're now a father yourself you'd have more tact and understanding, but I can't say that I'm surprised. The things you say publicly will be accessible to my daughter forever and I will continue to do everything in my power to not expose her to such nonsense. Keep her out of your attempts to stay relevant ya f--k."
Ultimately, Spencer did confirm he was joking and meant "no disrespect" toward Corey, tweeting, "The only thing I was serious about in my recap was Audrina and Justin Bobby's crazy chemistry. The 'rest' was all jokes. No disrespect."
The 37-year-old, who previously filed a court order to prevent Kirra's appearance on The Hills, adds that he thinks it is "shameful" that Audrina did not "put an end to this immediately." 
Bohan previously stated in court documents, "I do not believe it is in Kirra's best interests to appear on reality TV as the effects of being in the public spotlight could be extremely damaging to such a young child." However, he later consented to the 3-year-old's participation in the reality TV show, according to The Blast.
It's been nearly two years since Patridge filed for divorce from the professional BMX driver, who she previously had a restraining order against. 
E! News reached out to reps for Spencer and MTV for comment.