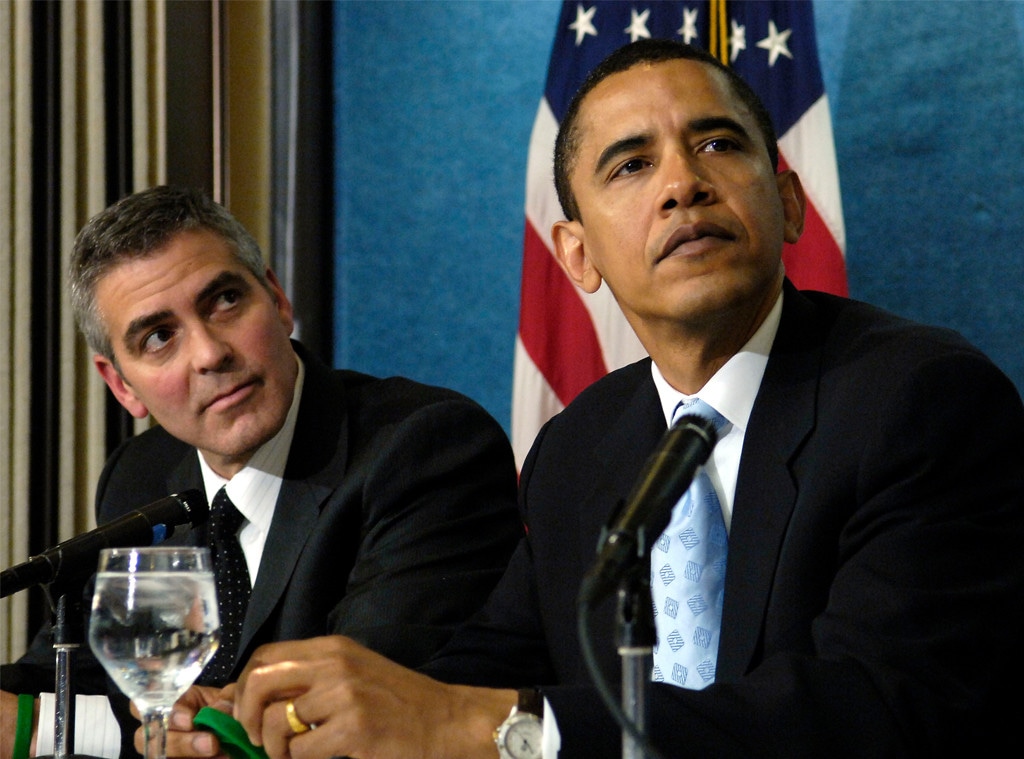 AP Photo/Mannie Garcia
"Clooney is my freebie," Michelle Obama said on Jimmy Kimmel Live last year, echoing the result of many heartfelt conversations that have occurred between spouses all over the world. 
Of course, the former first lady was just reading what was written for her as part of a scripted bit. In reality, George Clooney might feel more like a brother to her by now, so long has the actor been a part of her life.
Photos of Michelle and Barack Obama visiting George and Amal Clooney over the weekend at Villa Oleandra—Clooney's longtime summer home on Lake Como that he now shares with his wife and their twins, Alexander and Ella—inspired some serious vacation envy for the two families' many fans, thoughts of glamorous vistas, stimulating conversation and salty Trump jokes dancing through their heads.
But there's certainly nothing surprising about this foursome palling around together.
It has become obvious over the past two years that the Obamas are intent on unabashedly enjoying their post-White House lives to the utmost, and after going all over the world for the first time in eight years as civilians (sometimes with people such as Tom Hanks, Bruce Springsteen and Oprah Winfrey; sometimes without), it was time to check in once again with a friend who's been with them from the beginning.
The erstwhile first couple had been in the South of France with daughters Malia and Sasha, then came over from Milan on Saturday in a seven-car caravan, plus a van carrying their luggage and six police cars, according to the newspaper Corriere Della Sera—which also reported that a plumbing problem earlier in the day resulted in Clooney's pool being half full and freezing.
An emergency visit from a plumber (who also scored a selfie with the actor) got the situation sorted out in time for lunch before they all attended a benefit dinner that night for the Clooney Foundation for Justice. 
They were mainly spotted while zipping from place to place by boat, and on Sunday the couples stepped out for dinner at one of the Clooneys' favorite restaurants at the hotel Villa D'Este.
"George and Barack looked like best friends. They don't seem to run out of things to talk about," an eyewitness told E! News. "They were laughing the entire time and taking pictures together."
Well, when you know, you know. And 13 years ago... Clooney just knew.
Tom Williams/Roll Call/Getty Images
"If SENATOR Obama became PRESIDENTIAL CANDIDATE Obama it would be the most electrifying thing to happen to the Democratic party since Kennedy," the ER heartthrob turned prolific movie star and filmmaker wrote to the Los Angeles Times in October 2006—just two years after the one-term senator from Illinois had given an inspiring speech at the 2004 Democratic National Convention that turned him into a national contender overnight.
George Clooney and Barack Obama first hit it off in April 2006 at an event to raise awareness about the humanitarian crisis in the Darfur region of Sudan, held at the National Press Club in Washington, D.C. The actor and his father, Nick Clooney, had spent 10 days visiting with refugees from the strife-torn nation in northeast Africa, and Clooney has since spent years rallying for conflict resolution and aid for the people caught in the crossfire.
So, in late 2006, Obama already counted celebs such as Clooney and Bono as friends, but he diplomatically told the Times, "There are some celebrities who have really done their homework and know what they are talking about and are terrific advocates for justice and peace and opportunity around the world. I want all citizens to get involved. Whether they are the secretary in an office building or a movie star, I think the more engaged and interested people are, the better off we all are."
Many Hollywood power players supported Hillary Clinton initially before rallying behind Obama in 2008, but support for him couldn't have been fiercer once he became the nominee. And plenty of people, including Clooney, Jennifer Aniston and Halle Berry, who was photographed in an "Obama for Change" t-shirt, were with him early on. Donation records reported on in August 2007 showed all three had contributed $2,300—the maximum amount for an individual—to the Obama campaign for both the primary and general election. Will Smith, Tyra Banks and Jamie Foxx were also among the early supporters.
"We were at a rally on Darfur," Clooney told the LA Times in March 2007 about his enthusiasm for Obama, who had declared his candidacy in February. "People were standing around backstage. All of a sudden, Obama walks out and steps onto the stage. Everyone stopped to hear what he had to say... I've never been around anyone who can literally take someone's breath away." (Obama also appeared in Sand and Sorrow, a 2007 documentary about the crisis narrated and executive-produced by Clooney).
And though he was trying his hardest not to be the celebrity mascot of the Obama campaign, he was doing more than writing checks. "I spend a lot of time talking with other people, and I tell them, 'You really have to educate yourself on Obama because the guy is real,'" Clooney continued. "He fascinates me. People say, 'Oh, he's too young,' you know. But you cannot learn or teach leadership. You either have it or you don't.
"Everyone says the country isn't ready for a black president. I think that's ridiculous. Is he going to lose Illinois? Is he going to lose New York or California because he's black? No. And maybe he makes some inroads into other places, and maybe, for once, he could get young people to show up and vote."
At the same time, Clooney was no naïf, and though they were legitimately friends he didn't want to appear too close to Obama in order to spare him the accusation that he was too cozy with the Hollywood crowd to be relatable to the rest of America.
An accusation that Obama was not spared from, of course.
When his own father ran for Congress in Kentucky in 2004, Nick Clooney was blasted by conservatives for being too Hollywood, despite being a hometown son, a local celebrity newscaster and—perhaps most importantly—a decidedly moderate Democrat. George even wrote an op-ed in a local Kentucky paper basically assuring his father's would-be constituents that he and Nick disagreed on all sorts of issues, so please judge the elder Clooney on his positions, not his son's.
Still, Nick was dragged for being related to liberal George and it left a bad political taste in his son's mouth.
So, as much as he wanted to hit the stump for Obama, the race that turned into "Hollywood versus the Heartland" was still fresh in his memory.
"I told him I would do anything for him, including staying completely away from him," Clooney told the Los Angeles Times in March 2007. At a recent campaign event, Obama had called Clooney "a good friend" and left it at that.
"I love that guy, I love him," Clooney told the New Yorker about his preferred candidate in the spring of 2008, but he still was opting not to campaign publicly.
Nevertheless, multiple reports described Clooney and Obama as being in regular communication via text and email and Sen. John McCain's campaign couldn't get enough of Hollywood's embrace of Obama (even though movie stars such as Clint Eastwood and Sylvester Stallone had heartily endorsed McCain and the Republican senator had a cameo in Wedding Crashers). A TV ad that aired in July 2008 inexplicably interspersed pictures of Obama with Britney Spears and Paris Hilton while a voice intoned, "He's the biggest celebrity in the world. But is he ready to lead?"
EMMANUEL DUNAND/AFP/Getty Images
Which led to Hilton releasing her own video in which she called McCain "the oldest celebrity in the world, like super old, old enough to remember when dancing was a sin and beer was served in a bucket."
Anyway, Clooney finally weighed in when the U.K.'s Daily Mail reported in August 2008 that he wasn't just chatting with the Democratic candidate for president, he was actually advising Obama on Middle East policy.
"I have never texted or emailed Senator Obama. And I'll offer a million dollars to anyone who could prove otherwise," Clooney said in a statement. "In fact, I've only talked to the Senator once in the last year and a half...on the phone. I've spent more time with Senator McCain (he did my TV show) then I have with Senator Obama. I would hope that my friend John McCain would join me in condemning this kind of politics. Although I support Senator Obama, I would never be dumb enough to offer policy advice to either candidate. They seem to be doing fine without me."
(The TV show Clooney was referring to seems to be an episode of The Tonight Show With Jay Leno from January 2007 that both he and McCain were guests on.)
As the campaign entered the homestretch, however, Clooney hosted a $1,000-a-ticket fundraiser for Obama at a private home in Geneva, Switzerland, in September 2008—the man of the hour wasn't in attendance, but attendees got an earful about him from their host. More so, if they popped for the $10,000-a-plate dinner with the Syriana star.
Clooney wasn't in Chicago's Grant Park to witness Obama's victory speech in person after he was elected the 44th president of the United States on Nov. 4, 2008—but another stalwart supporter named Oprah Winfrey was, as were Brad Pitt and hundreds of thousands of other people. 
A surely delighted Clooney released a fairly muted statement, saying, "I congratulate President-elect Obama on his historic victory, and now it's time to begin unifying the country so we can take on the extraordinary challenges that this generation faces."
A few months later, in February 2009, he made his first of several trips to the White House to discuss Darfur. 
Meanwhile, though the Trump White House hasn't been devoid of celebrities, Kanye West and Kim Kardashian being two of his most headline-making visitors, there was a relative flood of bold-faced names showing up during Obama's presidency, some to entertain at official events, most to discuss causes important to them and others for dinners or more casual meetings. In the first 16 months alone, according to Forbes, that list included Beyoncé and Jay-Z, Oprah, Brad Pitt, Bob Dylan, Smokey Robinson, Steven Spielberg, Eva Longoria, Serena Williams, Bobby Flay and the Foo Fighters.
Pete Souza/The White House via Getty Images
Clooney would return for Darfur talks in 2010 and 2012, the latter time with the president; the U.S. Special Envoy for Sudan, Ambassador Princeton Lyman; and John Prendergast, co-founder of the Enough Project, whose stated mission is to put an end to genocide around the world.
Pete Souza - White House via CNP
Clooney and Obama's friendship was such a given, meanwhile, that in honor of the release of the former's political drama The Ides of March in 2011, a wax museum in London situated figures of the two in the Oval Office, with a tuxedo-clad Clooney behind the desk and Obama standing by.
Jonathan Short/AP/Shutterstock
As one of the president's most stalwart supporters, Clooney was also understandably the recipient of a few prestigious invitations, and was seated next to Michelle Obama at a state dinner held in 2012 in honor of visiting British Prime Minister David Cameron.
Stefan Rousseau/PA Images via Getty Images
By 2012, meanwhile, it was just sort of a given that a whole lot of Hollywood types loved Obama, and when in L.A. that May on a fundraising trip he played some morning basketball with Don Cheadle, Tobey McGuire, Clooney and a couple of other friends.
Pete Souza - White House via CNP
Asked how it went, Obama quipped to reporters, "As you might expect, George and I won. We're all winners because nobody got hurt."
The final score was kept strictly confidential (Stacy Keibler, who was dating Clooney at the time, confirmed to E! News that Team Cloobama did, in fact, win), but more striking was the amount of money raised by the $40,000-a-plate dinner for 150 Obama supporters at Clooney's house in Studio City on May 10: $15 million, two-thirds of it raised from tens of thousands of non-millionaires paying at least $3 a piece, and on average $23, to win the chance to attend. (Two winners were selected.)
That August, Obama reminisced to ET about meeting Clooney through their shared concern for Darfur.
"That was an issue that I was working together on a bipartisan basis, and George, who had traveled there, done documentaries there, and was very well-informed, came to testify in Congress," the president said. "And so we got to know each other, and he is a good man, and a good friend."
Brandon Clark/ABImages for Obama for America
"He's very protective about not bothering me," Obama added. "And he's also sensitive to the fact that, you know, that if he's around a lot, then somehow it'll be tagged as 'Obama hanging out with Hollywood stars,' and that's not who he is. But he's a good person."
And a loyal person. In response to the president's cadre of left-wing critics who were disillusioned by campaign vows left unfulfilled (for instance, the prison at Guantanamo Bay remained open), Clooney told ABC News before the 2012 election, "I'm disillusioned by the people who are disillusioned by Obama...I'm a firm believer in sticking by and sticking up for the people whom you've elected."
So yes, that was the Oscar winner narrating the video that preceded the commander-in-chief's keynote address at the Democratic National Convention that September.
The Republicans and Mitt Romney could scoff about his celebrity pals all they wanted, but Obama handily won a second term.
Olivier Douliery-Pool/Getty Images
And the Obama-Clooney friendship endured.
So much so that emcee Joel McHale joked at the White House Correspondents' Dinner in 2014, "Every year, the White House doctor checks the president's colon for polyps and George Clooney's head."
Since they have senses of humor, neither man was offended. But George was also rather busy getting ready to put bachelorhood behind him and marry Amal that September. Alas, it would've been seen as a little decadent for the first couple to attend the Clooneys' wedding weekend in Venice, but surely they were there in spirit. 
And really, the Clooney-Obama social circle was just waiting for Amal, an internationally renowned human rights attorney who was already no stranger to the UN General Assembly or being around heads of state.
Then, before you could say "escalator," it was time to campaign for 2016.
Carolyn Kaster/AP/Shutterstock
Clooney readily endorsed Hillary Clinton for president, but... long story short, he, along with more than 65.8 million others, were left sorely disappointed.
But, the Obamas leaving the White House in January 2017 meant more time to spend with friends outside of Washington.
That June, the former president (and his Secret Service detail) stayed overnight at the Clooneys' estate in the English village of Sonning, where their neighbors include outgoing British Prime Minister Theresa May. The longtime pals ate a big meal and played basketball.
"I shot the lights out that day," Clooney later told The Hollywood Reporter. "I think it really bothered him." And now they can text as much as they want and it doesn't matter, though the THR reporter was impressed by a text from the former president exclaiming, "What a jerk!"
"Sure," he could be "a little bit" ribald with Obama via text, Clooney acknowledged, but nothing too crazy.
"Not Scaramucci-racy," he added, "but... you know, I have over the years with my friends said a lot of really [outrageous things]. I've had an email exchange with Sacha Baron Cohen that's some of the filthiest stuff, honestly. Amal will be on the chain and she'll be upstairs and I'll hear her scream, 'No!' because it's just foul, and you think, 'Well, that would probably not be great if it came out.'"
Six years after Clooney did narration honors for Obama, Obama returned the favor when Clooney received his AFI Life Achievement Award in June 2018.
"He does the whole gray hair thing better than me," the president said in a video tribute played at the ceremony. "He is a good man, a good friend, a good citizen and an outstanding maker of film."
And a gracious host. After having Obama to his house in England, Clooney expressed hope that he would make it out to Lake Como eventually. His favorite candidate has turned into his favorite houseguest.