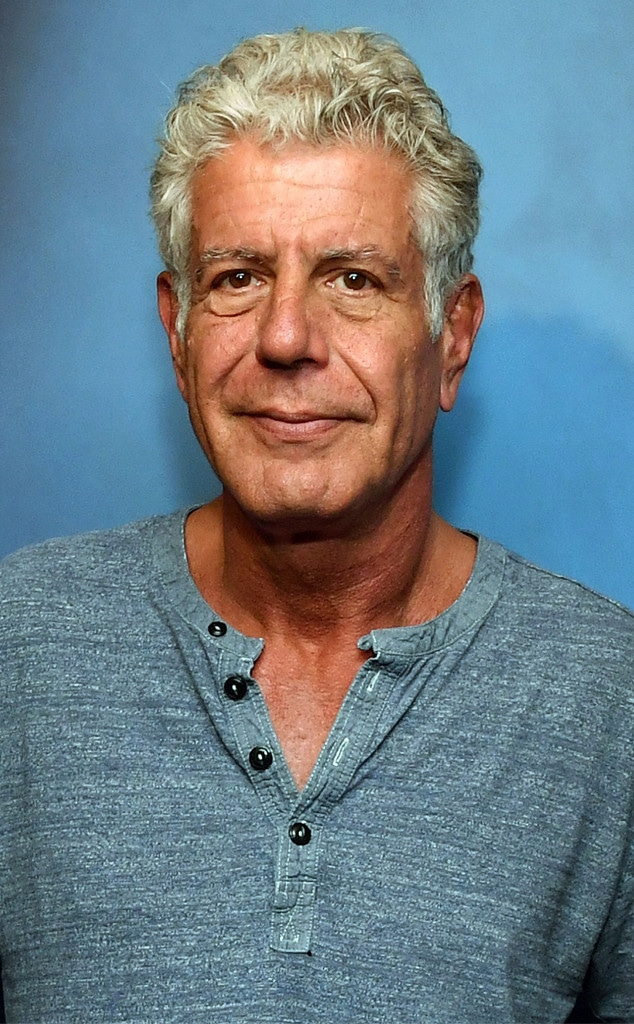 Slaven Vlasic/Getty Images
Today, people around the world are celebrating, in the words of Éric Ripert, "a true Legend."
At the urging of his friends, chefs Ripert and José Andrés, fans are remembering Anthony Bourdain and his legacy on what would have been his 63rd birthday, now dubbed "Bourdain Day." As fans sadly know, the famed chef and TV personality committed suicide last June. At the time, he was 61 years old, just weeks ahead of his birthday on June 25. 
Now, more than a year since his tragic loss, admirers and colleagues can't help but recall all the unique qualities they loved about the special man. 
"Some heroes don't wear capes," Top Chef host Padma Lakshmi wrote online. "We miss your wit and spark, my friend."
Her Top Chef colleague Gail Simmons got choked up as she spoke of Bourdain, telling CNN, "I'm so grateful for not just the time that I had with Anthony, for all he taught me about appreciating the world through the lens of food, how it brought people together, how it allowed us all to understand cultures all over this extraordinary earth, but also how he made us all look a little deeper into ourselves and sometimes that's not easy, but it's important."
She continued, "He also opened the conversation on addiction, on mental health and on the stress and challenges of working in the restaurant industry and I think we really owe him that legacy."
Ripert and Andrés raised their glasses to Bourdain in Singapore. "A true Legend... Anthony, my Dear friend... Happy Birthday!" Ripert tweeted. "The world wishes you Peace & Love on your journey."
"I'm so grateful for a day in honor of a man I respected very deeply. He was cool and brilliant," TV chef Rachael Ray tweeted with praise. "Over the years we found common ground through humor, music and food. I miss his wit and presence. Singular man."
Closer to home, Bourdain's ex-wife Ottavia Busia sweetly recognized the day on Instagram with a cheerful throwback video of the chef with their daughter, Ariane, on his back in the pool. Other fans have honored his memory and celebrated the day by sharing snaps from the restaurants he visited, touching photos of the star or his poignant quotes online, all part of Andrés' ultimate goal for the occasion. 
"I suffered so much grief after what happened that I only hope people will turn all that grief into happiness of life, and remembering how Tony made the world a smaller place by bringing us all together," he told Esquire. "I hope that this is a place that many people will go, will enjoy life, will have a drink. They will cook, they will go to a food truck. They will go to [a] picnic. They will go to [a] street vendor. A hot dog, a fancy restaurant, whatever. And they will toast Tony and wish, 'Happy Bourdain Day' on Instagram, on [the] internet, on Twitter. That's it."