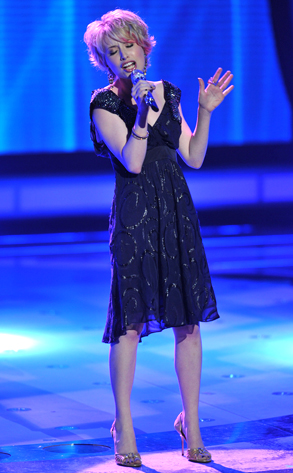 Ray Mickshaw / FOX
The only thing worse than going home from American Idol on the second week of eliminations is going home on country week when country is in your veins and a staple of your home state. Thus was the case with Alexis Grace, the Memphis, Tenn., pink-tipped single mom who lost it on Dolly Parton's "Jolene."
"I feel kind of like I let my state down," says Alexis. "I think I sing country well. It was a disappointment. But I will redeem myself."
While most Idols are shocked to go, Alexis had a sixth sense that her number was up. "I knew before we even got there that I would be in the bottom three. I just knew it. I had a feeling from what the judges said," she says. She also knew her last-ditch take on "Jolene," which she almost performed with a guitar but decided against, was hampered by her sadness of being voted out. "I was upset," she admits. "Sometimes you have bad nights and that's what happened."
Though the judges said they considered using the Judges' Save on her, she says, "It was very early in the game. It wouldn't be good for TV if they did. It just wasn't the right time."
So what are her plans for the future?