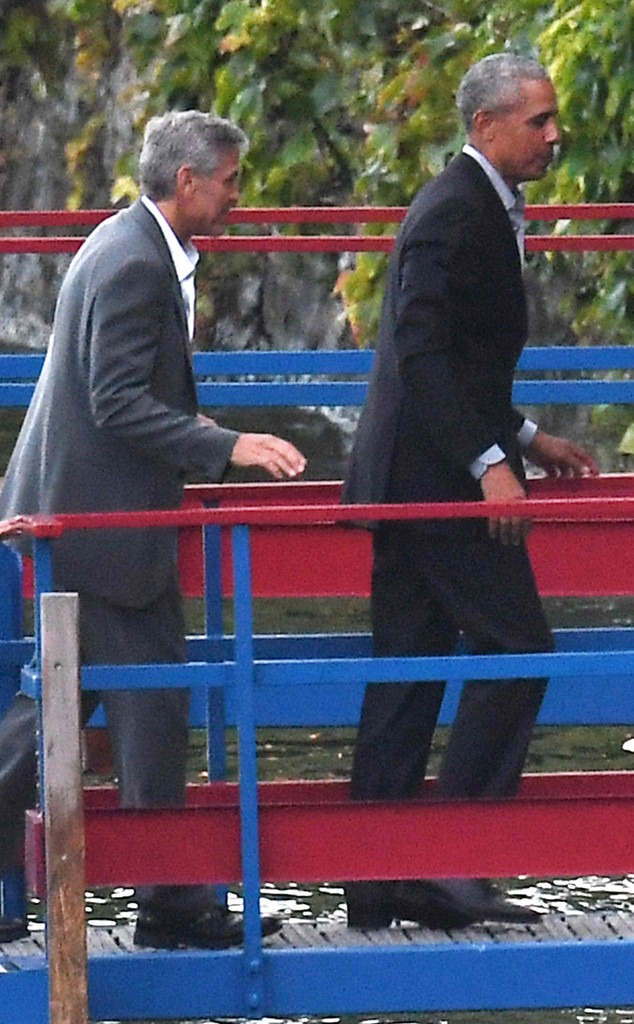 SplashNews.com
Hollywood and Washington D.C. are colliding this travel season.
As former President Barack Obama and former First Lady Michelle Obama continued their European vacation over the weekend, the couple was able to spend some time with a few familiar faces.
Lo and behold, George Clooney and Amal Clooney happily helped give the couple one very special weekend.
E! News has learned the Obamas arrived Saturday where they had a dinner at George's place where food was prepared by several Italian chefs.
On Sunday, there was time to enjoy the pool, lunch in the garden and dinner at Villa D'Este, which is one of George's favorite restaurants.
"George and Barack looked like best friends. They don't seem to run out of things to talk about," an eyewitness shared with E! News. "They were laughing the entire time and taking pictures together."
Our source added, "Michelle and Amal got along well. They laughed and it seems to be a nice friendship between them."
We're told the restaurant put a sign up welcoming the Obamas and even dedicated pizzas in their names.
"George was very kind helping all of the ladies including his wife in and out of the boat," our eyewitness shared. "They all look very elegant."
For those who may not recall, the Clooneys and Obamas share a long history together. All the way back in 2012, George hosted a fundraiser at his Los Angeles home for the president's reelection campaign.
Fast-forward to 2018 when George received a special message from Barack before accepting the AFI Life Achievement Award. "George Clooney is a good man, a good citizen and an outstanding maker of film," the politician gushed in his video message.
Sounds like this friendship is solid!