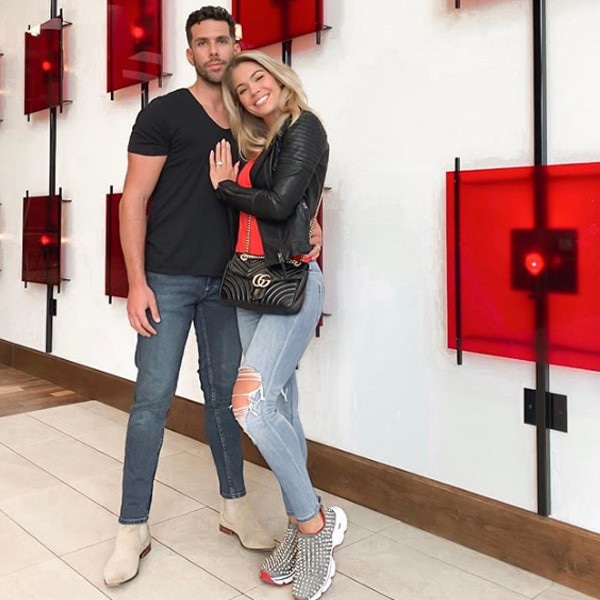 Instagram
Newlywed life is coming up roses for one Bachelor in Paradise couple.
Close to a week after Chris Randone and Krystal Nielson returned to Mexico for a romantic wedding ceremony, the Bachelor Nation couple is shedding some light into married life.
"This weekend Chris and I took the boys on a walk to Balboa Park. We decided that morning 'family walks' are dedicated to the weekend so that we each have dedicated 'me time' during the week," Krystal shared on Instagram. "This is one of many new and AWESOME commitments we are making to each other as we acclimate to married life."
She continued, "With our first Saturday family walk underway, we let the boys off leash to run and play. Chucky is SERIOUSLY the fastest dog and the joy on his face to blaze through the open fields MELTS hearts!!!"
What was supposed to be a nice, calm moment quickly took a turn, however, when a car came close to hitting their dog Chucky.
"I didn't even recognize the sound that came out of my mouth as I SCREAMED his name, hoping the driver would hear me. He did. Thank GOD," she wrote. "Yes, I know that despite the joy they get from frolicking in large fields they will always be leashed."
The reality star added, "I wanted to share this because it was a scary reminder of how precious and short life is with surprises around every corner. I hope you take today to tell someone you love them and hold them close because LIFE IS PRECIOUS."
Putting scary moment aside, the couple's first weekend as husband and wife did include plenty of happy moments.
In between watching the PGA tour, the couple was able to enjoy their "first date night as a married couple" on Friday evening.
For fans hoping to experience their romantic wedding day, you're in luck! Cameras were rolling when Chris Harrison officiated the ceremony that will air on the new season of Bachelor in Paradise premiering August 5 on ABC.
And while details remain top-secret, E! News previously got a few special details about the big day.
"It was a small wedding but was very glamorous. Krystal wanted the wedding to be elegant consisting of mostly white florals and décor, with hints of blush," a source shared with E! News. "Their vows were very emotional and the Bachelor stars who attended were all crying with them."