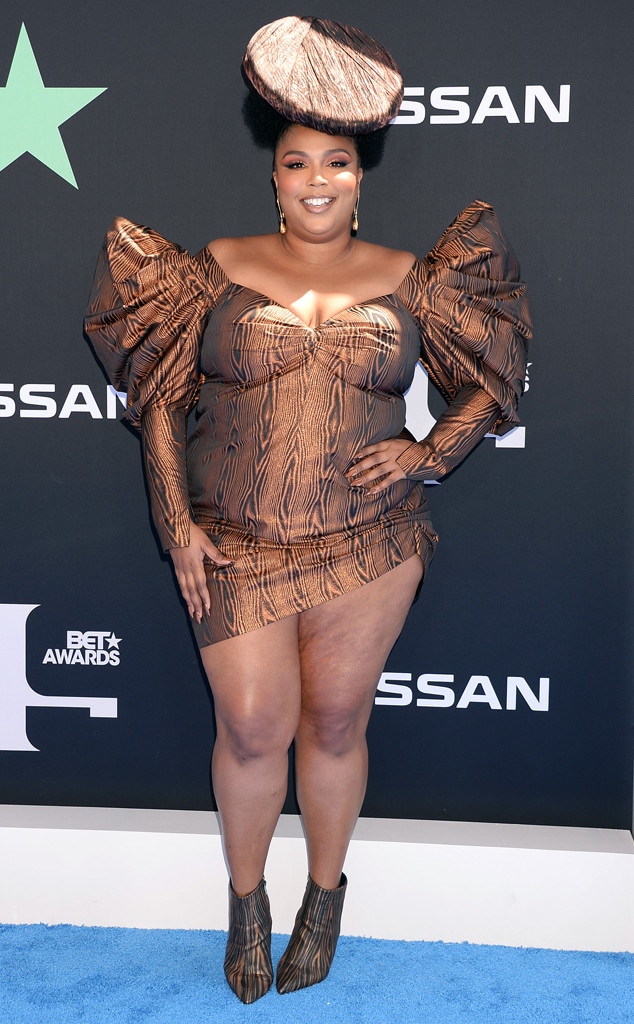 Broadimage/Shutterstock
Lizzo was looking "Good as Hell" at the 2019 BET Awards. Not that anyone would expect anything less from the 31-year-old star.
Aside from her jaw-dropping performance at the star-studded event, which made everyone get up and off of their seats, the "Juice" singer turned heads with her over-the-top beauty and fashion lewk. Being the body icon that she is, the brunette beauty showed off her curves in an ultra-glam mini dress, which featured billowing cape sleeves and a mesmerizing wood grain design.
What's more? She enlisted her go-to hairstylist, Shelby Swain, to create an eye-catching hair accessory that matched her daring outfit perfectly. "Honestly, this is the Baby Jesus of all hairstyles," the celeb stylist exclusively told E! News about Lizzo's larger-than-life headpiece. "This my favorite hair."
So how did Shelby, who dubs herself as the "Beyoncé of BabyHair," create a custom wood grain accessory? Patience and prayer were key.
"I made sure to take my time and prayed to Jesus, hoping I would get this wood grain right," Swain explained. "I've never done this type of look before, so this was all new to me, but I really wanted to get creative and try something new. I literally hand-painted the piece with my sister only an hour before red carpet."
Dimitrios Kambouris/Getty Images for The Met Museum/Vogue
If anything, the "Truth Hurts" singer's hair was a subtle tribute to her H-Town roots. "Lizzo is truly from Houston, Texas, and she wanted to showcase that in her look "wood grain," so we had to bring that to her hair," Swain shared.
Adding, this was the 31-year-old star's idea. "Lizzo normally tells me an idea and I always run with it, like 'Shelby, I wanna wear all wood grain!' So I'm like, 'Well then, let's paint your hair wood grain too!' We like to play."
As for the rest of her hairstyle, which Swain slicked back into a chic updo, she used Suave Professionals for Natural Hair.
Swain used the sulfate-free shampoo and moisturizing conditioner from the drugstore brand, which '"provided a great amount of slip, which helped to detangle and bring out her luxurious curls." She also used the Nourish & Strengthen Leave-In Conditioner to "deeply moisturize hair to protect against frizz." She also let her hair air dry.
To keep the sleek bun secure, Shelby used bobby pins and popped them "into the center of the bun." Lastly, she finished it off with Suave Firm Control Finishing Hairspray to help "seal the look for the night."
She then sewed the custom wood grain hat into a braided base on her head.
Proving she's "100% that bitch" even more, fans can certainly expect to see Lizzo rock more bold lewks. Shelby explained, "I like to play with hair and create," so we will "definitely" see more out-of-this-world hair accessories on the singer.
But no matter what the brunette beauty wears or does, she's proven time and time again that she has the "Juice."