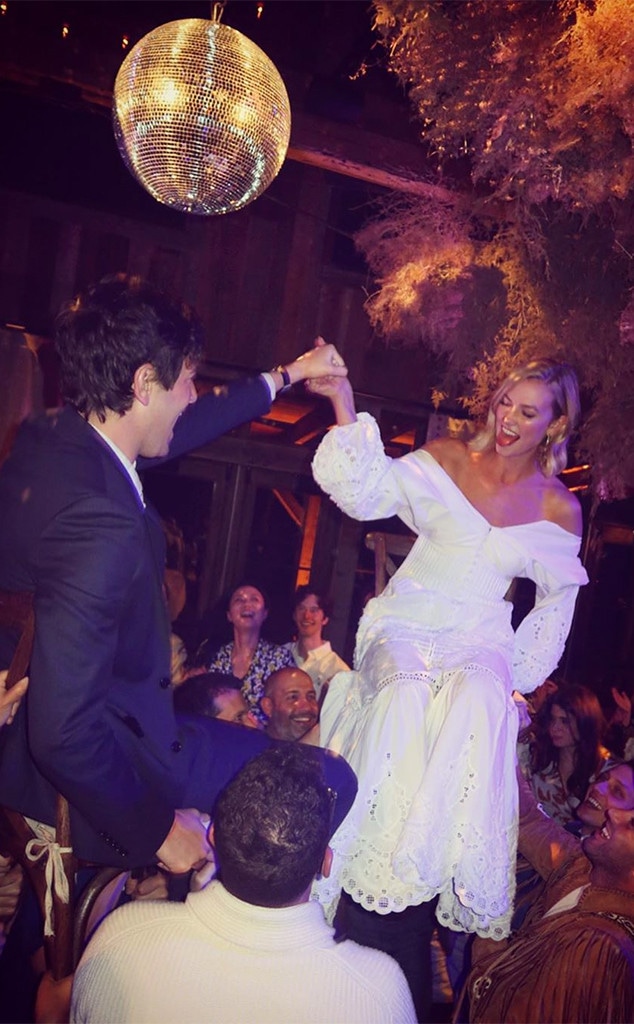 Instagram / Derek Blasberg
Mazel tov...again!
Karlie Kloss and Joshua Kushner had a second celebration of their marriage this weekend in Wyoming, eight months after they tied the knot in a small ceremony in upstate New York.
Wedding celebration No. 2 was a star-studded country-style affair; The 26-year-old supermodel and Project Runway host wore an off-the-shoulder white lace maxi dress, while Joshua, the 34-year-old brother of White House senior adviser Jared Kushner, sported a dark suit with no tie. Karlie had worn a fancier, custom Dior bridal gown at their first wedding, 
Katy Perry and Orlando Bloom, who announced their engagement in February, Karlie's close friend and fashion journalist Derek Blasberg and mutual pal and Garage magazine founder Dasha Zhukova were among the guests, who sported cowboy hats.
The latter two posted photos of the happy couple on Instagram.
Instagram / Dasha Zhukova
Derek included a pic of Joshua, who was born Jewish, and Karlie, who converted to Judaism before their first wedding, being lifted on chairs during a traditional Jewish Horah dance.
"May your marriage be as intense and long lasting as my hangover from this weekend," Derek wrote.
"Ditto," Katy commented.
Instagram / Derek Blasberg
"My best friend's wedding meets Brokeback Mountain meets FIREWORKS," he added.
Not pictured: Taylor Swift, Karlie's longtime bestie, who had also not attended her first wedding in October due to a scheduling conflict.