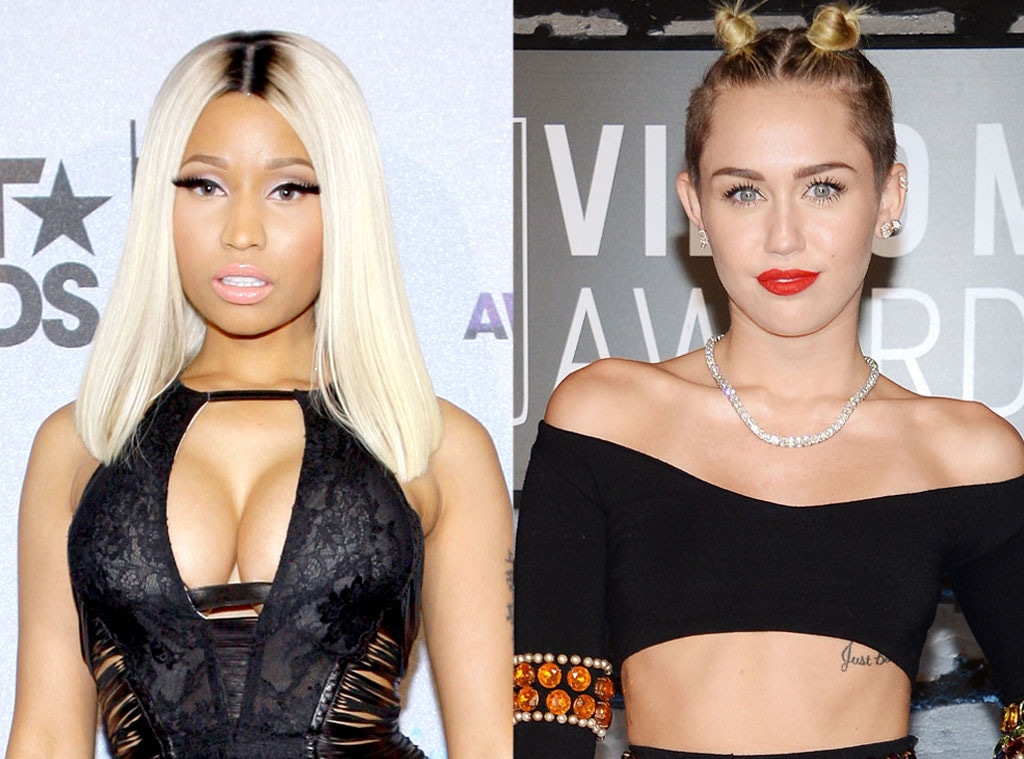 Wire Image/Mike Windle/Getty Images
Nicki Minaj seems to have some words for Miley Cyrus.
After releasing a fiery new tune and music video, "Megatron," which stars her boyfriend Kenneth Petty, the 36-year-old rapper also dropped a new episode of Queen Radio. Her return to the radio airwaves comes nearly three months after her last upload, which is right around the time she took a social media break. But it seems the "No Frauds" singer is coming back in full force.
On her latest episode of Queen Radio, the Grammy-nominated star seemed to be airing her thoughts on Mrs. Miley. While she didn't explicitly say her name, she mentioned a few things that referred to the 26-year-old singer.
"Perdue chickens can never talk s--t about queens," the brunette beauty said. "She disrespected me in a magazine article for no reason."
The New York native also referred to the recent Black Mirror episode the actress starred in. "Now you coming out with pink wigs, all you bitches wanna be Nicki."
In the hit Netflix show, Miley's character wears a short pink, purple wig.
Last month, the blonde beauty reportedly debuted three new songs while performing in England at BBC Radio 1's Big Weekend show. Her tune "Cattitude" raised eyebrows after many heard her lyric, "I love you, Nicki, but I listen to Cardi." The Black Mirror actress clarified that line while speaking on Capital Breakfast with Roman Kemp.
"I don't think there is beef now anymore," she said when asked about the Cardi B and Nicki feud. "Actually, one of my songs says, 'You want to know if we're really beefin'? There's no beef. I'm a vegan.'"
She continued, "I think what they do is so different from each other. That's why they both get a crown. They don't have to share. They don't have to break it in half. There's no reason to fight over it. They're both queens. And anytime you want to feel powerful and strong, that's my go-to, Cardi and Nicki."
Dimitrios Kambouris/Getty Images for The Met Museum/Vogue
Fans might recall that in 2015, the blonde beauty said some unflattering things about Nicki during a New York Times interview. She weighed in on the Queen rapper's miscommunication with Taylor Swift over MTV VMAs nominations on Twitter.
"You made it about you," the 26-year-old singer said. "Not to sound like a bitch, but that's like, 'Eh, I didn't get my VMA.' If you want to make it about race, there's a way you could do that. But don't make it just about yourself. Say: 'This is the reason why I think it's important to be nominated. There's girls everywhere with this body type.'"
"What I read sounded very Nicki Minaj, which, if you know Nicki Minaj is not too kind," she added. "It's not very polite."
During the awards ceremony, viewers and audience members alike clutched their pearls when the New York native called out Cyrus, who was the host that year. "Miley, what's good," she infamously said on stage.
She later spoke to The New York Times Magazine to further explain the shocking moment and why she was upset with the "Wrecking Ball" singer.
"The fact that you feel upset about me speaking on something that affects black women makes me feel like you have some big balls," Minaj told the publication. "You're in videos with black men, and you're bringing out black women on your stages, but you don't want to know how black women feel about something that's so important?"
She continued, "Come on, you can't want the good without the bad. If you want to enjoy our culture and our lifestyle, bond with us, dance with us, have fun with us, twerk with us, rap with us, then you should also want to know what affects us, what is bothering us, what we feel is unfair to us. You shouldn't not want to know that."