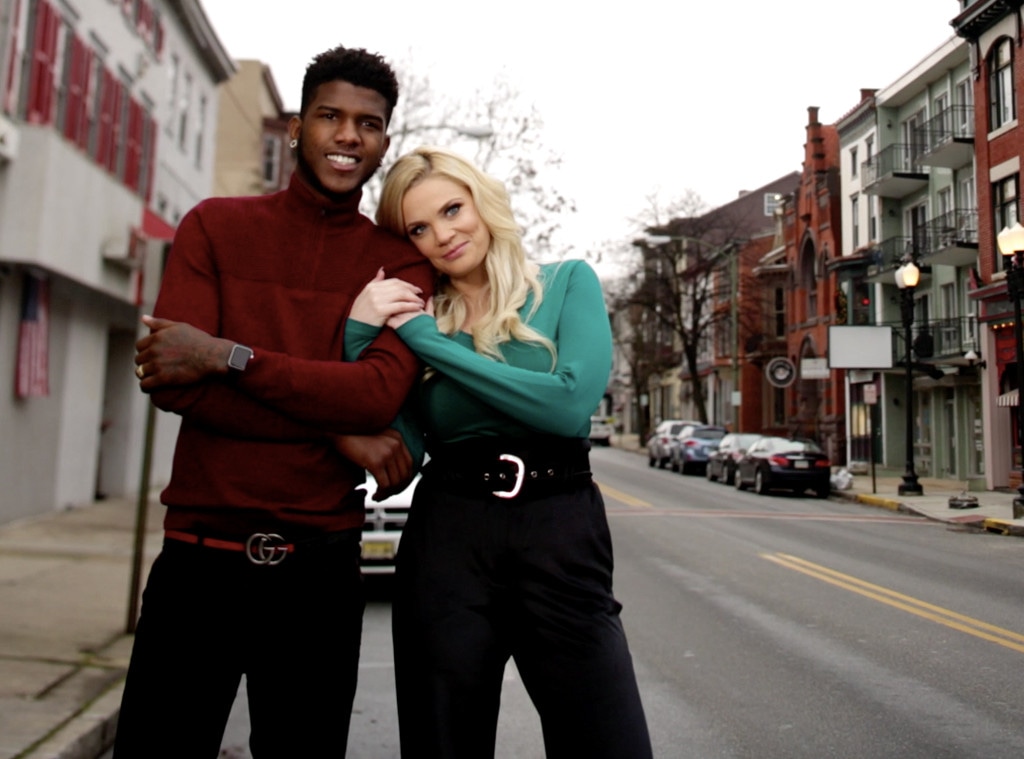 TLC
And this is how a marriage crumbles? On 90 Day Fiancé: Happily Ever After?, Ashley received some shocking news from Jay's friends at the barber shop, news that he confirmed: He did go into the barbershop bathroom for a sexual encounter with a woman he was tattooing.
Ashley was suspicious after a local girl was commenting on his social media, so she made her way down to the barbershop where Jay hangs out. Kendell told her he was caught in the bathroom with a woman having sex in the middle of the work day. He then showed her video of him confronting Jay about it. After multiple phone call attempts, Jay admitted it.
"Everything that you heard happened. I'm not going to deny it or anything like that," he said, noting that it wasn't full intercourse. "It just happened."
Ashley told him she was going to pack up his things and she'd have him deported if he entered the house. While packing, she received a call from the woman who said it wasn't just oral sex as Jay said, but everything imaginable.
"He's f—king disgusting," Ashley said. "I'm done." But the episode ended with Jay entering her house…
Here's what else happened:
Colt and Larissa
Larissa finally left jail after two nights behind bars. She said she blames Colt for everything and the fight was all about money. He didn't want to pay for her phone and he turned off her data and WiFi.
"Colt is a cheap man," she said.
Colt apologized and said he regretted what he did. However, the two seem to be at an impasse regarding making up. Meanwhile, Debbie returned home to find her window broken and her belongings tossed through. She told the camera she hopes Larissa gets deported and Colt decides to move on.
Chantel and Pedro
In the Dominican Republic, Pedro returned to Chantel's hotel room to check on her. They discussed their feelings, but rather than spend the day together, he opted to go hang with his family. Chantel went to meet Obed, a friend she met through Pedro, who told her Pedro's mother and sister were purposefully looking to set him up with an American girl to further their social status and business. Obed said he didn't think Pedro was aware, and she was set up by a mutual friend who may have been in on it. However, Obed said he thinks Pedro's family has such a problem with Chantel because Pedro really fell in love with her.
"Everything just seems so fake," she said.  
Elizabeth and Andrei
Andrei's dad made his way to America for the first time, but not without some travel problems. This sparked Andrei to spend $600 on a plane ticket to get his father from New York City to Tampa. Elizabeth wanted to ask her dad for the money. That didn't go over well, obviously. Safely in Florida, Andrei prepared his dad to meet Elizabeth's family and told him all about the problems he's had with them, but Stefan was quick to point out Andrei could be the cause of the problems and that everyone needs to get along for the baby.
Russ and Paola
This episode tracked Paola's natural home birth of baby Axel. He arrived, with a lot of pain for mom, but safely. And now that the baby is there, it's time for Russ and Pao to clash over parenting.
90 Day Fiancé: Happily Ever After? airs Sundays, 8 p.m. on TLC.