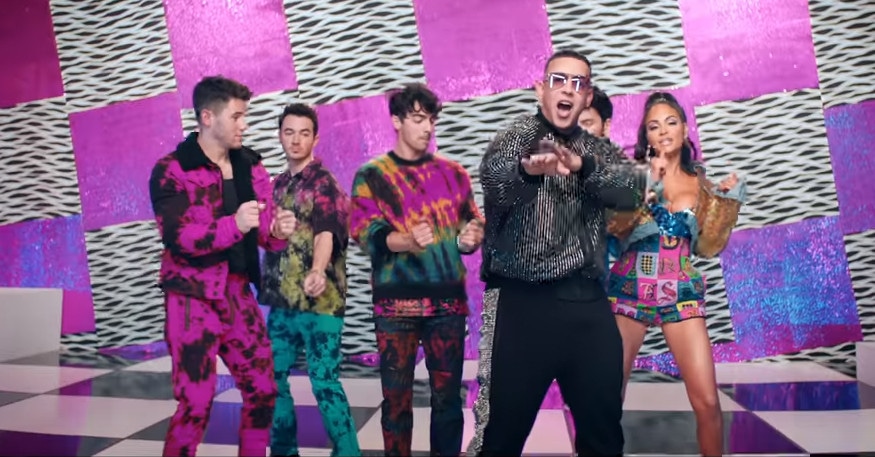 YouTube
The Jonas Brothers' first Latin music collaboration is here!
Nick Jonas, Joe Jonas and Kevin Jonas have teamed up with Sebastián Yatra, Daddy Yankee and Natti Natasha for the new hit song "Runaway," released overnight. The music video for the new song, featuring all six artists, was also just released hours ago and it already has over 4 million views. So, we think it's safe to say that fans are loving this collab!
"RUNAWAY! So pumped this song is finally out!" Nick wrote on his Instagram after the track's debut. "Our first Latin music collaboration! Thank you @sebastianyatra @daddyyankee @nattinatasha for having us!"
It's been a very exciting week for the Jonas Brothers, their album Happiness Begins just made its debut at No. 1 on the Billboard 200 chart.
"Speechless," Joe wrote on social media in response to the news. "Thank you guys so much!!"
"#1?!?! 414,000 units first week! I don't even know what to say," Nick also wrote in a message to their fans. "This is so incredible. Thank you thank you thank you! We set out to make a record that embodied the happiness we feel after having been through so much together. The fact that this music has connected with people in this way means the world us. Thank you for believing in us. We love you."
Kevin also reacted to the news, telling his social media followers, "I can't believe this! Thank you so much everyone truly insane! It's just the beginning!!!"
Check out the music video for "Runaway" above!