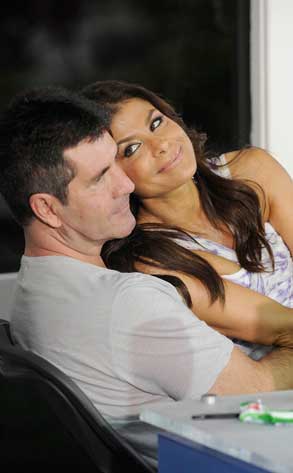 Michael Becker / FOX
Simon Cowell might give Paula Abdul hell during the judging portion of American Idol, but in reality there's a lot of love between these two judges. So much love, in fact, that they kissed!
OK, before we get too excited, it wasn't that kind of kiss. No romance whatsoever, just a friendly judge-to-judge smooch, as judges do. Well, as they do. It happened off camera right after Simon, Paula, Kara and Randy took their seats at their table. So even if there's no hanky-panky going on, at least they've made up after last night's heated throwdown over Scott MacIntyre playing the piano.
K-i-s-s-i-n-g aside, the real shocker of the night was the elimination of one of our favorites, Alexis Grace. The singer, who was done in by her rendition of Dolly Parton's "Jolene," kept calm, cool and quiet on commercial breaks as she awaited her final fate.
The same can't be said for the family of Allison Iraheta, who was in the bottom three. Her peeps wept and hugged each other as their little Allison's name was called. On a commercial break, Paula went over to Allison's family to console them. Awww, see how sweet Paula is?
Here's what else we spied at tonight's live Idol taping...