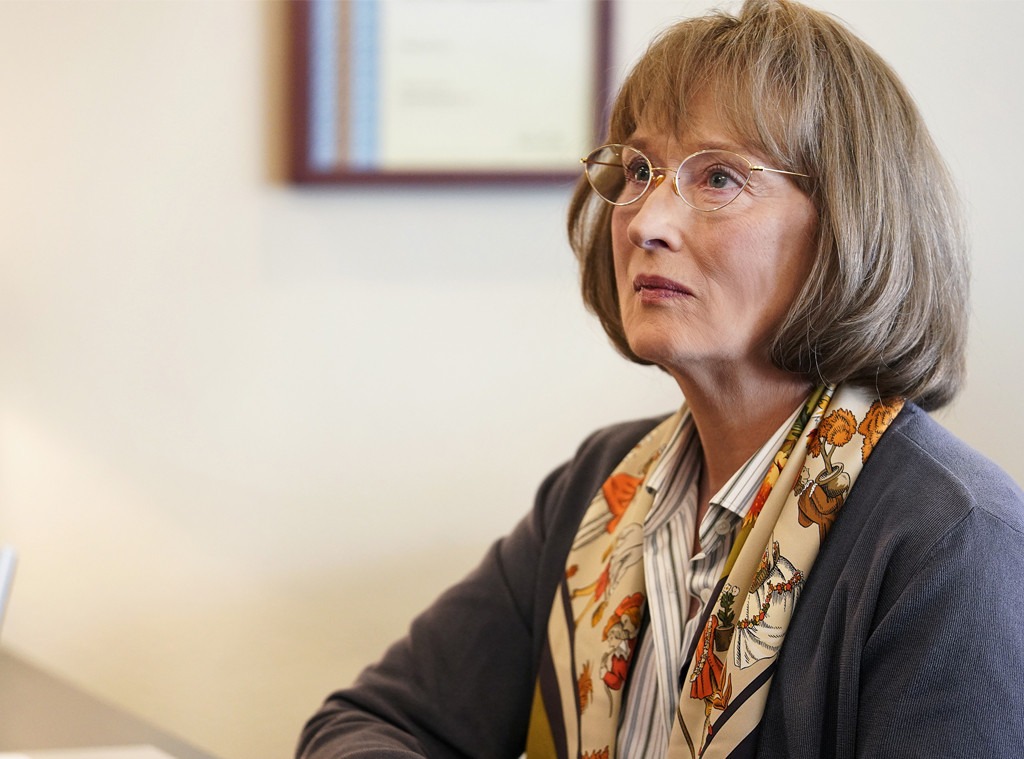 Jennifer Clasen/HBO
Have you heard? Mary Louise's son died and she wants answers!
Celeste's mother-in-law continued her quest to avenge her son's death on Big Little Lies this week and took things to another level. She asked Jane for a paternity test and forced poor Jane to defend herself in the face of victim blaming and the possibility that maybe she was drugged, and it was someone else who raped her. Then, perhaps it was Jane who initiated the evening, and Perry who misinterpreted her signals, but would she like to see pictures of Perry's brother? He looks just like Ziggy! 
In the midst of emotionally torturing poor Jane, she also sat down with the detective to ask if there were any updates on her son's case, wondering if she's also thinking Perry didn't die by accident. 
We're not saying we don't get this woman's grief, but snooping through Celeste's medicine cabinet and flipping between accusing Jane of lying and showing her old photos isn't the way to help anything. 
Meanwhile, Celeste was beginning to worry that she was a better mother with Perry around, Madeline and Ed tried marriage counseling (which didn't seem to help), Jane and Corey really hit it off and he started to teach Ziggy to surf, and Renata's nightmare continued as Amabella had a panic attack that left her passed out in a closet at school. 
It turned out that she was stressed about her parents, but she was also very very stressed about the climate change she had been learning about at school, as the therapist(?) dressed as Little Bo Peep surmised. 
This sent Renata barging into the school, demanding that this stop immediately. There was even an assembly held, which resulted in Madeline making an off the cuff speech about how everyone's been lying to their kids about happy endings and now their kids are, as Renata would say, in comas. 
And then there's Bonnie. She's walking around in a daze, remembering times when she was a child when her mother would force her under water so she'd learn to hold her breath in case anything were to ever happen, which is really not great, but it's only adding to the theory that somebody this season is going to drown, just based on how much that topic has come up so far. 
We learned that Madeline had saved Max from drowning, and Bonnie's mother had a vision of her drowning, and it's just that the concept has come up so much this season as everyone's also been figuratively drowning in their secrets and lies that it really feels like something bad is coming. 
Whatever it is, there's something bubbling under the surface, and there's no way things aren't getting worse before they get better. 
Big Little Lies airs Sundays on HBO.