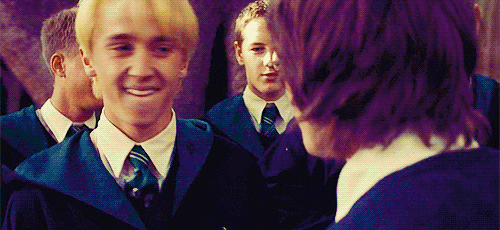 Warner Bros. Pictures
Forget Ginny Weasley, and set aside the Hermione Granger rumors...Harry Potter was apparently more into blonds. Blond...ferrets.
The Boy Who Lived really had eyes for his nemesis, Draco Malfoy, jokes Tom Felton.
The actor, who played the latter blond-haired, silver-eyed character in the hit films, made his comments in a joint interview with co-star Rupert Grint, who played Harry's best friend and Ginny's brother Ron Weasley. The two played a game of "Fact of Fanfic" for AOL's In The Know segment, posted on Tuesday.
"Fact or fanfic? Even while he was with Ginny, Harry was always in love with Draco," Grint read from a card.
"Ah!" Felton said, smiling. "I think it was clearly a fact. Harry was constantly crushing on Draco. He just couldn't hide it."
"I think he made quite an impression on Ron as well," Grint said.
"Yes," Felton laughed. "Well, exactly. It could have gone either way, really."
James Phelps and Oliver Phelps—who played Ron and Ginny's older twin brothers, Evanna Lynch—who played Luna Lovegood, and Warwick Davis—who played Professor Filius Flitwick and the goblin banker Griphook, were not as convinced.
AOL interviewed the group during their mini cast reunion at the recent opening celebration of Universal Orlando's Wizarding World of Harry Potter's new roller coaster, Hagrid's Magical Creatures Motorbike Adventure.
Gerardo Mora/Getty Images
Fans have shipped various Harry Potter couples, depicted in books or onscreen and also imaginary, for some 20 years and the franchise is among the most written-about topics on fanfiction websites.
When asked if he had ever read Harry Potter fanfictions, Felton told AOL, "I've seen some pictures, some alarming ones."