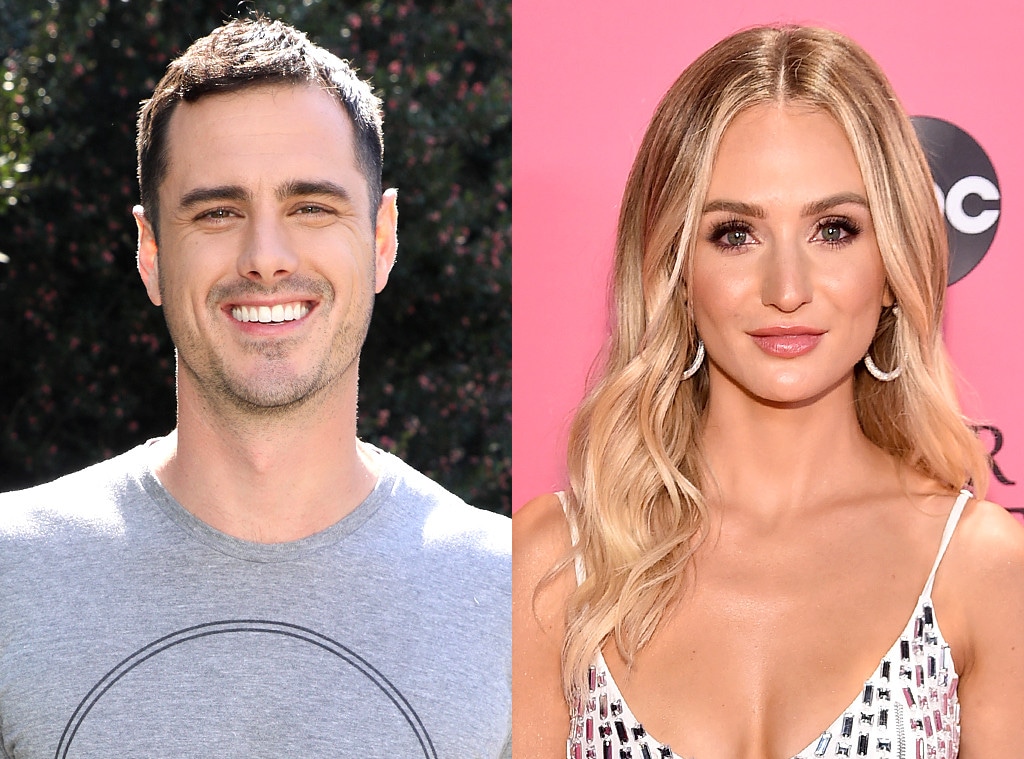 Getty Images
After news of Lauren Bushnell's engagement to Chris Lane broke, Ben Higgins congratulated his ex on Tuesday's episode of The Ben & Ashley I Almost Famous Podcast.
It may seem hard to believe, but the former Bachelor seems to be happy that his ex-fiancée has found love with a new man, because it signifies the end of a chapter. "Ultimately, we left that relationship both of us, I think, saying, 'I hope life brings you a ton of joy, I don't want you upset and alone forever. I hope you find a partner as soon as possible. I hope everything that you want in this world that's healthy and good is given to you.' And that's exactly how I feel," the host explains. "So, to go to Lauren: Lauren congratulations!"
He adds, "We're thrilled for you. You found a man that you love without any pressure and in a moment, after dating for a long time, you have said yes to spending your life with him and I could not be more excited for you. I want nothing but joy and everything you ever wanted that our relationship would've have brought you and Chris. Congratulations."
But, Ben is also including a message to all the people who are curious about how he really feels: It's time for everyone to move on. "And the second piece of this is that I hope for Lauren and myself, is that my life isn't as closely tied to Lauren anymore. I hope that people aren't reaching out," he says. 
If that message isn't clear enough then this is: "I hope this is a chapter being closed completely because I don't know Lauren anymore and my life isn't tied to her."
Rick Rowell/ABC via Getty Images
It's safe to say that Ben feels this way, because he has truly moved on to bigger and better things. But if he wasn't so in love with his current girlfriend, Jessica Clarke, would he still feel the same? 
Well, Ben doesn't really know. He says that if he were single he might "question" what his "issues" are and why he has yet find someone of his own. "So if this was something that made her happy, I hope that I am a person, maybe I wouldn't be, but I hope I have a strong enough foundation to where I wouldn't be resentful but yet celebrate her and her happiness but also reflect on where I was at," he reasons. "And if I was alone at this point, whew! It's never fun to see an ex get engaged while you sit there alone in your room and go, 'Well this is fun.' But the truth is that's not the case, I'm happy.
As Bachelor Nation will recall, Higgins and Bushnell met on season 20 of The Bachelor. While the Indiana native initially made headlines for professing his love to both Bushnell and JoJo Fletcher, it was the flight attendant from California who won his heart. Higgins ended the 2016 season by proposing to Bushnell with a Neil Lane diamond ring reportedly worth $95,000.
Afterwards, the two continued to document their romance on Ben and Lauren: Happily Ever After?. While the reality spinoff showed the couple planning for their big day, it didn't end with the happy ending fans had hoped for. Viewers watched the two call off their wedding on the show. While they continued to work on their relationship, the couple ended up splitting in 2017. 
"It is with heavy hearts that we announce our decision to go our separate ways," they told People in a joint statement at the time. "We feel fortunate for the time we had together and will remain friends with much love and respect for one another. We wish nothing but the best for each other and ask for your support and understanding at this time." 
Just days after announcing the split, Higgins opened up about the "tough" breakup on his podcast with fellow Bachelor alum Ashley Iaconetti.
"I think mutually Lauren and I saw that life was getting more difficult," he said at the time.  "I would say the joy that we felt toward our relationship at the beginning was—for some reason—slipping away, and we were both working very hard to bring that joy back. And it just never seemed to get there. So it was a long time coming but it wasn't necessarily like we dragged it out."
Likewise, Bushnell opened up about the split on a few occasions, during which she talked about how "hurtful" his words to Fletcher were and how she didn't want to do a second reality show. She even suggested there were red flags she ignored before his proposal. 
"There's so much doubt in your mind, and I remember waking up that morning and I kind of had an idea that I was possibly going to get engaged," she said on Reality Steve's podcast in 2018. "I remember having so much anxiety about it, which looking back, I don't know if that was my gut being like, 'Wait, timing-wise, this is too rushed,' or what."
After a while, it seemed like they had each moved on. However, Higgins suggested he was still "emotionally dealing with the loss" of the relationship on the 2018 spinoff Bachelor Winter Games.
"It's like, when you get engaged, I truly was so excited about the idea that like, I'm gonna spend the rest of my life with this person," he said at the time. "But I think I don't want to be hurt again. Like, I desire a relationship and I dream of kids and I dream of family and I dream of being a good dad and a good husband, but I also have to get to a place where I'm excited about dating, and I'm not." 
Now, it seems like both reality stars have found true love. Not only is Bushnell engaged to the country star, but Higgins is also dating Jessica Clarke.