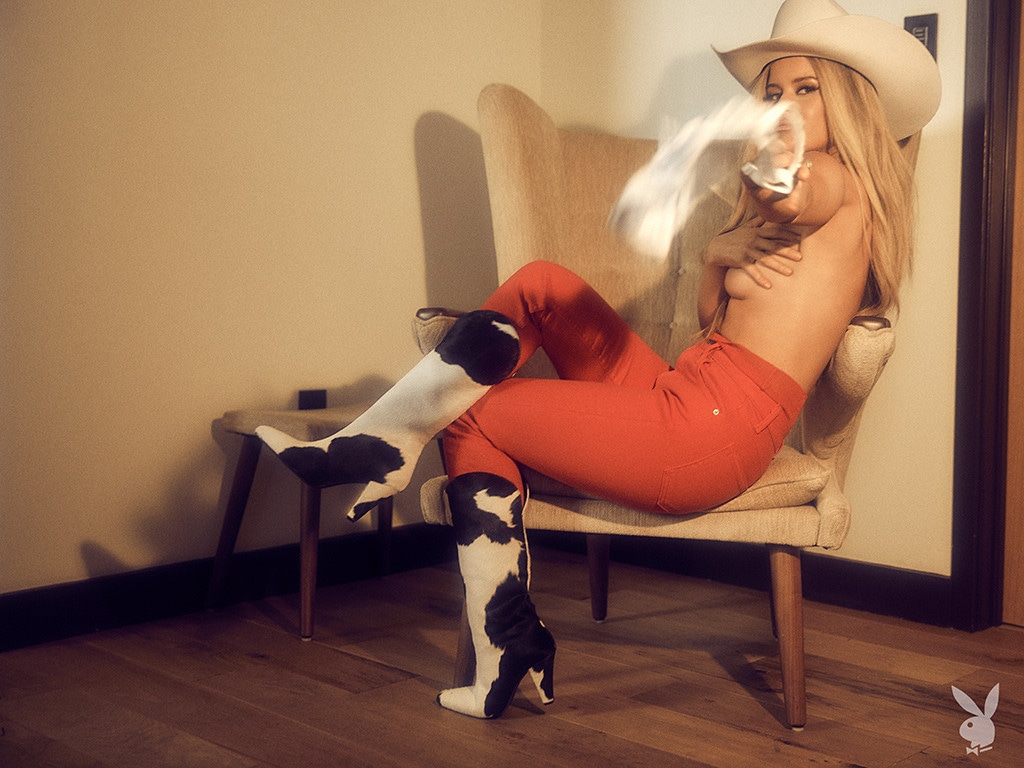 Harper Smith for <i>Playboy</i>
Maren Morris is loving the skin she's in.
The 29-year-old singer poses topless for her new interview with Playboy and gets candid about handling haters and breaking down barriers. 
"I'm speaking such a loud, noisy concept of what it means to be a woman in the music industry right now," she tells the magazine in an interview with Andrea Domanick released Tuesday. "This feels like I'm amplifying a message I've been passionate about since the beginning that has intensified in the past year. I feel I've already challenged a lot of sexual norms. It's funny, because it's not that risqué in the grand scheme of things. Even the cover of GIRL is slightly risqué, but it feels like me—throwback but a little modern. I knew it would piss some people off that I was in a bra top. Doing Playboy has been a really fun challenge. I'm trying to do more things that scare me. Every year I'm trying to peel back my layers emotionally—and I guess physically."
Morris is definitely no stranger to criticism. Whether she's crossing genres from country to pop or singing about sex, she's found that people often have something to say. She's even been body-shamed and slut-shamed online. But make no mistake: "The Middle" star isn't afraid to put her haters in their place.
"Every time I've spoken up or clapped back at some troll, it has been very much me," she says. "I wouldn't go back on any of it, because they deserved it. Body-shamers? They're asking for it. I would never regret calling them out." 
She's also faced scrutiny after sharing her political views. During the interview, the star recalled losing 5,000 followers after posting a picture with Emma González, one of the survivors of the Parkland shooting, online.
"To not be able to share an opinion, or to lose fans and ticket sales over it, is so mind-boggling to me, because it's an American right—a human right—to be able to voice your opinion," she says. "Of course, any fan has the choice to quit buying your music or listening to it. But as a tax-paying citizen, I should be allowed to speak up when I'm passionate about something. It's always to increase awareness. It's to let my fans know where I stand."
Harper Smith for <i>Playboy</i>
While the Grammy winner says "not many country artists speak up," she refuses to stay quiet.
"I could just shut up and sing, keep my head down, not talk about politics or sexuality in my songs," she says. "But I swear quite a bit. I talk openly about drinking. I'm learning things about myself that are starting to freak me out, in a good way. I'm growing up, and that doesn't necessarily mean becoming more mature or wiser or buttoning things up a bit more. Sometimes it's letting it all be a little more freewheeling."
Even though she's been fighting these battles on her own for years, she's also found support from her new husband Ryan Hurd. 
"Being married for the past year has also helped me figure out more who I am independently," she says. "For example, my husband is very much a feminist, and I've never really done anything that's freaked him out. He has always been accepting. Even with Playboy, he was like, 'That's really hot.' It's awesome to be with somebody who is an equal and isn't trying to make you feel like a skank because you're proud of your body—someone who's not watering down your ideologies for patriarchal and bulls--t standards that women in country music have been locked into for the past several decades."