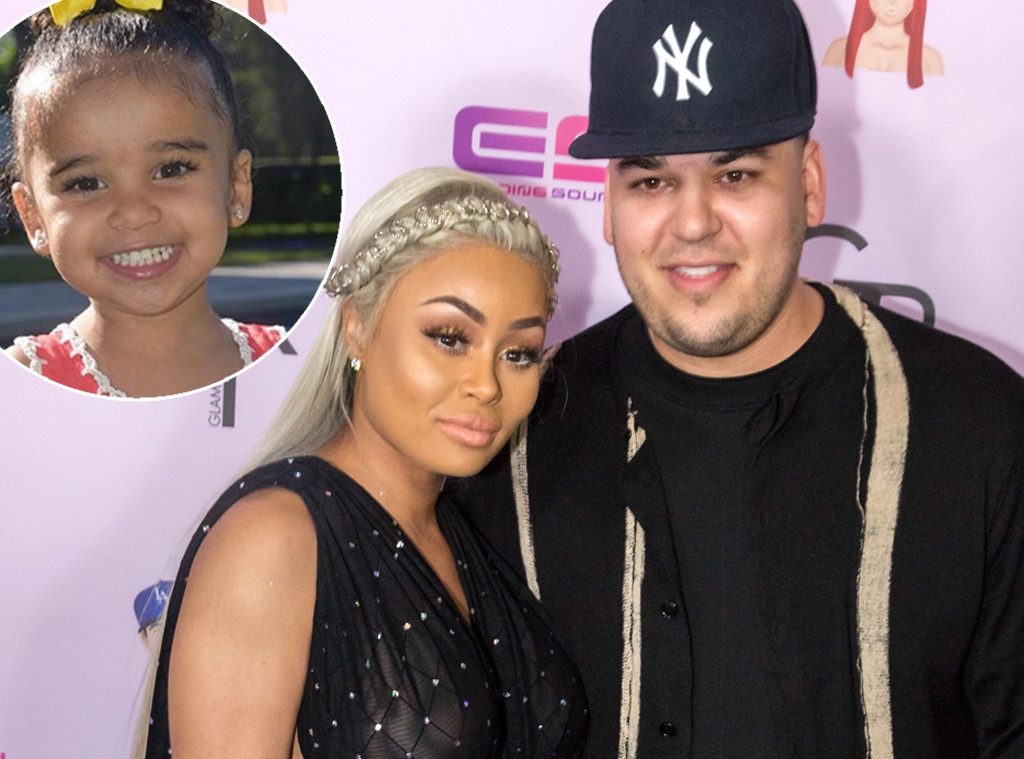 Getty Images; Instagram
Rob Kardashian is not cool with ex Blac Chyna putting their daughter Dream Kardashian on her new reality show, and she is not happy about that.
The glamour model, whose real name is Angela White and whose relationship with Rob and pregnancy with their child, now 2 years old, was documented on the E! series Rob & Chyna in 2016, stars in the docu-series The Real Blac Chyna, set to be released inn on the Zeus Network, an SVOD service.
E! News has obtained a copy of a letter sent by Rob's lawyer Marty Singer to the Vimeo-owned VHX Corporation, whose technology powers Zeus.
It read, "Mr. Kardashian and Ms. White share joint custody of their daughter, Dream Kardashian. On or around Friday, June 7, 2019, Ms. White sent our client the attached document, which appears to be a draft: Appearance Release for Dream to appear on the Series. My client does not agree that his daughter Dream Kardashian appear on the Series."
"Please be advised that the Zeus Network does not have Mr. Kardashian's consent to Dream's participation in or appearance on the Series or in any related marketing or promotional materials. Should the Zeus Network proceed with releasing any episodes of the Series or related materials containing Dream's likeness, it will be acting at its own peril and exposing itself to significant liability."
Chyna responded on her Instagram page.
"As Executive Producer of my show, it is very unfortunate that Rob could not simply have an adult conversation with me 'the mother of his child,' Dream Kardashian, appearing on my show The Real Blac Chyna," she wrote. "Had Rob contacted me directly rather than through his attorney Marty Singer, Rob would have learned about Dream participation in the show."
"First and foremost, I would never allow her 2-year-old daughter to be subjected to 'long hours' on the set," he post continued. "Also, the very real and intense drama that happened between my mother and I, during the filming of The Real Blac Chyna took place outside of the presence of my daughter. I would never allow my daughter to be present as me and my mom tried to work through our many issues to reach peace in our relationship."
She continued. "Again, had Rob directly contacted me to discuss, he would have learned that as the Executive Producer of my show The Real Blac Chyna, I have the ability to control which scenes are included in the show. However, I would have pointed out to Rob the hypocrisy of his family's insistence that Dream appear on Keeping Up With the Kardashians in the family's desperate attempt to boost the dismal ratings for their stale and contrived show, without my approval, including an entire scene being Dream's birthday party, again without my consent."
She concluded, "My show is about my life and my kids are a huge part of my life. It's really sad that everything I do to better myself or my family the same people have something to say to stop or hinder it."
Rob and his lawyer have not responded to her post.
Rob and Chyna share joint custody of Dream, following a legal battle also involving child support, and had appeared to be on good terms earlier this year.
Watch:
Dream Kardashian Throws Her Dad Rob Kardashian a Birthday Party