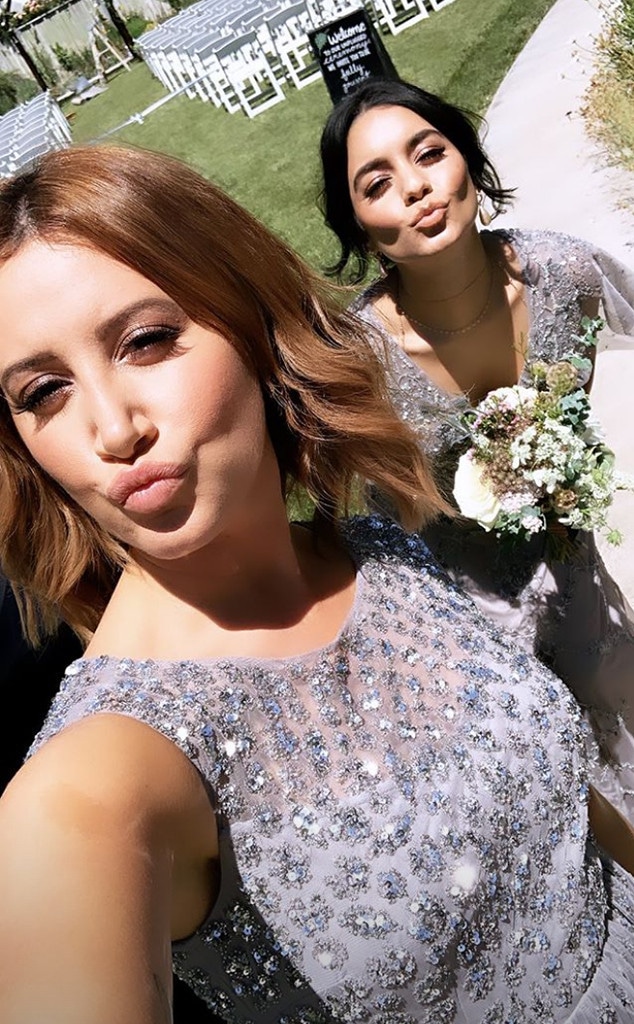 Instagram / Ashley Tisdale
Here comes the bride...and the Wildcats!
Pretty Little Liars alum Brant Daugherty wed his fiancé and actress Kimberly Hidalgo on Saturday, according to People, and High School Musical co-stars and besties Ashley Tisdale and Vanessa Hudgens served as two of her bridesmaids!
Just before the ceremony, Tisdale posted on her Instagram page a Boomerang video of her, Hudgens and four other bridesmaids. The group wore near-matching vintage-style, beaded lavender Adrianna Papell gowns.
"We're ready for you @kimhidalgo!!" the actress and singer wrote.
Tisdale also posted on her Instagram Story a selfie of her and Hudgens posting at the wedding ceremony site.
The two have remained good friends since their High School Musical days. And both Hudgens and Hidalgo, who has appeared on shows such as Bones, Big Time Rush and Grey's Anatomy, and the movie To Save a Life, had served as bridesmaids at Tisdale's bridesmaids at her 2014 wedding to Christopher French.
Tisdale posted on her Instagram page on Friday a pic of Hidalgo in a pale pink bridesmaid dress.
"My fairy friend @kimhidalgo is getting married!!!!" Tisdale wrote. "This was taken at my wedding almost 5 years ago and now it's her turn...I can't wait to be by your side as you've always been for me. I love you Kim!!! #kimandbrant."
See more photos of celebrity bridesmaids.