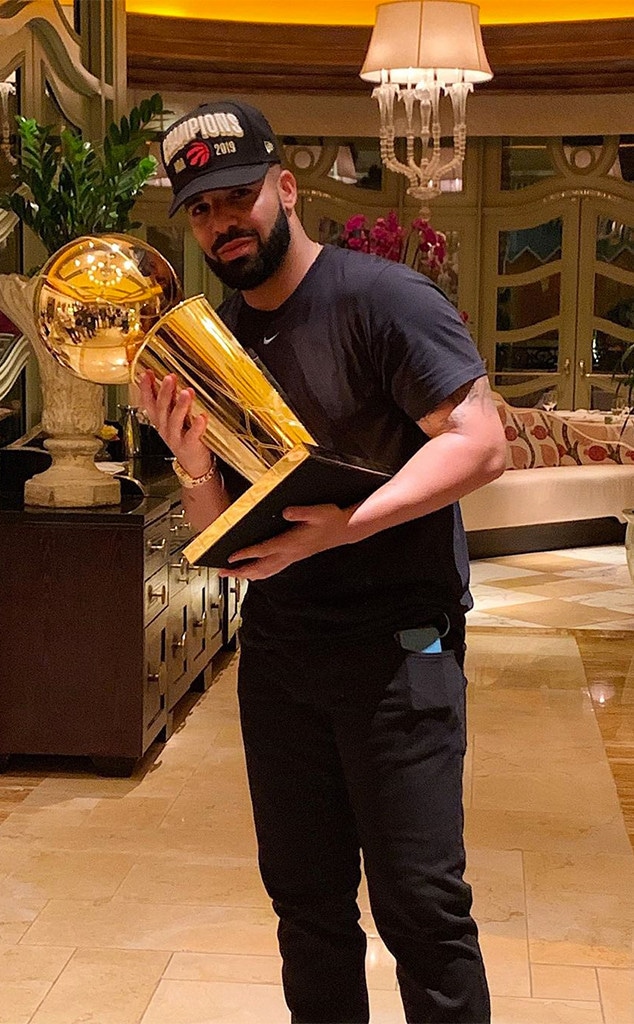 Instagram / Toronto Raptors
The Toronto Raptors celebrated their historic NBA Championship victory on Saturday with their biggest celebrity cheerleader, Drake.
The Canadian rapper and the likes of MVP Kawhi Leonard, Kyle Lowry, Jodie Meeks, Serge Ibaka, and Jordan Loyd partied together at the Wynn Las Vegas' famed XS nightclub on Friday night, a day after the team became NBA champions for the first time, beating the Golden State Warriors with a score of 114-110 in Game 6.
The rapper carried the Larry O'Brien NBA Championship Trophy as the group were welcomed with a "We the North" sign, confetti and cheering fans.
"You know XS is my home away from home but tonight has nothing to do with me," Drake said in a speech, then asked the crowd to make some noise for the Raptors.
The team expressed their excitement with a champagne shower for the crowd. 
Drake had attended the first three games of the 2019 NBA finals and also celebrated the Raptors' victory, which took place in Oakland, California, at the Jurassic Park fan venue in Toronto.
After the final game, Drake FaceTimed with Warriors star Stephen Curry, who congratulated him on his favorite team's championship win.
On Saturday, Drake dropped not one but two new songs, "Omertà" and "Money in the Grave" featuring Rick Ross, as part of "The Best in the World Pack" of tracks. They do not reference the NBA finals or the Raptors.