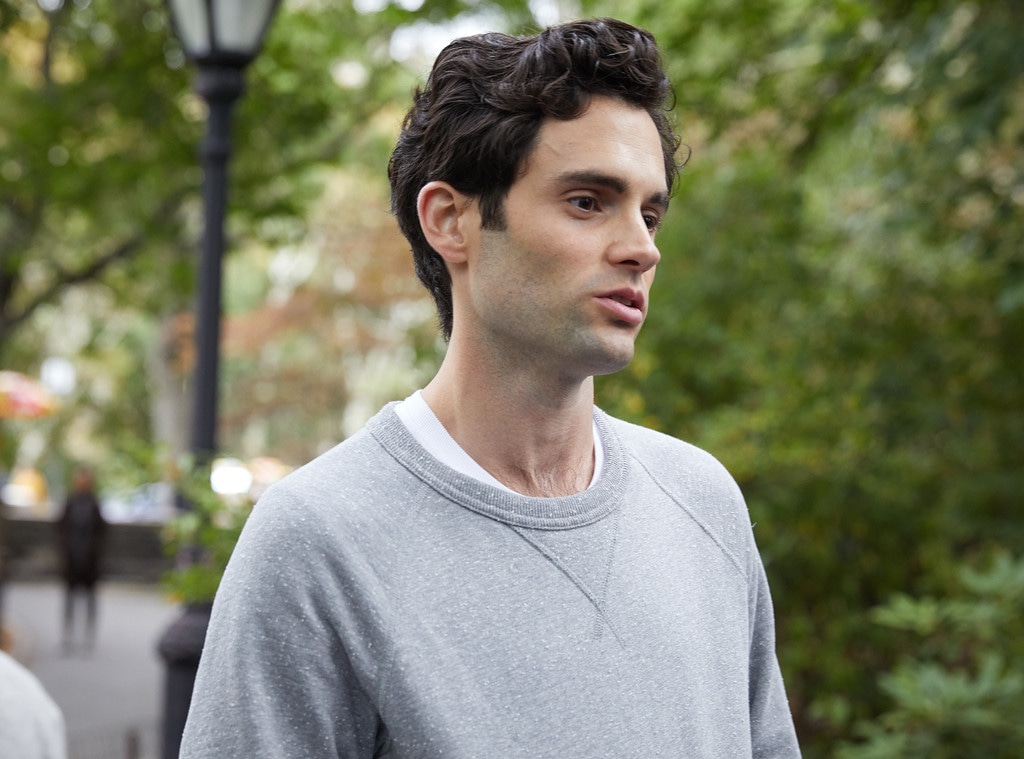 Lifetime
There is perhaps no one more creeped out by the main character of You than his portrayer, Penn Badgley. 
Badgley, previously best known for being Gossip Girl, has spoken out many, many times about the character in the formerly Lifetime, now Netflix series, particularly in response to fans inevitably lusting after him. He's smart, he's cute, he's charming, the only real problem is that he's a murderous stalker. And also, less importantly, kinda bad in bed, from what we've seen. 
In honor of Badgley's MTV Movie & TV Award nomination for Best Villain, we're reminiscing about all the times he's slammed his own character and delighted us all in the process. 
1. In an E! News interview ahead of the series premiere, Badgley told us he was really "troubled" by the whole story and questioned why people liked Joe so much. 
"I personally was troubled..." he told us. "I understood the appeal, but I was really ambivalent. I was really troubled, and that was also what [executive producers Greg Berlanti and Sera Gamble] said was appropriate about me playing him. I remain ambivalent. I'm really questioning why people like Joe so much."
"He's like a troll, like a real troll, like an internet troll," he said. 
"I disagree with Joe possibly more than anyone," he continued. "And I disagree that it's a love story. I don't see it the same way as anyone else, I think because of the things I had to do to play Joe."
It was a hell of a preview for the show, at the very least. 
2. Please do not forget that Joe is a murderer, as Badgley had to remind one heartbroken fan. 
3. Elsewhere in that same interview, Badgley not only deemed Joe "evil" and "disconnected from his heart and soul," but he also admitted a lot of similarities between Joe and his former character, Dan Humphrey, who was revealed at the end of Gossip Girl to have been stalking everyone all along. So he basically slammed Dan, as well. 
"It means the entire time, that even when I was ruining my own life—well, that I was ruining my own life and then I was ruining the lives of those around me, including my little sister," Badgley explained to his costar Elizabeth Lail, who hadn't seen the end of Gossip Girl.
"In some ways, yes, he is just Dan with a knife," Badgley concluded. 
4. A whole new level of what, Gina?! 
5. Badgley kept up the comparisons and the slamming and even examined Joe and Dan's white privilege in an interview with The New York Times. 
"Any part of me that was resisting the Dan Humphrey comparison has stopped because I've come to recognize how much of this is a surreal progression of Dan Humphrey," Badgley said. "He's the very special white man who somehow thinks that he's an outsider, and it's like, 'Bro, you're not an outsider—you are the inside; everyone else is on the outside.' It would all be so comical, if it wasn't also the generating impulse for so much prejudice which can get translated into violence."
6. Penn Badgley will not kidnap you or anyone else on command, Malika.  
All that said, Badgley told GQ in February that he likes to engage with the fans as a way of learning what people are connecting to when they watch the show. 
"I feel like I'm learning something new about You every day, to be honest," he said. "Part of that is a testament to the show. And part of it is: If you're actually thinking about something, and if something is a conversation, rather than just calling it a conversation, it's ongoing."
Let's hope this conversation keeps going through season two and beyond. 
You is now streaming on Netflix. 
The MTV Movie & TV Awards air Monday at 9 p.m.